Hawkeye Fan Shop — A Black & Gold Store | 24 Hawkeyes to Watch – 2017-18 | Fight For Iowa | 2018 UWW World Cup | Season Tickets | Hawk Talk Monthly — November 2017 | Iowa City Duals Notes 1718
ON THE MAT
The eighth-ranked University of Iowa wrestling team hosts the 10th annual Iowa City Duals on Friday at Carver-Hawkeye Arena. The Hawkeyes wrestle Iowa Central at 10 a.m. (CT), Buffalo at 11:30 a.m., and North Dakota State at 1:30 p.m.  Iowa Central and Buffalo will wrestle at 1:30 p.m. Admission is $12 for adults, $8 for youth, and free for UI students and children five-years-old and younger. Times are subject to change.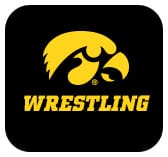 IOWA CITY DUALS
This season marks the 10th year of the Iowa City Duals. The Hawkeyes are 28-0 in the history of the duals, and Iowa wrestlers own a 262-8 record in the event. Iowa Central is making its ninth appearance in the duals. Buffalo and North Dakota State are making their first appearances. 
IOWA CITY DUALS OPPONENTS
The Hawkeyes have a combined record of 12-0 against Friday's opponents. the Hawkeyes own an 9-0 series advantage against Iowa Central. The Hawkeyes won the first series meeting, 49-0, in 2000, and own wins in 2007 (50-0), 2008 (52-0), 2010 (45-0), 2011 (37-6), 2013 (55-0), 2014 (49-3), 2015 (54-0), and 2016 (55-0). Iowa is 2-0 against Buffalo, winning 39-3 at Buffalo in 2012, and 46-0 at Carver-Hawkeye Arena in 2013. The Hawkeyes won their only previous meeting with North Dakota State, 33-7, on the road in 1993.
PARKING INFORMATION FOR FANS
Wrestling Parking Permits
                WR46                    Lot 46
                WR40                    Lot 43 West
                **NO WR75 PASSES FOR THIS EVENT.                    
 
Public Parking
Softball and Track Lots (free)
                Hawkeye Commuter (free) with free CAMBUS shuttle to Carver-Hawkeye Arena – shuttle operates from 9:00 a.m.-3:30 p.m.
                Newton Road Ramp (hourly rate applies)
 
ADA Parking
                Lot 46 – with state-issued ADA placard or license plate
CARVER-HAWKEYE ARENA DEBUTS
Five Hawkeyes in the probable lineup could make their Carver-Hawkeye Arena debuts Friday.
    True freshman  Justin Stickley (125), redshirt freshman Kaleb Young (165), and sophomores Paul Glynn (133), Vince Turk (141), and Keegan Shaw (157) are in line to wrestle in the famed arena for the first time.
    Stickley won a title at the Luther Open on Nov. 11, posting a 3-0 record with a major decision and a pin. Shaw placed second and Glynn and placed third at the Luther Open. Turk and Young are making their season debuts. Turk was 1-0 as a redshirt freshman last season. Young is making his Hawkeye debut after posting a 21-6 record competing unattached in 2016-17.    
    Junior Mitch Bowman is making his second career appearance at Carver-Hawkeye Arena. The 184-pounder wrestled heavyweight when Iowa wrestled Iowa Central last season. Bowman won by fall in 1:32. 
HAWKEYES AT HOME
The Hawkeyes are 238-24 all-time at Carver-Hawkeye Arena since moving from the UI Field House in 1983. The Hawkeyes have recorded 20 undefeated seasons in Carver-Hawkeye Arena, the most recent in 2012-13 (9-0). 
    Carver-Hawkeye Arena has hosted two United States Olympic Team Trials, four Big Ten Championships (1983, 1994, 2005, 2016), and four NCAA Championships (1986, 1991, 1995, 2001). The Hawkeyes have won five tournament titles on their home mat, including the 1983 and 1994 Big Ten Championships, and the 1986, 1991 and 1995 NCAA Championships. 
2018 UWW WORLD CUP
Following the NCAA season, Carver-Hawkeye Arena opens its doors April 7-8 to host the most prestigious international dual tournament in the world. The UWW World Cup features the top eight men's freestyle teams in the world, including the 2017 UWW World Champion, United States. 
    Team USA features Hawkeye All-American and world silver medalist Thomas Gilman, and Olympic medalists Jordan Burroughs, J'Den Cox, and Kyle Snyder.
    Ticket opportunities for the World Cup include a Gold all-session package, a Black all-session package, and standard all-session tickets. Visit worldcupiowacity.com for more information. 
HAWKEYE WRESTLING HISTORY 
Iowa's overall dual meet record is 987-228-31 (.799) in 107 seasons. The Hawkeyes have won 23 national titles and 35 Big Ten titles. Iowa's 54 NCAA Champions have won a total of 82 NCAA individual titles, crowning six three-time and 16 two-time champions. The Hawkeyes' 112 Big Ten champions have combined for 199 conference titles. There have been seven four-time, 18 three-time, and 30 two-time Big Ten champions from Iowa. 
    Iowa's 154 All-Americans have earned All-America status 324 times, including 19 four-time, 37 three-time and 39 two-time honorees.
IOWA ALL-AMERICANS
Iowa returns All-Americans Brandon Sorensen (149) and Michael Kemerer (157). Another run to the All-American stand would be Sorensen's fourth. The Hawkeyes have had 19 four-time All-Americans in program history. 
    Iowa crowned five All-Americans in 2017 — Thomas Gilman (125), Cory Clark (133), Sorensen (149), Kemerer (157), and Sammy Brooks (184).
    The Hawkeyes have crowned at least one All-American in 46 consecutive seasons, a stretch dating back to 1972. Iowa has totaled 278 All-America honors during that stretch.
CHASING THE HAWKEYES
Gary Kurdelmeier led Iowa to its first NCAA Championship in 1975, and in the 43 years since, the Hawkeyes have accumulated 23 team titles, more than any other school — Oklahoma State (7), Penn State (6), Minnesota (3), Iowa State (2), Ohio State (1) and Arizona State (1). 
THE ATTENDANCE GAME
The Hawkeyes averaged 10,591 fans in five home duals against Iowa State (Dec. 10), Penn State (Jan. 20), Ohio State (10,338), Wisconsin (8,431), and Nebraska (9,830).
    Iowa led the nation in attendance for the 11th consecutive season in 2016-17 and averaged more than 8,000 fans for the ninth straight season.  
TICKET INFORMATION
Season and single dual tickets are now available for purchase at hawkeyesports.com. Season tickets for eight home dates are available for $80. UI students and kids five-years old and younger are admitted free to all wrestling events.
    Single dual tickets are $12/$8 (adult/youth) for the Iowa City Duals (Nov. 17), and duals against Rider (Nov. 24), Illinois (12/1), Michigan State (Jan. 5), and Northwestern (Feb. 4). 
    Single dual tickets are $15/$10 (adult/youth) for duals against Oklahoma State (Jan. 14), Michigan (Jan. 27), and Minnesota (Feb. 2).