Hawkeye Fan Shop — A Black & Gold Store | 24 Hawkeyes to Watch 2017-18 | Fight For Iowa | Game Notes (PDF)
By JAMES ALLAN
hawkeyesports.com
IOWA CITY, Iowa — Ryan Kriener isn't afraid of anything on the court.
 
He seeks physical contact.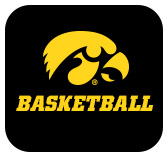 He'll dive for loose balls and set a hard screen to get someone open. 
 
He is about making winning plays.
 
"I feel like I do a lot of the things that don't show up on the stat sheet," said Kriener, a sophomore forward on the University of Iowa men's basketball team.
 
Kriener grew into the mindset, one that started taking form while playing for Dr. David Smith at Spirit Lake (Iowa) High School.  Iowa head coach Fran McCaffery noticed.
 
"He's an intense guy," McCaffery said Wednesday at a news conference in Carver-Hawkeye Arena. "There are times when you try to get him to relax and back off, but I like that about him. He's not afraid of physical contact and he's not afraid of a skirmish.
 
"That's one of the reasons we recruited him. He's a nasty dude."
 
Kriener says it's a toughness thing.
 
"(Assistant) Coach (Andrew) Francis talks about your mindset, how you have to be mentally tougher and stronger than a lot of people," said Kriener. "I'm trying to embrace that."
 
As for the skirmishes, McCaffery was dead on.
 
"I am not afraid to get into a fight on the floor," said Kriener. "My 17U year, it was me, JBo (Jordan Bohannon) and Cordell's (Pemsl) team and we were down (playing at a tournament) in Myrtle Beach (South Carolina).
 
"We were playing a team and some guy started talking trash and I said, 'Hit me.' He punched me in the face. I kept playing defense and tried to call attention to it to draw the T (technical foul), but nothing happened. 
 
"I am not scared when it comes to that stuff. You can come at me all you want, but I am still going to be there fighting."
 
Kriener is averaging four points and 2.5 rebounds in 15.5 minutes in Iowa's first two games of the 2017-18 season.  His production has been at its best, playing alongside Pemsl, a sophomore forward.
 
"We have a connection where we know where each other is going to be," said Kriener. "I know his game well, and he knows mine.  We mesh like that."
 
McCaffery sees the chemistry.
 
"They are both skilled players," said McCaffery. "They both can score, pass it, put it on the deck, and are unselfish guys. They enjoy playing that way."
 
"He's a physical guy; I am not as physical, but I can still go mix it up (on the block)," said Kriener. "I am a better shooter, but he's a lot stronger finisher inside than I am. We have different strengths, but we complement each other well."
 
The Hawkeyes return to action Thursday, hosting Grambling State at 7:05 p.m. (CT) on Mediacom Court inside Carver-Hawkeye Arena.  Tickets are available at 1-800-IA-HAWKS or hawkeyesports.com/tickets.