Hawkeye Fan Shop — A Black & Gold Store | 24 Hawkeyes to Watch – 2017-18 | Fight For Iowa | 2018 UWW World Cup | Season Tickets | Hawk Talk Monthly — November 2017 | Photo Gallery 3 | Photo Gallery 1 | Photo Gallery 2
IOWA CITY, Iowa — The University of Iowa wrestling team opened its 2017-18 dual season with three wins Friday at the Iowa City Duals inside Carver-Hawkeye Arena.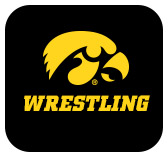 The Hawkeyes blanked Iowa Central, 48-0, defeated Buffalo, 33-6, and finished the sweep with a 38-6 win over North Dakota State.
 
The Hawkeyes won 27 of 30 matches, scoring bonus points in 20 bouts. All-Americans Brandon Sorensen (149) and Michael Kemerer (157) both scored bonus points in each of their three wins. Sorensen won by pin, technical fall, and major decision. Kemerer pinned his first two opponents before winning by technical fall, 17-2, against No. 14 Clay Ream of North Dakota State.
 
Kemerer and Sorensen were two of eight Hawkeyes to open the season 3-0. The others include Vince Turk (141), Kaleb Young (165), Joey Gunther (174), Mitch Bowman (184), Cash Wilcke (197), and Sam Stoll (285).
 
QUOTING COACH TOM BRANDS
"We had to get ready for three bouts, and the way you prepare is how you're going to wrestle. We were getting in a routine, solidifying a mat, and being a part of the one-hour weigh in for the first time. I think for the most part, today was good.
 
"On the bottom we were strong, and on top, that has to be fun watching that many back points. Our footwork in the neutral position made it easier for us in other positions and we were wrestling hard the entire match."    
GUESS WHO'S BACK?
Sam Stoll made his first appearance on the mat since Jan. 15 and picked up three wins in three bouts. He opened the season with a first-period pin, and closed his day with a fall in 6:13. Stoll has 32 career wins, 15 by fall. He worked overtime in his second match of the day, winning 4-3 on riding time criteria against No. 20 Jake Gunning of Buffalo.   
 
FIRST IMPRESSIONS
Turk and Young impressed in their Carver-Hawkeye Arena debuts. Turk, who was 1-0 last season before being sidelined due to injury, picked up three bonus-point wins, earning two technical falls and one major decision at 141. He outscored his opponents 49-9. Young won by technical fall and major decision in his first two collegiate matches, and finished the day with a 3-2 win against No. 20 Andrew Fogarty.
 
STRONG FINISH
Bowman scored a takedown in the final minute to erase a 4-3 deficit and earn a 5-4 against Tyler McNutt of NDSU at 184, improving to 3-0 on the day. He opened the season with a first-period pin and won his second match, 10-4. Bowman had just one career bout at 184 pounds prior to today. He made a combined six appearances 197 and 285 last season.
 
REMOVE THE REDSHIRT
Freshman Justin Stickley became the first true freshman to wrestle under Tom Brands since Nathan Burak in 2012-13. Stickley was 1-2 today at 125 pounds, winning by technical fall, dropping an 8-4 decision, and losing by fall in 1:53.
 
NOTEABLES
Justin Stickley, Kaleb Young, Paul Glynn, Vince Turk, made their Carver-Hawkeye Arena debuts.
Iowa improved to 31-0 in the 10-year history of the Iowa City Duals.
Iowa wrestlers have a 262-8 record all-time in the Iowa City Duals.
Iowa held a 103-8 advantage in takedowns.
Attendance was 6,786.
 
UP NEXT
Iowa (1-0) returns to the mat Friday, Nov. 24 hosting Rider at 7 p.m. (CT) at Carver-Hawkeye Arena. Tickets are available at hawkeyesports.com/tickets.  
 
#8 IOWA 48, Iowa Central 0
125 — Justin Stickley (I) tech. fall Kevin Radcliffe (ICCC), 2:49; 5-0
133 — Phillip Laux (I) dec. Todd Small (ICCC), 8-5; 8-0
141 — Vince Turk (I) tech. fall Eric Clarke (ICCC), 18-3; 13-0
149 — #2 Brandon Sorensen (I) tech. fall Yar Aldiva (ICCC), 24-8; 18-0
157 — #2 Michael Kemerer (I) pinned Alex Leone (ICCC), 2:47; 24-0
165 — Kaleb Young (I) tech. fall Tyler Helfrich-Meyers (ICCC), 20-5; 29-0
174 — Joey Gunther (I) major dec. Jonah Eglie (ICCC), 22-10; 33-0
184 — Mitch Bowman (I) pinned Brady Vogel (ICCC), 3:17; 39-0
197 — #11 Cash Wilcke (I) dec. Tyree Sutton (ICCC), 10-4; 42-0
285 — #7 Sam Stoll (I) pinned Jordan Hill (ICCC), 1:49; 48-0
 
#8 IOWA 33, Buffalo 6
125 — #17 Kyle Atkins (I) dec. Justin Stickley (I), 8-4; 0-3
133 — #5 Bryan Lantry (B) dec. Paul Glynn (I), 2-0; 0-6
141 — Vince Turk (I) major dec. Blake Retell (B), 12-2; 4-6
149 — #2 Brandon Sorensen (I) pinned Jason Estevez (B), 4:40; 10-6
157 — #2 Michael Kemerer (I) pinned Kobe Garrehy (B), 1:34; 16-6
165 — Kaleb Young (I) major dec. Derek Holcomb (B), 12-4; 20-6
174 — Joey Gunther (I) dec. Austin Wiegel (B), 3-1; 23-6
184 — Mitch Bowman (I) dec. Brett Perry (B), 10-4; 26-6
197 — #11 Cash Wilcke (I) major dec. Joe Ariola (B), 14-3; 30-6
285 — #7 Sam Stoll (I) dec. #20 Jake Gunning (B), 4-3 SV2; 33-6
 
#8 IOWA 38, North Dakota State 6
125 – Paul Bianchi (NDSU) pinned Justin Stickley (I), 1:53; 0-6
133 – Phillip Laux (I) tech. fall Tirso Lara (NDSU), 16-0; 5-6
141 – Vince Turk (I) tech. fall Sam Hampton (NDSU), 19-4; 10-6
149 — #2 Brandon Sorensen (I) major dec. Kyle Gliva (NDSU), 14-6;
157 — #2 Michael Kemerer (I) tech. fall #14 Clay Ream (NDSU), 17-2; 19-6
165 – Kaleb Young (I) dec. #20 Andrew Fogarty (NDSU), 3-2; 22-6
174 – Joey Gunther (I) major dec. Dylan Urbach (NDSU), 10-2; 26-6
184 – Mitch Bowman (I) dec. Tyler McNutt (NDSU), 5-4; 29-6
197 – #11 Cash Wilcke (I) dec. Cordell Easton (NDSU), 5-3; 32-6
285 — #7 Sam Stoll (I) pinned Dan Stribal (NDSU), 6:13; 38-6