Hawkeye Fan Shop — A Black & Gold Store | 24 Hawkeyes to Watch – 2017-18 | Fight For Iowa | 2018 UWW World Cup | Season Tickets | Hawk Talk Monthly — November 2017 | VIDEO — Iowa City Duals
Editor's Note: The following first appeared in the University of Iowa's Hawk Talk Daily, an e-newsletter that offers a daily look at the Iowa Hawkeyes, delivered free each morning to thousands of fans of the Hawkeyes worldwide. To receive daily news from the Iowa Hawkeyes, sign up HERE.
By DARREN MILLER
hawkeyesports.com
IOWA CITY, Iowa — Cash Wilcke won his first seven wrestling matches as a redshirt freshman last season, but six of those victories were against Division III or junior college opponents.
 
That won't be the case when Wilcke and the Hawkeyes open with the Iowa City Duals on Friday inside Carver-Hawkeye Arena. Iowa still has Iowa Central Community College on the schedule, but then it will be back-to-back battles with Division I opponents Buffalo and North Dakota State who both have nationally ranked individuals.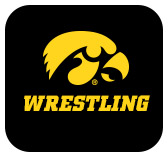 "Division I matches are important," Iowa head coach Tom Brands said. "We're getting left out of the rankings at the end of the year because of not having enough Division I opponents. Cash Wilcke, case-in-point last year, and we need more Division I matches."
 
After his 7-0 start a year ago, the 197-pound Wilcke went 12-13, placing eighth in the Big Ten Conference and winning three of five matches at the NCAA Championships. During his run at nationals, Wilcke defeated No. 15 Tom Sleigh of Bucknell and No. 14 Frank Mattiace of Penn.
 
"Expectations are always high," Wilcke said. "Last year I came up a little short and I worked hard in the offseason and preseason to make sure it doesn't happen again."
 
Iowa opens the Iowa City Duals against Iowa Central at 10 a.m. (CT). That will be followed by matches against Buffalo (11:30) and North Dakota State (1:30 p.m.).
 
"The reason we do the Iowa City Duals the way we do is because it is an early morning weigh-in, then it is three matches," Brands said. "You're getting guys up earlier, it mimics a second-day weigh-in for Big Tens, nationals, Midlands — one hour weigh in, and that's what we like."
 
Having three opponents on the same day also gives Brands the luxury to see multiple Hawkeyes in action. Several Iowa wrestlers will compete at the Lindenwood Open on Nov. 18 in St. Charles, Missouri.
 
"There are some weights that we want to see different guys," Brands said. "There will be a good opportunity for our guys to get in the lineup in front of the home fans, then (we will) figure out our guy."
 
Now a year older, Wilcke has added size and stamina with improved hand-fighting. He is excited to face improved competition right out of the gate.
 
"Last year there were smaller teams, but this year we're ready for it," Wilcke said. "We have been working hard in the preseason."
 
This marks the 10th year of the Iowa City Duals. The Hawkeyes are 28-0 in the history of the duals and Iowa wrestlers own a 262-8 record in the event. While Iowa Central makes its ninth appearance, it will be the debut for Buffalo and North Dakota State.
 
"This isn't something that is just practice," Brands said. "This is for real."
 
Five Hawkeyes in the probable lineup could make their Carver-Hawkeye Arena debuts: freshmen Justin Stickley (125 pounds) and Kaleb Young (165) and sophomores Paul Glynn (133), Vince Turk (141), and Keegan Shaw (157).