Hawkeye Fan Shop — A Black & Gold Store | 24 Hawkeyes to Watch – 2017-18 | Fight For Iowa | 2018 UWW World Cup | Season Tickets | Hawk Talk Monthly — November 2017 | Iowa City Duals Notes 1718 | Match Notes PDF
ON THE MAT
The seventh-ranked University of Iowa wrestling team hosts No. 22 Rider on Friday at 7 p.m. (CT) at Carver-Hawkeye Arena.
    Admission is $12 for adults and free for UI students and all youth 18-years-old and younger. 
IOWA VS. RIDER
Iowa and Rider are meeting for the first time in series history.
    The Broncs are members of the MAAC, where they placed second as a team at the 2017 conference tournament and won three individual titles — B.J. Clagon, Chad Walsh, and Ryan Wolfe. Clagon and Walsh are former All-Americans. They are led by first-year head coach John Hangey, a 21-year veteran of the Rider coaching staff. 
OLD AND NEW
Rider's probable lineup features seven seniors, including four ranked in at least one national poll.
    Iowa's probable lineup includes a combined eight freshmen and sophomores. The Hawkeyes have just two seniors in the probable lineup — three-time All-American Brandon Sorensen and Phillip Laux.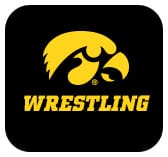 ANOTHER RANKED TEST FOR YOUNG
Redshirt freshman Kaleb Young (165) was 3-0 in his Hawkeye debut at the Iowa City Duals. Young won his first two matches by technical fall and major decision, and won his third match, 3-2, over No. 20 Andrew Fogarty of North Dakota State.
    If Young gets the call Friday, he will face fourth-ranked Chad Walsh, an All-American at 165 in 2016 and 2017. 
TOP 10 MATCHUP
Sophomore Michael Kemerer, ranked third by Intermat, is schedule to face No. 7 B.J. Clagon, a senior who placed fifth at the 2015 NCAA Championships in 2015. 
    This is the first meeting between the two. They were scheduled to wrestle in the fifth-place match at the 2015 Midlands, but Clagon medically forfeited the match. 
    Including his true freshman season (3-2), Kemerer is 13-5 all-time against ranked opponents. 
HAWKEYES AT HOME
The Hawkeyes are 241-24 all-time at Carver-Hawkeye Arena since moving from the UI Field House in 1983. The Hawkeyes have recorded 20 undefeated seasons in Carver-Hawkeye Arena, the most recent in 2012-13 (9-0). 
    Carver-Hawkeye Arena has hosted two United States Olympic Team Trials, four Big Ten Championships (1983, 1994, 2005, 2016), and four NCAA Championships (1986, 1991, 1995, 2001). The Hawkeyes have won five tournament titles on their home mat, including the 1983 and 1994 Big Ten Championships, and the 1986, 1991 and 1995 NCAA Championships.     Carver-Hawkeye Arena hosts the 2018 UWW World Cup on April 7-8, 2018. 
2018 UWW WORLD CUP
Following the NCAA season, Carver-Hawkeye Arena opens its doors April 7-8 to host the most prestigious international dual tournament in the world. The UWW World Cup features the top eight men's freestyle teams in the world, including the 2017 UWW World Champion, United States. 
    Team USA features Hawkeye All-American and World silver medalist Thomas Gilman, and Olympic medalists Jordan Burroughs, J'Den Cox, and Kyle Snyder.
    Ticket opportunities for the World Cup include a Gold all-session package, a Black all-session package, and standard all-session tickets. Visit worldcupiowacity.com for more information. 
HAWKEYE WRESTLING HISTORY 
Iowa's overall dual meet record is 990-228-31 (.799) in 107 seasons. The Hawkeyes have won 23 national titles and 35 Big Ten titles. Iowa's 54 NCAA Champions have won a total of 82 NCAA individual titles, crowning six three-time and 16 two-time champions. The Hawkeyes' 112 Big Ten champions have combined for 199 conference titles. There have been seven four-time, 18 three-time, and 30 two-time Big Ten champions from Iowa. 
    Iowa's 154 All-Americans have earned All-America status 324 times, including 19 four-time, 37 three-time and 39 two-time honorees.
TICKET INFORMATION
Season and single dual tickets are now available for purchase at hawkeyesports.com. Season tickets for eight home dates are available for $80. UI students and kids five-years old and younger are admitted free to all wrestling events.
    Single dual tickets are $12/$8 (adult/youth) for duals against Illinois (12/1), Michigan State (Jan. 5), and Northwestern (Feb. 4). 
    Single dual tickets are $15/$10 (adult/youth) for duals against Oklahoma State (Jan. 14), Michigan (Jan. 27), and Minnesota (Feb. 2).