Hawkeye Fan Shop — A Black & Gold Store | Fight For Iowa | Hawk Talk Monthly — November
Editor's Note: The following first appeared in the University of Iowa's Hawk Talk Daily, an e-newsletter that offers a daily look at the Iowa Hawkeyes, delivered free each morning to thousands of fans of the Hawkeyes worldwide. To receive daily news from the Iowa Hawkeyes, sign up HERE.
By RICK BROWN
hawkeyesports.com
IOWA CITY, Iowa — Iowa head coach Fran McCaffery has seen his University of Iowa men's basketball team put up some impressive numbers on the offensive end of the floor early in the 2017-18 season.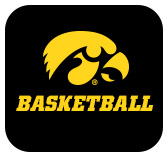 The Hawkeyes are shooting 50.8 percent from the field and 42.7 percent from 3-point range, while averaging 85 points through their first six games.
 
But McCaffery knows the defense has to improve, starting with Tuesday's 8 p.m. (CT) game (ESPN2) at Virginia Tech in the Big Ten/ACC Challenge. Iowa allowed all three of its opponents in the Cayman Islands Classic to reach the 80-point mark. The Hokies, 5-1, are averaging 102 points.
 
"Our defense has not been as physical as it needs to be," McCaffery said. "I always use the word connected. We're connected at times. I think we'll get better defensively. We'll be more physical around the basket and we'll get the running game going."
 
Iowa could also get closer to a full roster as it tries to win for the fourth time in its last five Big Ten/ACC Challenge games. Junior forward Nicholas Baer, who has missed all six regular-season games, could make his first appearance at Virginia Tech.  His injured finger will be x-rayed today and team doctors will decide whether it has healed enough to let him play.
 
Wagner, also a junior forward, didn't play in the Hawkeyes' last game against UAB on Wednesday with a shoulder injury. He will be a game-time decision. Freshman guard Connor McCaffery, who is out with mononucleosis, is getting better but won't play against Virginia Tech.
 
The Hokies return three starters from a 22-11 NCAA Tournament team. A fourth returnee, forward  Ty Outlaw, suffered a knee injury in July and is sitting out this season.
 
Two of those returnees, 6-5 guards Justin Bibbs and Ahmed Hill, will test the Iowa defense. Bibbs is averaging 21.3 points a game. Hill is scoring at a 19.8-point clip.
 
"You look at what those two guards are averaging, but you can go down the next five or six spots and any of those guys could get 20," McCaffery said.
 
McCaffery is impressed with the Hokies' team speed and up-tempo attack.
 
"They push it," McCaffery said. "They go off the dribble and they share the ball well. For a team of talented offensive players, I haven't seen any selfishness."
 
Virginia Tech has 133 assists on 204 field goals. The Hokies are also shooting 58.3 percent from the field, including 49.6 accuracy from 3-point distance (66-of-133). Virginia Tech has made at least 10 triples in four of its six games.
 
"When guys are open, they move it," McCaffery said. "And typically when you have teams with guys who drive it, you don't have that many who can make 3s. But they shoot as well from 3 as they can drive it. They're a tough team to guard."
 
Iowa's impressive offensive numbers this young season can get better. In the first two games in the Cayman Islands, losses to Louisiana and especially South Dakota State, the offense played disconnected and consistent execution was missing.  The offense was better in a 95-85 victory against Alabama-Birmingham. Jordan Bohannon scored 30 points and Tyler Cook 29, both career highs.
 
"Our offensive execution was connected on offense so much better in the third game than it was in the second and the first," McCaffery said. "In those first two games, we'd be good one possession, and sideways the next."
 
McCaffery sees Tuesday's game as a chance to make a positive step heading into the start of Big Ten play against Penn State on Saturday at Carver-Hawkeye Arena.
 
"I want to see us go on the road, play a good team, and execute what we do on offense, and react to what happens in the game," McCaffery said. "Are there momentum shifts? Will we see full-court pressure? Will we play well in zone and man-to-man? We need to be consistent and connected defensively. Whatever the offensive game plan is, we need to execute it."