Hawkeye Fan Shop — A Black & Gold Store | 24 Hawkeyes to Watch – 2017-18 | 2018 UWW World Cup | Season Tickets | Hawk Talk Monthly — December 2017
By DARREN MILLER
hawkeyesports.com
IOWA CITY, Iowa — Friday's Big Ten opening wrestling dual between the seventh-ranked University of Iowa and No. 15 Illinois is another opportunity to gauge improvement of Hawkeye freshman Justin Stickley.
 
The 125-pounder is off to a 5-2 start, winning his first four matches, and most recently, coming from behind to record his third collegiate fall against Rider. On Friday, Stickley is scheduled to face Illinois sophomore Travis Piotrowski, who is 6-0 and ranked anywhere from 13-19 in the nation.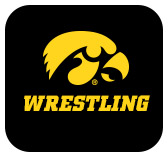 "At the Division I level, you're never going to run across any easy opponent, so I'm getting ready for this kid like I'm getting ready for any other match," Stickley said. "I'm focusing on not letting guys score on me right off the bat. That's an important point moving forward."
 
Stickley is from Urbana, Ohio, and attended St. Paris Graham High School. He is the first true freshman to start a dual for Iowa since Nathan Burak in 2012 and he opened with a fall against Kevin Radcliffe of Iowa Central Community College. Stickley finished the Iowa City Duals with a shutout loss and a loss by fall.
 
"We're better (at 125 pounds) than we were two weeks ago, it's an adjustment learning process," Iowa head coach Tom Brands said. "He is a veteran in a short amount of time. He's having a blast, he loves it here, he loves his opportunity, and he's making the most of it."
 
The biggest adjustment for Stickley is weight management. Getting his weight under control earlier in the week allows him to focus on getting better on his feet and on the mat.
 
In his most recent outing on Nov. 24, Stickley found himself in a 6-1 hole just 100 seconds into the bout against Rider's Jonathan Tropea. Before the first period ended, Stickley added two takedowns and a four-point nearfall to lead, 10-7. He added four more points before winning by fall in 4:36.
 
"Getting down in a match isn't something you want to happen, but whether you're up or down, you should always be focusing on scoring more points," Stickley said.
 
Brands likes Stickley's quick-score capability.
 
"He has energy and when he's rolling, he can get to his offense and he can score," Brands said. "Stickley has scoring ability to get right back into it and he started scoring before the first period was over. That starts to get to a guy's mind."
 
Five Big Ten teams are ranked in the top 10 of the nation; the nightly expectation should be facing a ranked individual as well. That's OK with Stickley, who enjoys being on the mat, especially representing the University of Iowa.
"It's great to be a Hawkeye," Stickley said. "Any time you're putting on the singlet and going to battle for Iowa, it is always great. Looking into the future, I keep seeing myself in that black and gold singlet and I don't see a lot changing as far as what my goals are for my future."
 
Iowa looks for its 20th consecutive conference opening win Friday against the Illini. The dual begins at 7 p.m. (CT) on Mediacom Mat inside Carver-Hawkeye Arena.