Hawkeye Fan Shop — A Black & Gold Store | 24 Hawkeyes to Watch – 2017-18 | 2018 UWW World Cup | Season Tickets | Hawk Talk Monthly — December 2017 | Photo Gallery
IOWA CITY, Iowa — The University of Iowa wrestling team needed a pin for the win, and its fall-happy heavyweight delivered.
 
Junior Sam Stoll delivered a first-period knockout to rally the seventh-ranked Hawkeyes to an 18-17 win over No. 15 Illinois on Friday night at Carver-Hawkeye Arena.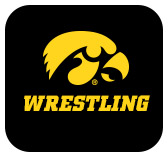 The teams split 10 bouts, and for nine matches it looked like Illinois' Isaiah Martinez's technical fall at 165 may be the difference. That was before Stoll, ranked No. 7 at 285 pounds, took Deuce Rachal to his back to send the Carver crowd into what amounted to a buzzer-beating frenzy.
 
"I am out there to do my job," Stoll said. "I know that if I go out there and wrestle hard for seven minutes I can pin a lot of guys. My goal is to pin every guy I wrestle. No one wants to wrestle at a hard, high pace, and if I go out there and take care of what I need to do, everything will fall into place."
 
The Hawkeyes trailed the entire dual, dropping the first three matches and falling behind 9-0 before All-Americans Brandon Sorensen and Michael Kemerer took the mat.
 
Sorensen put Iowa on the board at 149 with a 4-1 win against No. 20 Eric Barone. He picked up a single-leg in the third and closed on the edge to break a 1-1 tie. He finished the final 1:25 on top to add a point for riding time.
 
Kemerer followed Sorensen with his own 4-1 decision against No. 17 Kyle Langenderfer at 157. He scored a takedown in the first and put on a third-period ride to earn a point for riding time. It was his fifth straight win against a ranked opponent.
 
Illinois won two of the first three matches after intermission to build a 17-9 lead — Joey Gunther sandwiched a 6-1 decision in between Illinois wins at 165 and 184, setting up a must-see bonus-point scenario from the Hawkeyes at 197 and 285.
 
Cash Wilcke wrestled to a 1-1 tie after regulation at 197, and set the table for Stoll's dramatics with a takedown in the first sudden-victory period.
 
"I don't really consider the team score when I'm getting ready for my match," Wilcke said. "I know I need to go out there and win and win by scoring points. I let him slow me down. I gave a lot of respect to his offense. I need to do what I do best."
 
QUOTING COACH BRANDS
"If we continue to give up nine first-period takedowns and get one, we're going to really struggle. We knew this year was going to be unique, but we did not fight. You have to fight and it has to be more about getting that one takedown to get yourself back in the match. Those guys were athletic and points were hard to come by, but that is not where we should be struggling. We know that we have work to do."
  
UP NEXT
Iowa returns to the mat Friday, Dec. 8 at No. 11 Rutgers, and Sunday, Dec. 10 at Maryland.  
 
NOTABLES 
Iowa has won 20 straight conference openers.
Five of Kemerer's last seven matches have been against ranked opponents, he is 5-0 with two major decisions and a technical fall against those five opponents.
Sixteen of Sam Stoll's 34 career wins have ended in fall.
Records: Iowa (5-0, 1-0), Illinois (1-2, 0-1)
Attendance was 8,206
 
#7 IOWA 18, #15 ILLINOIS 17
125 — #13 Travis Piotrowski (ILL) dec. Justin Stickley (IA) #13Travis Piotrowski (ILL), 7-4; 0-3
133 — #20 Dylan Duncan (ILL) dec. Phillip Laux (IA), 6-1; 0-6
141 — Mike Carr (ILL) dec. Vince Turk (IA), 7-5; 0-9
149 — #2 Brandon Sorensen (IA) dec. #20 Eric Batone (ILL), 4-1; 3-9
157 — #3 Michael Kemerer (IA) #17 Kyle Langenderfer (ILL), 4-1; 6-9
165 — #2 Isaiah Martinez (ILL) tech. fall #16 Kaleb Young (IA), 23-8; 6-14
174 — Joey Gunther (IA) dec. David Riojas (ILL), 6-1; 9-14
184 — #12 Emery Parker (ILL) dec. Mitch Bowman (IA), 5-3; 9-17
197 — #10 Cash Wilcke (IA) dec. Andre Lee (ILL), 3-1 SV1; 12-17
285 — #7 Sam Stoll (IA) pinned Deuce Rachal (ILL), 2:02; 18-17