Hawkeye Fan Shop — A Black & Gold Store | Fight For Iowa | Hawk Talk Monthly – December 2017
Editor's Note: The following first appeared in the University of Iowa's Hawk Talk Daily, an e-newsletter that offers a daily look at the Iowa Hawkeyes, delivered free each morning to thousands of fans of the Hawkeyes worldwide. To receive daily news from the Iowa Hawkeyes, sign up HERE.
By RICK BROWN
hawkeyesports.com
IOWA CITY, Iowa — Even though semester exams don't start until Dec. 11, members of the University of Iowa men's basketball team are already in the middle of a cram session.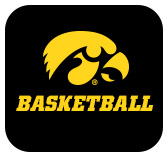 The Hawkeyes have just one day to prepare for their second Big Ten game of the season, against Indiana on Monday at Assembly Hall in Bloomington, Indiana.
 
"You wake up and go, 'OK we're playing Indiana, this is what we have to know, whether it's a one-day prep or three days,'" said Iowa head coach Fran McCaffery. "You give them a written report, you put it on their iPad, you show them film, you have practice, walk-throughs, let's go play."
 
The Hawkeyes have won on three of their last seven trips to Assembly Hall, traditionally one of the toughest venues in the Big Ten. Iowa will be coming off a 77-73 loss to Penn State in the Big Ten opener Saturday at Carver-Hawkeye Arena.
 
"The great thing about this sport is that you get another chance," sophomore forward Tyler Cook said. "It's a long season. Having one day of prep is actually good, in my opinion, because we get another chance to come out and get better. Learn from it and start focusing on Indiana. Hopefully we can put two halves together and be better on Monday."
 
Junior forward Nicholas Baer thinks it's good to have a quick turnaround at his point of the season.
 
"You don't have time to look back at a game you just lost," Baer said. "You have to prepare for the next game. Hopefully we'll have a better performance. We have to continue to mature. I'm looking forward to getting a chance to play in Assembly Hall."
 
This will be the fifth time a McCaffery-coached Iowa team has played a Big Ten regular-season game with a one-day turnaround. The Hawkeyes lost on the back end of all four previous games. Iowa is 24-19 with a two-day prep. Eight of those victories came on the road.
 
 "You're trying to flush all of the information that you spent three days absorbing while you're traveling and going into a very difficult environment, as we've seen, and locking in," McCaffery said. "Different team, different style, different coach, different players. What do we have to do to beat them? Our players typically have been pretty good with that."
Adding to Monday's challenge is the fact that the Hoosiers have a new coach, Archie Miller, and a different style of play than in the past when Tom Crean was the Hoosiers' coach.
 
"I think our guys had gone against coach Crean so many times, they had a feel for that program and how they played," McCaffery said. "Now it's a completely different situation. But again, with a one-day prep, you're still trying to get all that information in your head, whether it's the same coach or not."
 
The Hawkeyes, 4-4 overall, have had stretches of good play and other stretches that don't meet their standards. A team that was connected on both ends of the floor for long stretches last season is not playing in unison on a consistent basis so far.
 
"We have to keep pushing," sophomore forward Cordell Pemsl said. "We can't be negative with each other. We have to have amnesia. We can't look back at this (Penn State) game and have any sympathy for one another.
 
"The coach who does the scouting report does a great job of preparing us for each game. I don't think we're fully committed to taking that scouting report and using it in a game. We need to start translating better."
 
Monday's game will begin at 7 p.m. (CT) and be televised on BTN.