Hawkeye Fan Shop — A Black & Gold Store | 24 Hawkeyes to Watch – 2017-18 | 2018 UWW World Cup | Season Tickets | Hawk Talk Monthly — December 2017
Editor's Note: The following first appeared in the University of Iowa's Hawk Talk Daily, an e-newsletter that offers a daily look at the Iowa Hawkeyes, delivered free each morning to thousands of fans of the Hawkeyes worldwide. To receive daily news from the Iowa Hawkeyes, sign up HERE.
By JAMES ALLAN
hawkeyesports.com
IOWA CITY, Iowa — There will be a shakeup in the lineup when the seventh-ranked University of Iowa wrestling team hits the road for two Big Ten Conference road duals.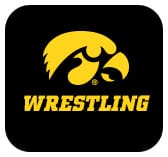 The Hawkeyes (5-0) will square off against No. 16 Rutgers (3-1) on Friday night in Piscataway, New Jersey, before traveling to College Park, Maryland, for a Sunday matinee against Maryland.
 
"We're going to have new faces in the lineup," said Iowa head coach Tom Brands. "We need to shake up some things in those first three weight classes. We need to pick it up."
 
During the Hawkeyes' 18-17 dual win against Illinois on Dec. 1, Iowa found itself in a 9-0 hole after Justin Stickley (125), Phillip Laux (133), and Vince Turk (141) were on the wrong end of decisions. 
 
"These guys do a good job in the wrestling room and it needs to carry over," said Brands. "We have to look forward with those three weight classes and whatever personnel we put out there your role doesn't change. You have to get better every day."
 
Stickley will get the nod at 125, but four wrestlers are expected to share duties at 133 and 141 pounds. Laux or sophomore Paul Glynn will get opportunities at 133 pounds and redshirt freshman Carter Happel or Turk will share the load at 141.  
"It's about performance," said Brands. "It's go out there and let it fly. That's what fans want to see."
 
Iowa will also get reinforcement at 165 pounds where Alex Marinelli will make his long-awaited debut. The Ohio native redshirted last season and hasn't taken the mat this season.  He's 13-2 in his collegiate career, compiling the record while competing unattached last season.
 
"The wait has been hard," said Marinelli. "You have to stay in good spirits because that stuff could affect you negatively. Tom has been helping me a lot with positive affirmations and self-talk is a big thing."
 
Marinelli's debut will come in a hornet's nest — the 8,000-seat RAC against the Scarlet Knights.
 
"We need to go there ready," said Brands. "The last time we were at their facility it was a spirited, rabid crowd. The rumor is it is sold out and I heard they were bringing in extra seats to seat more than capacity. We're excited about the atmosphere."
 
The Scarlet Knights have seven ranked wrestlers in their lineup, including Penn State transfer Nick Suriano at 125 pounds.  Suriano is 8-0 and ranked in the top two by most national rankings services.
 
"This is going to be similar to the Illinois meet," said Brands. "The one difference is we're not wrestling a team with a two-time NCAA champion, but we are wrestling a team that has a transfer that has brought a lot of upgrade in recognition to their program. (Rutgers) has done a good job."
 
Marinelli is looking forward to wearing that Hawkeye singlet in a hostile environment.
 
"That's the best thing for us because we thrive under that and don't break under pressure," said Marinelli. "I think having a hostile environment is awesome."
 
Friday's dual will be broadcast on AM 800 KXIC and audio streamed online on Hawkeye All-Access with Steven Grace and Mark Ironside on the call.  A video stream will be available on BTN Plus on BTN2Go and at FloWrestling.com.