Hawkeye Fan Shop — A Black & Gold Store | Fight For Iowa | Hawk Talk Monthly — December
Editor's Note: The following first appeared in the University of Iowa's Hawk Talk Daily, an e-newsletter that offers a daily look at the Iowa Hawkeyes, delivered free each morning to thousands of fans of the Hawkeyes worldwide. To receive daily news from the Iowa Hawkeyes, sign up HERE.
By RICK BROWN
hawkeyesports.com
IOWA CITY, Iowa — Last season's University of Iowa men's basketball season was defined by freshmen.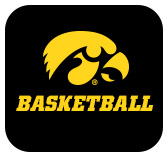 For the first time in program history, five rookies scored in double figures in a game. Four of them — Jordan Bohannon, Tyler Cook, Isaiah Moss, and Cordell Pemsl – scored at least 21 points in a game. Ryan Kriener was the fifth freshman to reach double figures offensively. That quintet combined for a rookie-record 62 double-figure games. Freshmen also started a collective 96 games, another record.
  
A sixth freshman, Maishe Dailey, was overshadowed by his classmates. He played just 92 minutes in 12 appearances last season, and scored a total of 27 points.
 
"I never looked at it as a race, like they were getting more minutes than me so I should be jealous of them," said Dailey, a 6-foot 7-inch guard from Beachwood, Ohio. "I focused on me and how I could improve myself in all aspects of the game."
 
A year later, Dailey has played his way into head coach Fran McCaffery's rotation. He's averaging 14.8 minutes and 5.2 points a game.
 
"He kept plugging away," McCaffery said. "He's not a complainer. He doesn't mope. He knew he had a lot to learn and he was trying to learn it and get better. Maishe has slowly but surely figured everything out."
 
Dailey has averaged 20 minutes over the last three games. He contributed nine points, four rebounds, and two assists in Sunday's 91-60 victory against Southern at Carver-Hawkeye Arena.
 
McCaffery likes to recruit versatile players who he can mix and match on the floor in different situations. Dailey considers himself a shooting guard, but he is comfortable playing multiple positions.
 
"When I was in high school I played all five positions, so going to the one (point guard), the two (shooting guard) or the three (small forward) is really no big adjustment for me," Dailey said.
 
Dailey's value was on display in a 2 1/2-minute stretch of Sunday's game. Maishe hit a pair of 3-pointers , then fed teammate Nicholas Baer for a 3-pointer as the Hawkeyes turned a 23-17 deficit into a 26-25 lead.
 
"He's gaining confidence," McCaffery said. "He's versatile. He can stick his nose on the glass, handle the ball, he has a great stroke, and he's not afraid to put it up. He's always looking for it. He was clearly a difference in the game."
 
Dailey's versatility was evident at the end of the first half. He was playing the center position on Iowa's last possession of the half, with three seconds remaining. Southern changed defenses after an Iowa timeout, and the play McCaffery had set up was null and void. Dailey got the in-bounds pass and found Brady Ellingson in the left corner for a 3-pointer.
 
"I knew when I caught the ball to look for a shooter, because they were going to be in scramble mode," Dailey said. "I made the right play."
 
Dailey's game took a setback this summer when he injured his back and couldn't play on the Hawkeyes' four-game European Tour.
 
"It took a toll on me mentally, because I've been dealing with that off-and-on since high school," Dailey said. "But I didn't think it was going to set me back as far as playing time."
 
Dailey credits his versatility to a growth spurt. He was a 5-11 guard as a sophomore in high school. His shooting and ball-handling skills are still part of his package, eight inches later.
 
Dailey's 21 minutes on the floor Sunday matched his longest stretch on the floor at Iowa. He also played 21 minutes at Indiana on Dec. 4.
 
" It makes me feel good to know all the hard work I've put in since I got here is starting to show," Dailey said.