Hawkeye Fan Shop — A Black & Gold Store | 24 Hawkeyes to Watch 2017-18 | WBB Tickets | Hawk Talk Monthly — December
By DARREN MILLER
hawkeyesports.com
 
IOWA CITY, Iowa — If you truly learn more in defeat than in victory, the University of Iowa women's basketball team learned quite a bit during a 94-93 loss to Florida State on Nov. 29.
 
Perhaps the biggest lesson was that the Hawkeyes belonged in the top 25. Coincidentally, they are there now, with no plans on leaving any time soon.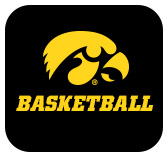 "We felt we should be ranked in the top 25 once we saw we could play with Florida State," said Iowa junior guard Tania Davis. "At that point, we felt we belonged here and could play with the Ohio States, Marylands, Florida States. That is when it got into our minds."
 
Iowa (10-1 overall) cracked The Associated Press and the USA Coaches polls at No. 25 on Dec. 11. It is the first time the Hawkeyes have been nationally ranked in more than two years.
 
The Hawkeyes won 20 games last season, playing the final 11 games without Davis, who tore an ACL. Her quick return to the court is a major reason for Iowa's fast start that has grabbed national attention.
 
"At the beginning of the season we didn't know about Tania and when she was coming back," said Iowa coach Lisa Bluder at a news conference Wednesday in Carver-Hawkeye Arena. "We felt we had good parts, but I don't think we thought we would be playing this well this early. Tania coming back earlier helped expedite things."
 
Davis averages a team-high 30.6 minutes per game, where she contributes 10.5 points and 5.5 assists.
 
Another factor that has been a boost for the Hawkeyes is the maturation of sophomores Kathleen Doyle, Makenzie Meyer, and Amanda Ollinger. Meyer averages 10.7, Doyle averages 9.8, and Ollinger averages 3.2 points per game.
 
"We are using a lot of players who were freshmen last year and you never know," Bluder said. "You're hoping for great growth between your freshman and sophomore year and we have received that."
 
Then, of course, there is All-America candidate Megan Gustafson. The 6-foot-3 junior center has as many teammates as she had members of her graduating class from South Shore High School in Port Wing, Wisconsin. Gustafson averages 21.5 points and 12.5 rebounds per game and has been recognized by the Big Ten Conference for her play five consecutive weeks.
 
"I go back to her effort every day in practice," Bluder said. "She is working as hard now as she was in October. She works as hard at the end of practice as she does at the beginning of practice. She works hard regardless if you are up or down, it doesn't matter and that is hard to do mentally. That's why she keeps improving because of her amazing work ethic and level-headedness to go along with that."
 
The Hawkeyes also understand that a huge target accompanies the No. 25 ranking. They also understand that their next opponent, Northern Iowa, has more than a small axe to grind. Last season the Panther qualified for the NCAA Tournament with a record of 24-9. But on their trip to Carver-Hawkeye Arena on Dec. 4, 2016, Iowa cruised to a 49-point victory.
 
Bluder, who played for Northern Iowa from 1979-83, knows the Panthers' mindset:
 
"Mad," she said. "They will come out wanting to prove that was a fluke."
 
In the 2016 game, Gustafson scored 12 points with 17 rebounds. She expects to receive Northern Iowa's best shot, especially since the game is in the McLeod Center. It will be Iowa's second true road test; the first was Dec. 6 at Iowa State — a 61-55 win for the Hawkeyes.
 
Trusting teammates is key to success away from home, according to Gustafson.
 
"At Carver we have our fan base and support," she said. "Sometimes on the road we don't have that — we do have a fan base, but it's not as big as we're used to. Being able to rely on each other and believe in each other is the most important thing."
 
Iowa ends its eight-day finals week layoff when it takes on Northern Iowa (3-6) on Sunday. Tip-off is set for 2 p.m. (CT). Iowa leads the all-time series, 20-2.