Hawkeye Fan Shop — A Black & Gold Store | Fight For Iowa | Hawk Talk Monthly — December
Editor's Note: The following first appeared in the University of Iowa's Hawk Talk Daily, an e-newsletter that offers a daily look at the Iowa Hawkeyes, delivered free each morning to thousands of fans of the Hawkeyes worldwide. To receive daily news from the Iowa Hawkeyes, sign up HERE.
By RICK BROWN
hawkeyesports.com
 
DES MOINES, Iowa — Jordan Bohannon drove the baseline with two left-handed dribbles, then switched to his right, banked in a high-arching shot over Drake center Kory Kuenstling and was fouled.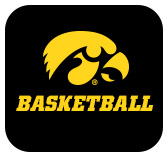 Bohannon, who ended up on the floor, flexed his muscles.
 
"I've been putting a lot of pressure on myself," said the University of Iowa's sophomore point guard. "Sometimes you need to flex your muscles and have some fun with it."
 
His teammates enjoyed Saturday's moment as much as Bohannon did.
 
"I've known Jordan for over two years now, and I've never seen him flex," sophomore forward Tyler Cook said.
 
Added junior forward Nicholas Baer, tongue in cheek, "For someone who is 5-8, I was happy for him the way he was able to finish."
 
For the record, Bohannon is listed at 6 feet tall. It's a different set of numbers that tell the true story behind Bohannon's display of muscle.
 
He had more turnovers than assists in four games this season heading into Saturday's 90-64 victory against Drake in the Hy-Vee Classic.
 
That happened in just three games all of last season, when Bohannon had an Iowa freshman-record 175 assists and only 76 turnovers in 1,005 minutes. In the final three games of the season, against Indiana in the Big Ten Tournament and South Dakota and TCU in the NIT, Bohannon had 34 assists to just eight turnovers while averaging 22.6 points a game.
 
But in a recent three-game stretch this season against the Hoosiers, Penn State, and Iowa State, Bohannon had 10 assists to 12 turnovers. Some of those turnovers were unforced, which is not a Bohannon trait.
 
He admits now he was trying to do too much. Bohannon felt he had to pick up some of the slack left by the departure of last season's leading scorer, Peter Jok.
 
"I guess you could say that, yes," Bohannon said. "With Pete gone, I feel like I probably added a little too much pressure on myself coming into the season because I felt like I needed to do a lot more."
 
Iowa head coach Fran McCaffery said he has never had a talk with Bohannon about coping with that pressure.
 
 "I just encouraged him to be who he is," McCaffery said. "You're not Pete. Just do what you do. I trust you and your teammates trust you."
 
McCaffery said that Bohannon has struggled with injuries this young season, which contributed to his uneven play, but his health is starting to improve.
 
"I think you're seeing the result of that," McCaffery said.
 
Bohannon had seven assists to just one turnover in the Drake victory, and added 15 points for good measure.  He has 12 assists to just one turnover over the last two games heading into Tuesday's 8 p.m. (CT) contest against Southern Utah at Carver-Hawkeye Arena. Bohannon recently took a trip into the video vault, and better play of late is the result.
 
 "I've been watching a lot of film from what I did last year in the NIT, and I played pretty well in the Big Ten Tournament," Bohannon said. "You want to learn from your past, but you don't want to keep dwelling on it. You want to have a little optimism in your life. I think that's something I've starting looking at in the past couple of weeks."
 
The smile returned to Bohannon's face on Saturday, which is something to flex about.
 
"We needed one of these games to let ourselves know everything's OK," Bohannon said. "There's still a lot of season left and we're able to keep playing how we know we're capable of playing. I can honestly say a lot of it starts with me, and trying to get