Hawkeye Fan Shop — A Black & Gold Store | 24 Hawkeyes to Watch 2017-18 | WBB Tickets | Hawk Talk Monthly — December 2017
By DARREN MILLER
hawkeyesports.com
IOWA CITY, Iowa — Lisa Bluder's cell phone started buzzing Monday evening. Texts arrived from University of Iowa women's basketball captains Hannah Stewart and Kathleen Doyle.
 
The message? We have this.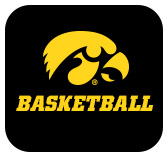 "That is what you want from your captains and leaders," Bluder said Tuesday at a news conference in Carver-Hawkeye Arena. "They were already showing optimism and belief in themselves and their team."
 
The No. 25 Hawkeyes (11-1 overall) were in need of optimism after unfortunate news came Monday that starting point guard Tania Davis suffered a season-ending knee injury Dec. 17 at Northern Iowa. Davis, who missed 11 games last season with an injury to her other knee, was averaging 10 points a game. She leads Iowa in assists (5.2 per game) and was shooting 84 percent from the free throw line.
 
"It should be a time we're pretty darn excited," Bluder said. "We're 11-1, we're going into Christmas, finals are over, and we're ranked in the top 25. Then we have a big downer with Tania being out."
 
Redshirt freshman Alexis Sevillian will return to the starting lineup, a spot she held four games in November while Doyle was recovering from an ankle injury. During her time as a starter, Sevillian averaged 30 minutes and 13 points a game.
 
"It is opportunity for people and hopefully they will take advantage of opportunities," Bluder said. "I have complete faith in Lexi."
 
Sevillian and Davis were high school teammates. Last season when Davis was injured, Bluder toyed with the idea of pulling Sevillian's redshirt, but decided to stand pat. This time, Sevillian will be counted on to fill part of the void created by Davis' absence.
 
In 12 games this season, Sevillian is second on the team, scoring 11.3 points points per game. She has made a team-high 28 3-point field goals and shoots 90 percent from the free throw line.
 
"All the guards have to help pick up (Tania's) role and I have faith in all of us," Sevillian said. "We're having a great season; we did well when Tania went out against UNI — we stuck together and I think we can do that for the remainder of the season."
 
Ready or not, the season resumes for the Hawkeyes on Thursday against in-state rival Drake. There is plenty for Iowa to play for: it can sew up the state championship with a perfect 3-0 record if it gets past the Bulldogs. Drake (5-6) snapped Iowa's 14-game winning streak in the series last season in Des Moines, 81-76.
 
"It has been hard to shift to Drake, but we know we have to; this is an important game," Bluder said. "It is important for us to win the state championship. Can we still do it without Tania? Yes. Will it be harder? Yes it will be, but we're willing to step up and accept that challenge."
 
The Bulldogs have dropped three of their last four games, but they have played a stiff nonconference schedule that includes Oregon, Wyoming, George Mason, Iowa State, Creighton, Nebraska, and South Dakota State.
 
Drake averages 84.5 points a game, compared to 83.5 for Iowa.
 
"Drake is a high-octane offensive team," Bluder said. "We have got to get out and cover their 3-point shooters. They run a unique offense that is a little harder to defend and we'll see a match-up zone defense that we haven't seen a lot this year."
 
The Iowa-Drake game will tip-off at 7 p.m. (CT) on Mediacom Court inside Carver-Hawkeye Arena. The contest will be streamed live on BTN Plus.