Hawkeye Fan Shop — A Black & Gold Store | 24 Hawkeyes to Watch – 2017-18 | 2018 UWW World Cup | Season Tickets | Hawk Talk Monthly — December 2017 | Midlands Notes PDF
 
ON THE MAT
The University of Iowa wrestling team competes at the 55th annual Ken Kraft Midlands Championships on Thursday and Friday in Hoffman Estates, Illinois. Sears Centre Arena will host the two-day event. 
MIDLAND SESSION & TICKET INFO
Tickets can be purchased online at NUSports.com or over the phone at 888-SEARSTIX. All-session tickets are $107 for adults and $97 for youth. Individual session tickets are $28 for adults and $23 for youth.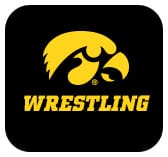 SCHEDULE OF EVENTS (CT)
FRIDAY, DEC. 29
9:30 a.m.    Session I     
7 p.m.    Session II    
SATURDAY, DEC. 30
12 p.m.    Session III    
7:05 p.m.    Session IV    
AUDIO
The Midlands Championship is broadcast on AM 800 KXIC and audio streamed online at Hawkeye All-Access. Steven Grace and Mark Ironside have the call live from Sears Centre Arena.
VIDEO STREAM
A video stream is available on BTN Plus on BTN2Go and at FloWrestling.com. Each mat will have a different stream on BTN2Go.
Social media
For live Hawkeye wrestling updates follow @IowaWRLive; @Hawks_Wrestling; facebook.com/iowahawkeyewrestling.
live RESULTS
Live results will be available on the wrestling schedule page at hawkeyesports.com.
IOWA MIDLANDS HISTORY
Iowa has won more team titles (26) than any other school in the 54 years of the Midlands Championships. The Hawkeyes won their first team title in 1974, and proceeded to win nine of the next 11. Iowa also won team titles in 1990, 1992, 1996, 1997, 1998, 1999, 2001, 2002, 2007, 2008, 2009, 2011, 2013, 2014, 2015, and 2016. Other team winners include Iowa State (8), Illinois (4), Michigan State (3), Sunkist Kids Wrestling Club (3), Michigan (2), Arizona State (1), Minnesota (1), Missouri (1), North Carolina (1) and Oklahoma State (1). Team scores were not kept at four tournaments (1991, 1993, 1994, 1995). 
HAWKEYES IN MIDLANDS HALL OF FAME
Nine former Hawkeyes are enshrined in the Midlands Hall of Fame. They include Ed Banach, Terry Brands, Tom Brands, Chris Campbell, Steve Combs, Tim Cysewski, Barry Davis, Randy Lewis and Chuck Yagla. Former Hawkeye head coach Dan Gable is also a Midlands Hall of Fame member. 
INDIVIDUAL MIDLANDS HONORS
Eight former Hawkeyes earned the Art Kraft Champion of Champions Award, while nine were named Dan Gable Outstanding Wrestler. The Art Kraft Champion of Champions include Lenny Zalesky (1980), Jim Zalesky (1983), Jim Heffernan (1986), Jeff McGinness (1995), Joe Williams (1996), Eric Juergens (1999), Mark Perry (2007), and Thomas Gilman (2016). 
    The Dan Gable Outstanding Wrestlers were Randy Lewis (1979), Lenny Zalesky (1980), Ed Banach (1981), Royce Alger (1994), Jeff McGinness (1995), Lincoln McIlravy (1997), Joe Williams (1999, 2000), Mark Perry (2007), Brent Metcalf (2009), and Thomas Gilman (2016). Gable was named the tournament's outstanding wrestler five times (1966-69, 1971). 
SORENSEN AMONG MIDLANDS' BEST
Senior Brandon Sorensen is 22-2 in four career appearances at the Midlands Championships. Last season he became the ninth University of Iowa wrestler to join the prestigious 20-in-4 club, which requires a wrestler to record at least 20 wins in their first four years of competition. The other eight Hawkeyes include John Bowlsby (22 – 1974, 1976-78), Barry Davis (20 – 1980-83), Joe Williams (20 – 1993-96), Mark Ironside (22 – 1994-97), Wes Hand (20 – 1996-99), Jody Strittmatter (20 – 1997-2000), Doug Schwab (20 – 1997-2000) and Cliff Moore (23 – 2001-03, 2005). Gable was the first club member, recording 20 wins from 1966-69. 
    There are 24 wrestlers in the 20-in-4 club. In addition to the nine Hawkeyes, the others include (in order of appearance) Dan Gable (20), John Bowlsby (22), Andy Schwab (20), Cary Kolat (21), Charlie Branch (21), Yoshi Nakamura (22), Mitch Clark (21), Cael Sanderson (21), Jon Trenge (21), Joe Heskett (20), Tommy Rowlands (20), Nick Simmons (21), Nick Gallick (20), Jake Patacsil (20), Jason Welch (20), and Tyler Graff (21). 
SORENSEN GOES FOR #3
Senior Brandon Sorensen won Midlands Championships at 149 pounds in 2015 and 2016. A third title in 2017 will make him the 12th Hawkeye to win three or more Midlands titles. 
    Former Hawkeye Joe Williams holds the most individual titles in Midlands history, winning 10. Other former Hawkeyes to win at least three titles are Tim Cysweski (5), Mark Ironside (4), Royce Alger (3), Ed Banach (3), Chris Campbell (3), Thomas GIlman (3), Jim Heffernan (3), Randy Lewis (3), Brent Metcalf (3), and Chuck Yagla (3). 
GRAND SLAM WINNERS
Head coach Tom Brands is one of six Grand Slam Winners in Midlands history. Wrestlers who have won a Midlands title, an NCAA championship, a World title, and an Olympic gold medal are considered Grand Slam Winners. Brands is joined on the list by Dan Gable, Bruce Baumgartner, Dave Schultz, Kenny Monday, and Jordan Burroughs.
MIDLANDS, 2006-PRESENT
Iowa has won eighth Midlands team titles since 2006, Tom Brands' first season as head coach. The Hawkeyes won team titles in 2007, 2008, 2009, 2011, 2013, 2014, 2015, and 2016. Iowa placed second in 2006, fourth in 2010, and did not compete in 2012. 
    Since 2006, 17 Hawkeyes have combined to win 25 individual titles — Eric Luedke ('06), Joey Slaton ('07), Dan LeClere ('07), Mark Perry ('07), Brent Metcalf ('07, '08, '09), Daniel Dennis ('08), Ryan Morningstar ('08), Jay Borschel ('09), Matt McDonough ('09, '11), Thomas Gilman ('13, '15, '16), Derek St. John ('13), Mike Evans ('13, '14), Cory Clark ('14), Nathan Burak ('14, '15),   Bobby Telford ('14), Brandon Sorensen ('15, '16), and Michael Kemerer ('16). 
CORNER CHAMPIONS
Iowa's coaching staff has won a combined four Midlands titles. Head coach Tom Brands won the 134-pound title in 1990. Associate head coach Terry Brands won the 126-pound title in 1991, and again in 1997 as a member of the Hawkeye Wrestling Club. Assistant coach Ryan Morningstar won the 165-pound title in 2008.
DEFENDING CHAMPIONS
Seniors Brandon Sorensen and sophomore Michael Kemerer are defending their 2016 Midlands titles. 
    Sorensen is the two-time defending champion at 149 pounds. He went 6-0 in 2015 with a pair of wins over top 10 opponents, including No. 7 Jake Sueflohn (Nebraska) in the semifinals, and a 3-1 win in sudden victory against Northwestern's Jason Tsirtsis in the finals. He was 5-0 las tseason with one pin, two major decisions, and a 7-1 win in the final over No. 6 Justin Oliver of Central Michigan. Dating back to his third place finish in 2014, Sorensen has won13 consecutive matches at the Midlands Championships. 
    Kemerer won six matches in 2016 to win his first Midlands title. He recorded four major decisions, and wona 6-5 decision over No. 5 Tyler Berger in the finals at 157. 
B1G FLAVOR AT MIDLANDS 
The Hawkeyes (7-0, 3-0) are ranked No. 7 in the USA Today/NWCA Division I Wrestling Coaches Poll. They are joined in the Midlands field by wresters from Air Force, Arizona State, Brown, Buffalo, Cal Poly, Central Michigan, Clarion, Columbia, Eastern Michigan, Edinboro, Franklin & Marshall, Harvard, Illinois, Indiana, Iowa State, Lehigh, Maryland, Michigan, Minnesota, North Carolina State, Nebraska, North Carolina, Northern Illinois, Northwestern, Ohio, Old Dominion, Oregon State, Penn, Penn State, Pittsburgh, Princeton, Purdue, Rider, Rutgers, South Dakota State, West Virginia, and Wisconsin.