Hawkeye Fan Shop — A Black & Gold Store | 24 Hawkeyes to Watch – 2017-18 | 2018 UWW World Cup | Season Tickets | Hawk Talk Monthly — December 2017
Editor's Note: The following first appeared in the University of Iowa's Hawk Talk Daily, an e-newsletter that offers a daily look at the Iowa Hawkeyes, delivered free each morning to thousands of fans of the Hawkeyes worldwide. To receive daily news from the Iowa Hawkeyes, sign up HERE.
By CHRIS BREWER
hawkeyesports.com
HOFFMAN ESTATES, Ill. — The ultimate goal for Brandon Sorensen is an NCAA wrestling championship.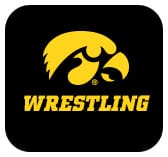 But before that opportunity presents itself, the Hawkeye veteran must take care of the next thing on the schedule — the 2017 Midlands Championships.
 
Iowa aims to win its fifth Midlands team title in as many years when the two-day tournament opens Friday at the Sears Centre Arena in Hoffman Estates, Illinois.
 
Sorensen has been a major part of the last three title runs, placing third as a redshirt freshman in 2014, and winning the 149-pound titles in 2015 and 2016. A third championship will make him the 12th Hawkeye in tournament history to win at least three Midlands titles, but right now he's not thinking history. Instead, he wants to build from today's experience.
 
"Midlands is a fun tournament," Sorensen said. "It's a two-day tournament with aspects that you can take and apply to Big Ten and nationals. It's good for a two-day weigh-in and you get a considerable amount of competition. There are good opponents there, too. You have to be ready."
 
The Midlands Championships has often served as an introduction to Division I wrestling for Hawkeye freshmen. The rookies enter the tournament unattached and measure their mettle against a field that includes ranked wrestlers, All-Americans, NCAA Champions, and post-collegiate competitors.
 
Sorensen experienced that baptism by fire in 2013 when he was the only Hawkeye freshman entered in the field. That year, he dropped a second-round overtime decision to Edinboro's eighth-ranked David Habat. He then rattled off five straight wins, including a 7-6 decision against Virginia Tech's 12th-ranked Zach Neibert, to finish third.
 
The next year, Sorensen was the only redshirt freshman in the Hawkeye lineup. He finished 5-1 and again placed third, but he hasn't seen the backside of the bracket since. He went 6-0 to win the 149-pound championship in 2015, and won five straight in 2016 to defend the title. He has won 13 straight Midlands matches and is 22-2 overall in four career appearances.
 
He is going to enter the tournament as the No. 1 seed for the third straight year. From the overall perspective, that's where the similarities end. A lot has changed since Sorensen's first appearance four years ago. Once a lone freshman auditioning for a lineup spot, he is now the known commodity on a team that could answer some unknowns this weekend.
 
Five freshmen, plus junior Pat Lugo, a transfer from Edinboro in line to be Sorensen's heir apparent at 149, could potentially see the mat at Midlands.
 
"I'm in more of a leadership position pushing guys forward," Sorensen said, "but we have a great freshman class. They are independent and doing things on their own. They're doing the right things so it makes my job easy."
 
The attention paid to the freshmen has also allowed Sorensen to fly under the radar the first two months of the season. He is 7-0 with five bonus-point wins, and another run toward a Midlands title should remind people about the three-time senior All-American in the middle of Iowa's lineup.
 
"To do that you have to stick out," Sorensen said. "That means winning by wide margins, scoring big bonus points, and wrestling how I know I can."
 
The Midlands Championships is streamed online at BTN2Go and at FloWrestling.com. Session I begins today at 9:30 a.m. (CT). Session II is Friday night at 7 p.m. Session III is Saturday at 12 p.m., and the finals begin Saturday at 7:05 p.m.