Hawkeye Fan Shop — A Black & Gold Store | 24 Hawkeyes to Watch – 2017-18 | 2018 UWW World Cup | Season Tickets | Hawk Talk Monthly — December 2017 | 2017 Midlands Brackets
 
HOFFMAN ESTATES, Ill. — Defending champions Brandon Sorensen and Michael Kemerer were two of 10 University of Iowa wrestlers to advance to the quarterfinals of the 2017 Ken Kraft Midlands Championships on Friday inside the Sears Centre Arena.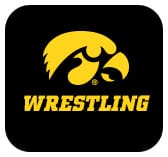 Sorensen, the top seed at 149, won by pin and technical fall. Kemerer, the top seed at 157, register three first period falls. The Hawkeyes totaled 10 falls, three technical falls, and five major decisions in the opening session.
 
Sorensen and Kemerer are two of Iowa's eight point scorers on the top side of the bracket. Sam Stoll, the No. 2 seed, won twice by disqualification at 285, forcing his opponent to stall out of the match.
Paul Glynn picked up an upset over the No. 5 seed in the opening round at 133, and earned another pair of decisions to advance to the quarterfinals at 133. Carter Happel, the No. 12 seed at 141, was 3-0 with wins by major decision, technical fall, and fall.
 
Alex Marinelli, the No. 2 seed, won by fall in 6:04 in his only match at 165. No. 12 Mitch Bowman led 3-0 over No. 5 Christian LaFragola of Brown before advancing to the quarters via injury default. No. 3 Cash Wilcke won by fall and again by decision to advance at 197.
 
Two unattached competitors – No. 10 Spencer Lee and No. 7 Jacob Warner – also advanced to the quarterfinals. Lee won by pin and tech. fall at 125, and Warner won by decision and major decision at 197.
 
Eight more Hawkeyes are alive on the backside of the bracket. The only Hawkeye eliminated from the tournament was Aaron Costello at 285.
 
Competition resumes with Session II tonight at 7 p.m. (CT). The Midlands Championships is streamed online at BTN2Go and at FloWrestling.com. Live results are available at TrackWrestling.com. The tournament in broadcast on AM 800 KXIC and stream on hawkeyesports.com via Hawkeye All-Access.
 
 
QUARTERFINAL MATCHUPS
125 – #10 Spencer Lee (Iowa-UNAT) vs.  #2 Sean Russell (Edinboro)
133 – Paul Glynn (Iowa) vs. #4 Dylan Duncan (Illinois)
141 – #12 Carter Happel (Iowa) vs. #4 Tyler Smith (Bucknell)
149 – #1 Brandon Sorensen (Iowa) vs. #8 Eleazar Deluca (Rutgers)
157 – #1 Michael Kemerer (Iowa) vs. #9 Jake Danishek (Indiana)
165 – #2 Alex Marinelli (Iowa) vs. #7 Jonathan Viruet (Brown)
184 – #12 Mitch Bowman (Iowa) vs. Jordan Ellingwood (Central Michigan)
197 – #7 Jacob Warner (Iowa-UNAT) #2 Jacob Smith (Wester Virginia)
197 – #3 Cash Wilcke (Iowa) vs. #11 Pat Brucki (Princeton)
285 – #2 Sam Stoll (Iowa) vs. #10 Zach Parker (Ohio)
 
CONSOLATION MATCHUPS
125 – Justin Stickley (Iowa) vs. Joshua Krammer (Arizona State)
133 – #10 Phillip Laux (Iowa) vs. Noah Gonser (Eastern Michigan)
141 – #9 Max Murin (Iowa-UNAT) vs. Ben Freeman (Michigan)
141 – Vince Turk (Iowa) vs. Cory Crooks (Arizona State)
149 – Jeren Glosser (Iowa) vs. Tyler Meisinger (Michigan)
149 – #10 Pat Lugo (Iowa-UNAT) vs. #4 Brandon Wright (Indiana)
165 – #8 Kaleb Young (Iowa) vs. Jesse Dellavecchia (Rider)
174 – #11 Joey Gunther (Iowa) vs. Matthew Gancayco (Princeton)
 
SESSION I RESULTS (attached competitors)
125 – Justin Stickley (Iowa) dec. Connor Brown (South Dakota State), 5-4
125 – Justin Stickley (Iowa) dec. Kirk Johansen (Northern Illinois), 6-2
125 – #1 Nick Suriano (Rutgers) tech fall Justin Stickley (Iowa), 19-4
 
133 – #10 Phillip Laux (Iowa) dec. Michael DeLaPena (Indiana), 9-2
133 – #7 Micky Phillippi (Pittsburgh) dec. #10 Phillip Laux (Iowa), 6-2
 
133 – Paul Glynn (Iowa) dec. #5 Ben Thornton (Purdue), Dec 5-1
133 – Paul Glynn (Iowa) pinned Anthony Rubinetti (Northwestern), Fall 3:56
133 – Paul Glynn (Iowa) dec. Jens Lantz (Wisconsin), 3-2
 
141 – #12 Carter Happel (Iowa) tech. fall Noah Hermasillo (Adams State – UNAT) (TF 18-2)
141 – #12 Carter Happel (Iowa) pinned Lenny Petersen (Air Force), 4:38
141 – #12 Carter Happel (Iowa) major dec. Jacob Lizak (Penn), 10-2
 
141 – Vince Turk (Iowa) dec. #14 Alexander Jaffe (Harvard), 6-2
141- Vince Turk (Iowa) dec. Jaime Hernandez (North Carolina), 7-4
141 – #3 Cole Weaver (Indiana) dec. Vince Turk (Iowa), 8-3
 
149 – #1 Brandon Sorensen (Iowa) pinned Davey Tunon (Indiana), 3:52
149 – #1 Brandon Sorensen (Iowa) tech. fall #16 Kevin Budock (Old Dominion), 26-11
 
149 – Jeren Glosser (Iowa) pinned Jordan Shearer (Nebraska), 2:30
149 – Jeren Glosser (Iowa) dec. Brandon Wright (Indiana), 8-1
149 – Austin O'Connor (North Carolina) dec. Jeren Glosser (Iowa), 7-4
 
157 – Michael Kemerer (Iowa) pinned Gene `Oliver` Pierce (Arizona State), 2:35
157 – Michael Kemerer (Iowa) pinned Dylan Geick (Columbia), 1:30
157 – Michael Kemerer (Iowa) pinned Brett Donner (Rutgers), 1:25
 
165 – #8 Kaleb Young (Iowa) major dec. Patrick Gerish (Maryland), 15-3
165 – Jacob Morrissey (Purdue) dec. #8 Young (Iowa), 6-4 SV1
 
165 – #2 Alex Marinelli (Iowa) pinned Johnny Blankenship (Nebraska) 6:04
 
174 – Jordan Pagano (Rutgers) dec. #11 Joey Gunther (Iowa), 7-4
174 – #11 Joey Gunther (Iowa) dec. Brit Wilson (Northern Illinois), 3-2
 
184 – #12 Mitch Bowman (Iowa) major dec. Brett Perry (Buffalo), 10-2
184 – #12 Mitch Bowman (Iowa) injury default #5 Christian LaFragola (Brown)
 
197 – #3 Cash Wilcke (Iowa) pinned Anthony Messner (Rutgers), 4:45
197 – #3 Cash Wilcke (Iowa) dec. Kyle Gentile (Lehigh), 2-1
 
285 – #2 Sam Stoll (Iowa) won by disqualification Ian James (Buffalo)
285 – #2 Sam Stoll (Iowa) won by disqualification Patrik Garren (Penn)
 
SESSION I RESULTS (unattached competitors)
125 – Spencer Lee (Iowa – UNAT) pinned Killian Cardinale (Old Dominion), 1:20
125 – Spencer Lee (Iowa – UNAT) tech. fall over Travis Piotrowski (Illinois), 17-2
 
141 – Max Murin (Iowa – UNAT) major dec. Grant Willits (Oregon State), 17-7
141 – Max Murin (Iowa – UNAT) dec. Jason Ipsarides (Northwestern), 6-2
141 – Colton Schilling (Cal Poly) pinned Max Murin (Iowa), 3:35 
149 – #10 Pat Lugo (Iowa – UNAT) dec. Zach Krause (Brown), 4-2
149 – #10 Pat Lugo (Iowa – UNAT) dec. Isaac Reinemann (Illinois), 7-4
149 – Joshua Maruca (Arizona State) dec. #10 Pat Lugo (Iowa – UNAT), 4-1 
197 – Jacob Warner (Iowa – UNAT) dec. Tyler Johnson (NC State), 8-2
197 – Jacob Warner (Iowa – UNAT) major dec. Jackson Striggow (Michigan), 11-3 
285 – Tanner Hall (Arizona State) pinned Aaron Costello (Iowa – UNAT), 4:01
285 – Ian James (Buffalo) dec. Aaron Costello (Iowa – UNAT), Dec 5-3