Hawkeye Fan Shop — A Black & Gold Store | 24 Hawkeyes to Watch – 2017-18 | 2018 UWW World Cup | Season Tickets | Hawk Talk Monthly — December 2017 | 2017 Midlands Brackets
 
HOFFMAN ESTATES, Ill.— Seven Hawkeyes advanced to the semifinals following the quarterfinal round of the Ken Kraft Midlands Championships on Friday night at the Sears Centre Arena.
 
Defending champion Michael Kemerer pinned his fourth straight opponent to advance at 157, and Brandon Sorensen (149) and Sam Stoll (285) both recorded major decisions. Alex Marinelli (165) and Cash Wilcke (197) both won by decision. Those attached wrestlers are still scoring points for the Hawkeyes on the top side of the bracket.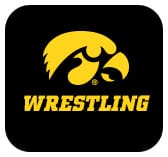 Iowa leads the team race with 91 points. Arizona State (75) and Rutgers (74) are in second and third, respectively.                                                               
 
True freshmen Spencer Lee and Jacob Warner also moved on with victories. Lee scored 12 first-period points before finishing a 15-0 technical fall against Edinboro All-American Sean Russell. Lee is seeded 10th. Warner, the No. 7 seed at 197, scored a takedown in the final second to upset No. 2 Jacob Smith of West Virginia, 3-1.
 
Warner will meet Wilcke in the 197 semifinals. Warner defeated Wilcke, 4-3, in the wrestle-offs on Nov. 6. Lee will meet Oregon State's Ronnie Bresser, the No. 3 seed, in the semis.
 
Sorensen will get a rematch with Arizona State's Jason Tsirtsis in the semis. The two have met five times before, with Sorensen holding a 3-2 advantage. Four of the matches have been decided in overtime or by a single point. Tsirtsis was a Northwestern Wildcat in the previous five matches. He is finishing his senior season at Arizona State.
 
Marinelli, the No. 2 seed, will meet Rutgers' third-seeded Richie Lewis in the semis. Marinelli defeated Lewis, 6-4, in sudden victory on Dec. 8.
 
Stoll, the No. 2 seed, meets Northwestern's sixth-seeded Conan Jennings. Stoll pinned Jennings in their only previous meeting in January, 2016.
 
"We're still wrestling," said UI head coach Tom Brands. "We have the semis tomorrow morning and we have to get ready. We have to keep building. We have a head-to-head to '97. That's what you want to see. You want to see it in the finals, but they're seeded on the same side and they're going to meet. Let the best guy win."
 
Iowa lost two 12-seeds on the top side of the bracket. Carter Happel lost 11-3 at 141, and Mitch Bowman fell, 6-1 in the first tiebreak period. Bowman had a takedown as time expired in the first sudden-victory period, but it was waved off after an official review. Paul Glynn, at 133, fell, 6-1, and was bounced to the backside of the bracket.
 
Five Hawkeyes — Max Murin (141), Jeren Glosser (149), Pat Lugo (149), Kaleb Young (165), and Joey Gunther (174) — each won a pair of matches in the consolation bracket to stay alive in the tournament. Justin Stickley (125), Phillip Laux (133), and Vince Turk (141) lost consolation matches and were eliminated from the tournament.
 
"We have guys on the back side doing well," said Brands. "We have four unattached still wrestling, so you look at the present, you're building for the immediate future — Sorensen and Kemerer leading the charge there — you have the future with Lee. He could be the immediate future. Then you have Murin and Lugo and Warner. There are some good things happening there. But the most important thing is being ready to wrestle tomorrow."
 
Competition resumes Saturday at 12 p.m. (CT) with consolation and semifinal rounds. The Midlands Championships is streamed online at BTN2Go and at FloWrestling.com. Live results are available at TrackWrestling.com. The tournament in broadcast on AM 800 KXIC and stream on hawkeyesports.com via Hawkeye All-Access.
 
SEMIFINAL MATCHUPS (#tournament seeds)
125 – #10 Spencer Lee (Iowa) #3 Ronnie Bresser (Oregon State)
149 – #1 Brandon Sorensen (Iowa) vs. #5 Jason Tsirtsis (Arizona State)
157 – #1 Michael Kemerer (Iowa) vs. #5 Justin Staudenmayer (Brown)
165 – #2 Alex Marinelli (Iowa) vs. #3 Richie Lewis (Rutgers)
197 – #3 Cash Wilcke (Iowa) vs. #7 Jacob Warner (Iowa-UNAT)
295 – #2 Sam Stoll (Iowa) vs. #6 Conan Jennings (Northwestern)
 
CONSOLATION MATCHUPS
133 – Paul Glynn (Iowa) vs. Paul Konrath (Wisconsin)
141 – #12 Carter Happel (Iowa) vs. #11 Mike Vanschenkbri (Rutgers)
141 – Max Murin (Iowa) vs. #15 Pat D'Arcy (Princeton)
149 – Jeren Glosser (Iowa) vs. #6 Ryan Deakin (Northwestern)
149 – Pat Lugo (Iowa) vs. #8 Eleazar Deluca (Rutgers)
165 – #8 Kaleb Young (Iowa) vs. #6 Logan Parks (Central Michigan)
174 – #11 Joey Gunther (Iowa) vs. #2 Mikey Labriola (Nebraska)
184 – #12 Mitch Bowman (Iowa) vs. #10 Martin Mueller (South Dakota State)
                     
QUARTERFINAL RESULTS
125 – #10 Spencer Lee (Iowa-UNAT) tech. fall #2 Sean Russell (Edinboro), 15-0
133 – #4 Dylan Duncan (Illinois) dec. Paul Glynn (Iowa), 6-1
141 – #4 Tyler Smith (Bucknell) major dec. #12 Carter Happel (Iowa), 11-3
149 – #1 Brandon Sorensen (Iowa) major dec. #8 Eleazar Deluca (Rutgers), 12-2
157 – #1 Michael Kemerer (Iowa) pinned #9 Jake Danishek (Indiana), 4:23
165 – #2 Alex Marinelli (Iowa) dec. #7 Jonathan Viruet (Brown), 3-2
184 – #4 Jordan Ellingwood (Central Michigan) dec. #12 Mitch Bowman (Iowa), 6-1 (TB1)
197 – #7 Jacob Warner (Iowa-UNAT) dec. #2 Jacob Smith (Wester Virginia), 3-1
197 – #3 Cash Wilcke (Iowa) dec. #11 Pat Brucki (Princeton), 5-2
285 – #2 Sam Stoll (Iowa) major dec. #10 Zach Parker (Ohio), 17-5
 
CONSOLATION RESULTS
125 – Joshua Krammer (Arizona State) dec. Justin Stickley (Iowa), 8-4
133 – #10 Phillip Laux (Iowa) dec. Noah Gonser (Eastern Michigan), 6-3
133 – Colin Valdiviez (Northwestern) dec. #10 Phillip Laux (Iowa), 5-3
141 – #9 Max Murin (Iowa-UNAT) medical forfeit (Michigan)
141 – #9 Max Murin (Iowa-UNAT) dec. Michael Carr (Illinois), 3-2
141 – Vince Turk (Iowa) pinned Cory Crooks (Arizona State), 3:21
141 – #11 Mike Vanschenkbri (Rutgers) pinned Vince Turk (Iowa), 2:21
149 – Jeren Glosser (Iowa) major dec. Tyler Meisinger (Michigan), 9-1
149 – Jeren Glosser (Iowa) dec. #12 Eric Barone (Illinois), 3-1 SV1
149 – #10 Pat Lugo (Iowa-UNAT) dec. #4 Brandon Wright (Indiana), 9-2
149 – #10 Pat Lugo (Iowa) pinned Josh Cortez (Col Poly), 2:01
165 – #8 Kaleb Young (Iowa) major dec. Jesse Dellavecchia (Rider), 12-3
165 – #8 Kaleb Young (Iowa) major dec. Dale Tiongson (Princeton), 17-3    
174 – #11 Joey Gunther (Iowa) dec. Matthew Gancayco (Princeton), 8-2
174 – #11 Joey Gunther (Iowa) dec. Jake Lanning (Buffalo), 10-3