Hawkeye Fan Shop — A Black & Gold Store | 24 Hawkeyes to Watch – 2017-18 | 2018 UWW World Cup | Season Tickets | Hawk Talk Monthly — December 2017 | 2017 Midlands Brackets
 HOFFMAN ESTATES, Ill. — The University of Iowa wrestling team went five-for-five in the finals to roll to their 27th team title at the 2017 Ken Kraft Midlands Championships on Saturday night inside the Sears Centre Arena.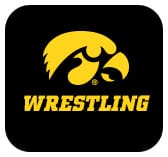 Brandon Sorensen (149), Michael Kemerer (157), Alex Marinelli (165), Cash Wilcke (197), and Sam Stoll (285) all won titles at their respective weight classes. It marked the first time in school history Iowa crowned five individual champions at the Midlands Championships.
 
The Hawkeyes scored 156.5 points, 47 or more than second place Rutgers (109.5). It was Iowa's largest margin of victory since scoring a tournament record 189 points and winning by 58.5 points in 2014.
 
Two of Iowa's title bouts went into sudden victory, and the other three were decided by a total of six points.
 
QUOTING HEAD COACH TOM BRANDS
"We have to score with more efficiency. We're closing matches, we're winning matches, and when you get to the semis that's what you do. You get yourself in position to win titles, and when you get to the championship match that's what you do… you win matches in the championship matches. But this is like a midterm. This is a midseason test and where we have to go from here to the next one is a significant step or two. There is a lot of work to do."
 
3-PEAT
Sorensen broke a 1-1 tie with a takedown late in the third to win his third straight Midlands title. He is the 12th Hawkeye in program history to win three Midlands Championships. He has won 18 straight matches and owns a 27-2 record in the last five Midlands tournament.
 
TITLE DEFENSE
Kemerer closed his title defense with a 5-2 win over No. 2 Josh Shields of Arizona State. Kemerer ran through the 157-pound bracket, recording four pins, a technical fall, and a decision in the title bout. He was the individual award winner for most falls in the least time (four in 9:54). 
 
BONUS WRESTLING
Iowa's first two title bouts went into sudden victory. Marinelli scored the deciding takedown 22 seconds into overtime to win, 3-1, and Wilcke finished a low single on the edge 15 seconds into his extra frame to win by the same 3-1 score.
 
Wilcke scored the deciding takedown 15 seconds into sudden victory. Tied 1-1, he grabbed a low single and finished on the edge to earn the 3-1 decision.
 
COOL HEAD, CHAMPIONSHIP STROLL
Stoll won the 285 pound title with a 2-1 win that was decided by an unsportsmanlike conduct penalty. He escaped in the third to tie the match, 1-1, before Tanner Hall, the top seed at 285, was dinged for the deciding point after disputing a non-call. Stoll finished the tournament 5-0 with a pair of stalling disqualifications, on major decision, and two decisions.
 
NOTABLES
Iowa has won more team titles than any other school (27) in the 55 year history of the Ken Kraft Midlands Championships.
Iowa has won the last five Midlands team trophies.
Former Hawkeye Jim Heffernen was inducted into the Midlands Hall of Fame. He is the 10th former Hawkeye to join the Hall of Fame.  
                                               
UP NEXT
The Hawkeyes return to action Friday, Jan. 5, hosting Michigan State at 7 p.m. (CT) at Carver-Hawkeye Arena. Tickets are available at hawkeyesports.com/tickets.
 
FINALS RESULTS
165 – #2 Alex Marinelli (Iowa) dec. #5 Jon Schleifer (Princeton), 3-1 SV1
197 – #3 Cash Wilcke (Iowa) dec. #5 Frank Mattiace (Penn), 3-1 SV1
295 – #2 Sam Stoll (Iowa) dec. #1 Tanner Hall (Arizona State), 2-1
149 – #1 Brandon Sorensen (Iowa) dec. #2 Justin Oliver (Central Michigan), 4-2
157 – #1 Michael Kemerer (Iowa) dec. #2 Joshua Shields (Arizona State), 5-2
 
THIRD-PLACE RESULTS
149 – #6 Ryan Deakin (Northwestern) dec. #10 Pat Lugo (Iowa-UNAT), 8-5
 
FIFTH-PLACE RESULTS
165 – #8 Kaleb Young (Iowa) dec. #4 May Bethea (Penn), 2-0
197 – #11 Pat Brucki (Princeton) dec. #7 Jacob Warner (Iowa-UNAT), 4-2
141 – #9 Max Murin (Iowa-UNAT) dec. #12 Carter Happel (Iowa), 5-2