Hawkeye Fan Shop — A Black & Gold Store | 24 Hawkeyes to Watch – 2017-18 | Hawk Talk Monthly — January 2018 | 2018 UWW World Cup | Season Tickets | Tickets for Michigan State dual
Editor's Note: The following first appeared in the University of Iowa's Hawk Talk Daily, an e-newsletter that offers a daily look at the Iowa Hawkeyes, delivered free each morning to thousands of fans of the Hawkeyes worldwide. To receive daily news from the Iowa Hawkeyes, sign up HERE.
By CHRIS BREWER
hawkeyesports.com
 
IOWA CITY, Iowa — Alex Marinelli got a Midlands title over winter break, but it didn't come wrapped the way he wanted.
 
The redshirt freshman won four matches at the 2017 Ken Kraft Midlands Championships. He won the first by fall in 6:05, but it was the next three that got his attention. Marinelli recorded consecutive 3-2 decisions in the quarter and semifinals, and had to work overtime for a 3-1 win in the title bout.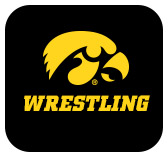 "I know I can widen the gap and that the score doesn't reflect what I can do, but coming out with the win is huge," Marinelli said. "(Winning Midlands) ranks big, but I didn't wrestle the guys that I wanted to wrestle. I had a few guys in mind and some guys didn't show up. It's a good thing to start with though. It's good to be wrestling out here."
 
Marinelli placed fourth at the Midlands a year ago. At the time, it seemed as though the tournament would be a tryout to see if his redshirt would be pulled and he would get a shot in the lineup. After a pair of one-sided losses, the redshirt remained and Marinelli had to wait nearly 12 months before his number would be called.
 
He debuted Dec. 8, 2017, with an overtime win against Rutgers' Richie Lewis. He followed that up with a first-period pin at Maryland two days later.
 
Fast forward three weeks, and Marinelli has ran his record to 6-0 with two falls, and just as surprising, and perhaps just as important, four wins by a combined six points. Two of which came in overtime.
 
He admits he would rather extend the lead then let the match be decided by one takedown in the final minute, but he also sees a benefit to winning the close ones.
 
"I'm a lot calmer (today) than I was even three weeks ago," he said. "I know if I get taken down nothing is going to shake me. I can fight back from everything. I'm more comfortable."
 
Of Marinelli's four Midlands wins, only one was against a ranked opponent. He answered his first career win with a 3-2 decision against Lewis in the Midlands semifinals. Lewis is ranked 15th by Intermat at 165 pounds. Marinelli is ranked 13th.
 
In the coming weeks, he'll get a chance to test his mettle against three opponents ranked 11th or better.
 
The Hawkeyes return to the mat hosting Michigan State on Friday, Jan. 5.  It's a match that marks Marinelli's Carver-Hawkeye Arena debut. After that, it's three straight January dates against Oklahoma State, Ohio State, and Michigan. That means matches against No. 8 Chandler Rogers, No. 11 Te'Shaun Campbell, and No. 5 Logan Massa, in that order.
 
"I have to build," Marinelli said. "We have Michigan State coming up and then Oklahoma State, that's going to be a big one. I'm looking toward who I have next. It's going to be big."
 
Three of the Hawkeyes' four January dates are at Carver-Hawkeye Arena. Tickets are available at hawkeyesports.com/tickets, over the phone at 1-800-IA-HAWKS, and at the UI Athletics Ticket Office at Carver-Hawkeye Arena.