Hawkeye Fan Shop — A Black & Gold Store | 24 Hawkeyes to Watch – 2017-18 | Hawk Talk Monthly — January 2018 | 2018 UWW World Cup | Season Tickets | Tickets for Oklahoma State Dual
By CHRIS BREWER
hawkeyesports.com
 IOWA CITY, Iowa — The University of Iowa wrestling team was tested by Illinois on Dec. 1. The Hawkeyes were tested at Rutgers on Dec. 8, and on Dec. 29-30 they were expected to be tested by Arizona State, Rutgers, and the rest of the competition at Midlands.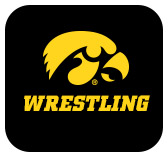 The Hawkeyes passed all three tests. But final grades have yet to be handed out, as yet another test looms this weekend.
 
Seventh-ranked Iowa hosts third-ranked Oklahoma State on Sunday at 3 p.m. (CT) at Carver-Hawkeye Arena.
 
Both teams are undefeated. The Hawkeyes have battled to an 8-0 record, while the Cowboys enter the dual undefeated in six tries. Of Iowa's eight wins, three have been against ranked opponents, but none have presented the challenge, or in head coach Tom Brands' words, the "opportunity" Oklahoma State presents.
 
"We have a high powered opponent coming in," Brands said Wednesday while meeting with the media at Carver-Hawkeye Arena. "Our fans love this and the tradition between the two teams is strong. There is a lot at stake for the University of Iowa wrestling program — where are we going (from here)?"
 
In the immediate future, the Hawkeyes want to make the jump from here — ranked No. 7 in the country — to there — in the same discussion as the teams looming on Iowa's schedule (No. 3 Oklahoma State, No. 2 Ohio State, and No. 1 Penn State).  
 
"The team coming in is in the championships caliber ranking, and we're probably just outside of that," Brands said, "but this is a great opportunity to position ourselves in that category and that's where we want to be."
 
To take the next step, Iowa needs a contribution from all 10 weight classes. The Hawkeyes have six wrestlers ranked 11th or better, but they're underdogs to Oklahoma State in three of the six. Oklahoma State has four more wrestlers ranked at 133, 141, 174, and 184. Iowa is unranked at each of those weight classes.
 
Brands doesn't worry about those numbers as much as he concerns himself with each wrestler's approach to competition.  
 
"Rankings never mean anything once you step on the mat," he said.
 
"As a competitor at a high level in professional or Olympic sports, when you get ready to go good things happen, and we some really good wrestlers that when they get ready to go, good things happen. You have to wrestle hard the whole match and if something unravels on you, you have to turn it around quick. That's a recipe for success in any challenge that you have."
 
There's also something to be said for knowing your opponent. Sunday is the 52nd meeting between two programs that have combined to win 57 NCAA team championships.
 
"This is Oklahoma State and they're coming after the same thing you're after," Brands said. "They're coming in to beat you and they're coming in to beat you bad. You have an opportunity, and what are you going to do with that opportunity? If our guys get ready to go I feel good about our chance."
 
Tickets to Sunday's dual are $15 for adults and $10 for youth 18-and-younger. UI students and children under age five are admitted free, but everyone must have a ticket. Tickets are available at hawkeyesports.com, over the phone at 800-IA-HAWKS, or at the UI Athletics Ticket Office inside Carver-Hawkeye Arena.