Hawkeye Fan Shop — A Black & Gold Store | 24 Hawkeyes to Watch – 2017-18 | Hawk Talk Monthly — January 2018 | 2018 UWW World Cup | Season Tickets | Match Notes: Ohio State
By DARREN MILLER
hawkeyesports.com
IOWA CITY, Iowa — Mitch Bowman's phone was buzzing with texts and congratulatory calls in the moments following his victory over Oklahoma State on Jan. 14.
 
Bowman, a 184-pound wrestler for the University of Iowa, should expect twice as many notes if he is victorious Sunday against No. 2 Myles Martin of Ohio State.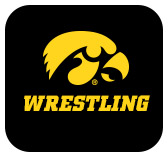 "(Martin) is a great competitor with a lot of slick stuff," said Bowman, who is 10-3 and ranked 18th in the country. "He is a former (174-pound) national champ (in 2016), he is as tough as they come. It is going to be a huge test and I look forward to going out and competing in front of another huge crowd."
 
Martin is 19-0 this season. He was 32-9 a year ago when he placed fifth at the NCAA Championships at 184.
 
Bowman has won six of his last seven matches and three victories this season have come against top 20 opponents. His 10-6 decision over No. 19 Keegan Moore of Oklahoma State was his most recent conquest.
 
"It's always easier to move forward with success," Bowman said. "It's a lot easier to get back in the room, you're more motivated."
 
A native of Donahue, Iowa, and a graduate of North Scott High School, Bowman said he will focus on himself, not Martin, when their bout rolls around in the Schottenstein Center in Columbus, Ohio.
 
"In a perfect match, it's what I do and not what he does so much," Bowman said. "I'm going to try to go out and dictate the pace and wrestle my style."
 
The Bowman-Martin bout is one of seven that will feature two nationally ranked competitors. Iowa (9-0 overall, 4-0 Big Ten) is ranked No. 4, Ohio State (9-0, 4-0) is ranked No. 2.
 
"Now we're going to that next tiered team and that's not a shot at anybody else," Iowa head coach Tom Brands said. "Ohio State and Penn State keep flipping (as 1-2) in the rankings. They're the two that are flip-flopping; nobody else is in that category."
 
The Hawkeyes could join the conversation with a victory over Ohio State. According to rankings, Iowa will be favored at 149 (Brandon Sorensen), 157 (Michael Kemerer), and 165 (Alex Marinelli). Three Buckeyes are ranked first at their weight class: Nathan Tomasello (125), Kollin Moore (197), and Kyle Snyder (285).
 
"This is the next step, that's why Oklahoma State was so important," Brands said of Iowa's 20-12 victory over the Cowboys. "This one follows quickly. I am not the type of guy that shoots from the hip or goes back to the drawing board. I believe in steady progress with nose-to-the-grindstone-type mentality. I am not saying we would have veered in a different direction (with a loss to Oklahoma State), but it's easier to move forward with success."
 
Nine of the 10 matchups feature wrestlers meeting their opponent for the first time. Iowa leads the all-time series, 39-3, and has won the last three meetings.
 
"If we prepare right, we can compete with them and walk out of Ohio State with a win," Bowman said.