Hawkeye Fan Shop — A Black & Gold Store | 24 Hawkeyes to Watch – 2017-18 | Hawk Talk Monthly — January 2018 | 2018 UWW World Cup | Season Tickets
Editor's Note: The following first appeared in the University of Iowa's Hawk Talk Daily, an e-newsletter that offers a daily look at the Iowa Hawkeyes, delivered free each morning to thousands of fans of the Hawkeyes worldwide. To receive daily news from the Iowa Hawkeyes, sign up HERE.
By JAMES ALLAN
hawkeyesports.com
IOWA CITY, Iowa — Alex Marinelli is going home.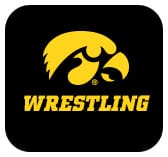 The University of Iowa's 165-pound wrestler will return to his home state Sunday when the fourth-ranked Hawkeyes face second-ranked Ohio State in a 2:30 p.m. (CT) dual at Value City Arena at the Jerome Schottenstein Center.
 
"It's another team on the schedule," said Marinelli, a native of Miamisburg, Ohio, which is 80-plus miles west of Columbus. "People say there may be bad blood, but I am looking to face whoever they put on the mat. I am excited to fight alongside my brothers, we're a family, and we're going to try and take down Ohio State."
 
The Buckeyes were one of the schools recruiting Marinelli early, but the relationships he formed with Iowa head coach Tom Brands and assistant coach Ryan Morningstar led him to Iowa City.
 
"I remember the first meeting I had with Tom and Morningstar," said Marinelli. "They didn't show up in suits or Mercedes, they showed up in their Ram trucks, jeans, and t-shirts. They weren't trying to be flashy, they were their normal selves, and that's what I liked."
 
Marinelli attended St. Paris Graham High School, where he won four Ohio high school state titles.  He's from the country, and he values hard work.
 
"Being on this campus, it's a small town feel," said Marinelli. "You get that feel with the cornfields. I went to St. Paris Graham, that's a country town and they know how to work hard. That's Iowa, they're not flashy, they put their noses down and get to work."
 
Marinelli has worked hard since making his Iowa debut Dec. 8 at Rutgers. He has won all eight of his matches — two by fall, one by technical fall, and five by decision — to move as high as eighth in the national rankings.  His most recent victory was a 5-2 decision over Oklahoma State's eighth-ranked Chandler Rogers. 
 
The win — the highest-ranked victory of Marinelli's career — helped Iowa down the fourth-ranked Cowboys, 20-12.
 
"We moved the needle and we moved the needle with some individuals (with the win over Oklahoma State)," said Brands. "There were some important, tough matches that we won, and that is good to see. 
 
"We're going to be in a lot more (tough matches) coming up and it is going to be very soon. It is going to be Sunday."
 
On paper, the Buckeyes are favored in all but three bouts. Brandon Sorensen (149), Michael Kemerer (157), and Marinelli are the higher ranked Hawkeyes. All 10 Ohio State wrestlers are ranked 13th or better and the Buckeyes have five wrestlers listed in the top three, including a trio who are top-ranked.
 
"This is the next step, that's why Oklahoma State was so important," said Brands. "This one follows that one quickly. It's easier to move forward with success."
 
Sunday's dual will be televised on BTN with Tim Johnson and Jim Gibbons on the call.  A video stream will also be available on BTN Plus on BTN2Go and at FloWrestling.com.  The action will also be broadcast on AM 800 KXIC with Steven Grace and Mark Ironside on the call.