Hawkeye Fan Shop — A Black & Gold Store | 24 Hawkeyes to Watch – 2017-18 | Hawk Talk Monthly — January 2018 | 2018 UWW World Cup | Season Tickets | Michigan Notes 1718
Editor's Note: The following first appeared in the University of Iowa's Hawk Talk Daily, an e-newsletter that offers a daily look at the Iowa Hawkeyes, delivered free each morning to thousands of fans of the Hawkeyes worldwide. To receive daily news from the Iowa Hawkeyes, sign up HERE.
By CHRIS BREWER
hawkeyesports.com
IOWA CITY, Iowa — The party of the year isn't happening before the Super Bowl or after the Oscars. It's going down at Brown Deer Golf Club on Saturday and everyone is invited.
 
The seventh-annual Hawkeye Wrestling Club (HWC) Arctic Plunge will follow the fourth-ranked Hawkeyes' dual against No. 7 Michigan. There is no "official" start time. There is no "official" end time. Rather, HWC officials invite you to get there as soon as you can and get comfortable for as long as you want.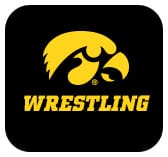 "This event has taken on a life of its own," said HWC president Randy Novak. "We do it close to home so our fans who want to see what's going on can come out and watch, or come out and participate."
 
The plunge, one of many fundraisers hosted by the club each year, has evolved since its inaugural year in 2012. For starters, the event has moved from a Riverside, Iowa, matinee to the Coralville, Iowa, night life. It has been under the lights at Brown Deer since 2014.
 
It has also seen an uptick in participation. Novak estimates fewer than 15 people took the plunge in 2012. That number has grown to 48 in 2018, and the amount of donations has climbed with it.
 
"The first year we raised $25,000 and thought, 'Wow, that is just awesome,'" Novak said. "And through a lot of hard work and support from a lot of people, we're very close to $93,000 today and there is no doubt we'll beat our all-time best."
 
Novak credits the event's success to a couple things. For starters, some people involved simply get a thrill out of engaging with the club. Others, like NCAA champion Mark Ironside, who Novak says "doesn't like to place runner-up at a card game," enjoy competing for tiered prizes awarded to the field — the top eight fundraisers are named All-Americans.
 
But the biggest step forward the club has taken, according to Novak, has been in communication.
 
"People weren't aware in the past of what the HWC did or what we used the money for," Novak said, "So we are working harder to get the word out and communicate about what we do and why we do it.
 
"It's not so much that we're having another fundraiser, it's what we're doing with the funds that are raised from that fundraiser. We've been able to bring Mark Perry on as a wrestling coach of the HWC and right now we're at or near an all-time high for the amount of club members that we have. We just have a lot of skilled guys that have stuck around and that's a credit to the program."
 
Today, the club consists of head coach Mark Perry and 12 wrestlers. Some are recent Iowa graduates, like World Silver medalist Thomas Gilman. Some — like Chris and Nick Dardanes — left their former school's postgraduate club to train in Iowa City. Others include U.S. women's freestyle competitors Lauren Louive and World Silver medalist Alli Ragan.
"We want to provide resources that attract and train the best people for world and Olympic tournaments," Novak said. "We need to help these wrestlers continue their careers and compete to win titles while representing the United States of America on an international stage."
 
To make a donation or register for the plunge visit hawkeyewrestlingclub.com. For more information on ways to contribute to the HWC general fund, email the club at randynovak@hawkeyewrestlingclub.com.