Hawkeye Fan Shop — A Black & Gold Store | 24 Hawkeyes to Watch 2016-17 | Fight For Iowa | Hawk Talk Monthly — January 2018 | North Texas & SMU Notes
THIS WEEK FOR THE HAWKEYES
The University of Iowa women's tennis team hits the road this weekend for matches against North Texas and SMU. The Hawkeyes travel to Denton, Texas, to play North Texas on Saturday at 11 a.m. (CT), and SMU on Sunday at 11 a.m. in Dallas, Texas.
@SASHASCHMID ON HEADING SOUTH
"I can't wait to play again this weekend. I'm excited about the hunger of this team to improve and fight. We have two more tough battles ahead of us in Texas this weekend. This group is not satisfied with a close loss to Washington State, but they are energized and see the positive direction we are heading – we all just want to keep playing and competing."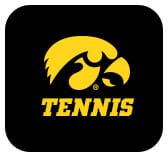 HAWKEYES SPLIT ROAD MATCHES
Iowa is 1-1 on the road. The Hawkeyes defeated Montana on Jan. 27, 6-1, but dropped a tough match to Washington State on Jan 28, 5-2, at the PEAK Racquet Club.  
TAKING ON THE MEAN GREEN
Saturday's match is the first meeting between Iowa and North Texas (2-1). They meet at the Waranch Tennis Complex. Junior Maria Kononova is ranked No. 42 nationally by the ITA and is 2-0 in the No. 1 position. 
TAKING ON THE MUSTANGS
Sunday's match is the third meeting between the Hawkeyes and Mustangs. The all-time series is led by the Hawkeyes, 2-0. The previous match between the two teams was in 1997, when the Hawkeyes beat the Mustangs, 5-4. The Mustangs are currently 2-1 this season. 
DEADLY DOUBLES
Senior Zoe Douglas and freshman Yufei Long have paired together in four doubles matches in the No. 1 position. They have compiled a 2-0 record, winning both matches, 6-1. Two matches have gone unfinished. 
STRONG START TO SINGLES
Two Hawkeyes have opened the season with an undefeated singles record. Douglas is 3-0, winning three straight-set matches in the No. 1 and No. 2 positions. Long is 4-0, from the No. 2 and No. 3 positions, including a straight-set victory over a nationally ranked opponent. 
BECOME A FAN
Fans can follow the Iowa women's tennis team at facebook.com and via twitter
@Iowa_Tennis. Live results from this weekend are available on the Iowa women's tennis schedule page at hawkeyesports.com.
FOLLOW THE HAWKEYES
Links to live results and a live video stream will be available on the women's tennis schedule page at hawkeyesports.com.