Hawkeye Fan Shop — A Black & Gold Store | 24 Hawkeyes to Watch – 2017-18 | Hawk Talk Monthly — February 2018 | 2018 UWW World Cup | Season Tickets | Photo Gallery 1 | Photo Gallery 2
By DARREN MILLER
hawkeyesports.com
IOWA CITY, Iowa — Carter Happel's goal was to wrestle all seven minutes Friday against Minnesota's 10th-ranked Tommy Thorn.
 
He settled for 6:58.
 
Happel, a University of Iowa redshirt freshman 141 pounder, overcame an early deficit, erased riding time in the third period, and pinned Thorn to put an exclamation point on the No. 7 Hawkeyes' 34-7 victory over No. 18 Minnesota.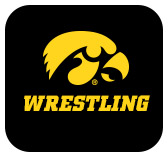 "(Head coach Tom Brands) has been putting it in our heads all week about wrestling hard seven minutes, so I went out and wanted to wrestle hard all seven minutes," said Happel, who improved to 11-7 on the season with his second fall. "It showed that these guys can't hang with us and our conditioning. I felt good the whole match, so I have to keep going out there and putting a hard seven minutes in every match."
 
Happel and Thorn have history. Of Happel's three losses last season competing unattached, his most lopsided setback was against Thorn at the Northern Iowa Open, 9-3. He got revenge in front of 9,335 on Mediacom Mat inside Carver-Hawkeye Arena. Iowa improved to 10-2 overall, 5-2 in the Big Ten, Minnesota is 5-6, 3-3.
 
"Happel was different, his energy was different," Brands said. "He was throwing his legs back, chasing ankles, and trying to score in go-behind situations getting to his offense."
 
The win snapped a four-match losing streak for Happel. In his last outing against No. 11 Joey McKenna of Ohio State, he was defeated, 13-2.
 
"Against Ohio State, the McKenna match, Happel fell down three or four times in the first period," Brands said. "He is the one who made the difference (Friday), that's not coaching. It is about I got an opportunity, I'm from Lisbon, Iowa — and they like to wrestle in Lisbon, Iowa — and now I'm an Iowa Hawkeye, I'm 20 minutes from home, so let's make the most of this opportunity."
 
Happel and sophomore Vince Turk (7-5) have been alternating matches of late. Turk will compete against Northwestern on Sunday and Brands hinted that Turk "probably has asserted himself as the guy (at 141)." Happel knows that efforts like the one he gave against Thorn will make the postseason decision more difficult for his coach.
 
"We are both going out and doing our best, so it's kind of a hard decision on Tom to see who is going to go out there at the end of the season," Happel said. "If (Turk) ends up getting the spot, I'm going to do everything I can to help him; I know he will do the same for me, so it's a good thing."
 
Iowa returns to the mat Sunday hosting No. 17 Northwestern at 10 a.m. (CT). The Hawkeyes will recognize seniors Phillip Laux, Logan McQuillen, and Brandon Sorensen following the dual. Sorensen kicked off the action against Minnesota with a fall over Ben Brancale in 3:32 to improve to 17-0 on the season and 117-13 for his career.