Hawkeye Fan Shop — A Black & Gold Store | 24 Hawkeyes to Watch – 2017-18 | Hawk Talk Monthly — February 2018 | 2018 UWW World Cup | Season Tickets | Match Notes
Editor's Note: The following first appeared in the University of Iowa's Hawk Talk Daily, an e-newsletter that offers a daily look at the Iowa Hawkeyes, delivered free each morning to thousands of fans of the Hawkeyes worldwide. To receive daily news from the Iowa Hawkeyes, sign up HERE.
By CHRIS BREWER
hawkeyesports.com
IOWA CITY, Iowa — One night in 2013, when he was training for track and planning a future in football, Logan McQuillen decided to pursue college wrestling.
 
As complicated as that may sound, it was a simple path for the self-proclaimed small town Iowa kid.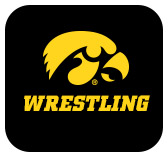 "I was sitting around one night with friends out to eat," McQuillen said. "I got a call, I didn't think much of it, and he said, 'This is Ryan Morningstar with Iowa wrestling and we want to get you in on a visit.' After I got here, (wrestling) was the only thing left. I knew this is exactly what I wanted to do."
 
McQuillen won the Iowa high school state championship in 2013 for Monticello High School, a class 2A school one hour north of Iowa City. He said it was the lone highlight of his prep wrestling career, but it was enough to point him toward Iowa City.
 
The coaching staff, he said, was completely honest with him and the expectations that accompanied joining the program — he would be a walk-on, but he'd be expected to train for the top spot like anyone else. And just as important, he would be provided an education he may not otherwise have pursued.
 
"My parents wanted me to go to college and get an education," McQuillen said. "So that being said, my thought process when I arrived was not to just be an athlete. It was important for me to get an education because I wanted to go on to physical therapy, or be a doctor, or what I ultimately decided, which is vet med."
 
From the fall of 2013 until the spring of 2018, McQuillen has done two things. First, he has showed up to practice every day ready to embrace the challenge. That positive frame of mind, he said, is the only way to become the best wrestler and person he could possibly be.
 
The second is pursue an education. McQuillen is a two-time Academic All-Big Ten honoree. He came to campus wanting to learn more about physical therapy, medicine, and veterinary studies. So that's what he did. He studied all three, ultimately discovering that the son of a cattle farmer was interested in becoming a veterinarian.
 
He'll graduate in May with a bachelor of science in genetics and biotechnology, and in two weeks he expects an admission letter from the College of Veterinary Medicine at Iowa State University.
 
On Sunday, he and fellow seniors (and roommates for the past four years) Phillip Laux and Brandon Sorensen will be recognized following Iowa's 10 a.m. (CT) dual against Northwestern.
 
McQuillen won't wrestle. In four-plus years he never became Iowa's No. 1 guy. But he never considered chasing that pole position anywhere else, and he's going to graduate a happy man.
 
"The atmosphere of the program is what kept me here," McQuillen said. "Where I am today is a byproduct of the journey to get to the top, even if that's not where I ended up. I love the guys. I love the coaches. I have experienced a ton of opportunities I never would otherwise have had if I didn't come to Iowa. I can't imagine a better experience."