Hawkeye Fan Shop — A Black & Gold Store | 24 Hawkeyes to Watch – 2017-18 | Hawk Talk Monthly — February 2018 | 2018 UWW World Cup | Season Tickets | Match Notes | Photo Gallery 2 | PHOTO GALLERY I
IOWA CITY, Iowa — The University of Iowa wrestling team won nine of 10 matches to roll past Northwestern, 33-2, on Sunday morning at Carver-Hawkeye Arena.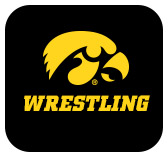 Michael Kemerer (157) and Alex Marinelli (165) both won by technical fall, Vince Turk (141) and Mitch Bowman (184) earned major decisions, and Spencer Lee (125) and Brandon Sorensen (149) both recorded wins over top 10 opponents.
 
For Lee, it was his fifth straight top 10 win in as many times out. He built a 6-0 lead in the opening period and went on to a 7-4 win over No. 10 Sebastian Rivera.
 
Sorensen worked overtime to earn a win in his final appearance at Carver-Hawkeye Arena. He wrestled through a scoreless first period and entered the third tied 2-2 against No. 5 Ryan Deakin. He opened the third with an escape, and added another escape following a Deakin takedown with 12 seconds left on the clock.
 
Sixteen seconds into the first sudden victory period, Deakin was called for a technical violation for pulling on headgear. The call was confirmed on video review and Sorensen was awarded a 5-4 victory. It was his 35th victory at Carver in 38 career matches.
 
The Hawkeyes earned decisions at 133, 197, and 285. Paul Glynn won his first career match over a ranked opponent, scoring the winning takedown with 11 seconds on the clock in a 3-2 win over No. 20 Colin Valdiviez.
 
Cash Wilcke and Sam Stoll closed the dual with consecutive wins at 197 and 285, respectively. The Wildcats lone win came at 174, where No. 17 Johnny Sebastian defeated Kaleb Young, 9-4.
 
BRANDS ON SORENSEN
"He is what we want our guys to be. He puts his head down, he goes to work every day, and there is zero distraction with him. When I say zero I mean zero. You don't worry about him… what he's doing in the off-season when there is a break, you know he is still training and he is just a solid, solid individual."
 
BRANDS ON LEE
"He scored enough points in the first period to win the match, and sometimes that's how he thinks. I know he is hard on himself and he doesn't necessarily like the way he wrestled but I think he has more in the tank than what he shows out there, meaning if he needs a score he can go get a score. We'll just leave it at that."
 
GLYNN ON HIS FIRST TOP 20 WIN
"I feel like I have been improving, but there is still a lot I can get better at for the postseason, which is really a positive thing. I have been getting to the legs better and now it is time to start finishing every time I get to the legs."
 
UP NEXT
Iowa returns to the mat Saturday, Feb. 10, at No. 1 Penn State. The Hawkeyes and Nittany Lions meet at the Bryce Jordan Center at 7 p.m. (CT). The dual is televised on BTN.
 
NOTABLES
Attendance was 7,551
The Hawkeyes held a 27-6 advantage in takedowns.
Lee's last five matches (all wins) have been wins over top 10 opponents.
Glynn earned his first win over a ranked opponent.
Sorensen finished his career with a 35-3 all-time at Carver-Hawkeye Arena.
Kemerer extended his winning streak to a career-best 22 matches.
Marinelli improved to 12-0.
Hawkeye wrestlers have won five consecutive matches against individual top 10 opponents.
 
#7 IOWA 33, #17 NORTHWESTERN 2
125 — #3 Spencer Lee (IA) dec. #10 Sebastian Rivera (N), 7-4; 3-0
133 — Paul Glynn (IA) dec. #20 Colin Valdiviez (N), 3-2; 6-0
141 — Vince Turk (IA) major dec. Alex McKenna (N), 10-2; 10-0
149 — #2 Brandon Sorensen (IA) dec. #5 Ryan Deakin (N), 7-3; 13-0 SV1
157 — #2 Michael Kemerer (IA) tech. fall Shane Oster (N), 17-2; 18-0
165 — #7 Alex Marinelli (IA) tech. fall Michael Sepke (N), 23-8; 23-0
174 — #17 Johnny Sebastian (N) dec. Kaleb Young (IA), 9-4; 23-2*
184 — #20 Mitch Bowman (IA) major dec. Mitch Sliga (N), 9-1; 27-2
197 — #7 Cash Wilcke (IA) dec. Zack Chakonis (N), 8-4; 30-2
285 — #3 Sam Stoll (IA) dec. Conan Jennings (N), 2-0; 33-2
*Northwestern was deducted one team point for failure to control the mat after 149
Carver-Hawkeye Arena
Records: #7 Iowa (11-2, 6-2) | #18 Northwestern (8-4, 3-4)
Attendance: 7,551