Hawkeye Fan Shop — A Black & Gold Store | 24 Hawkeyes to Watch – 2017-18 | Fight For Iowa | Hawk Talk Monthly — February 2018 | Purchase Season Tickets
Editor's Note: The following first appeared in the University of Iowa's Hawk Talk Daily, an e-newsletter that offers a daily look at the Iowa Hawkeyes, delivered free each morning to thousands of fans of the Hawkeyes worldwide. To receive daily news from the Iowa Hawkeyes, sign up HERE.
By JAMES ALLAN
hawkeyesports.com
IOWA CITY, Iowa — The experience Tyler Cropley gained during his up-and-down first season with the University of Iowa baseball team has the catcher primed for a big finale.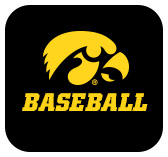 To say Cropley got off to a slow start to his Hawkeye career is an understatement. The McCook Lake, South Dakota, native had only four hits in his first 13 games and the junior was carrying a .105 average.
 
Cropley slowly started getting on track, but he was still hitting below .200 through Iowa's first 25 games.
 
"It was difficult," said Cropley, who was voted as one of Iowa's team captains in 2018. "Coming back from that second Florida trip, we had a conversation and figured out what we were going to do.
 
"I wasn't worried about it because I knew I hadn't seen that kind of live pitching in close to a year since my surgery (after breaking a wrist at Iowa Western Community College). I knew I was here for a reason, that I could play, and (my hitting) would come around."
 
Until his bat came to life, Cropley was Iowa's MVP in the field. 
 
"When he slumped early (at the plate), he didn't take it to the field," said Iowa head coach Rick Heller. "He did an awesome job with our pitchers, and I think he's one of the best catchers in the country, defensively. He's a fantastic receiver and he blocks and throws well.
 
"He is a great defensive player and in that position that is the No. 1 priority. Anything we get offensively is a bonus. It worked out great that he came on last season and provided us a big boost down the stretch."
 
After entering April with a .203 average, Cropley hit .311 the rest of the way, connecting on seven of his nine home runs. He finished his junior season with a .268 average, 18 extra base hits, 36 RBIs, and 41 runs scored to earn second-team All-Big Ten honors. 
 
He was also named to the Big Ten All-Tournament team after hitting .412 with three home runs in Iowa's Big Ten Tournament title run. Cropley hit two home runs, including a go-ahead extra-inning blast, in a semifinal elimination game victory over Minnesota.
 
"He finished last season strong," said Heller. "This year his role is going to be different. He's going to be looked upon to be one of those guys that needs to step up and be a consistent run-producer and protect Robert (Neustrom) in the lineup.
 
"I think he's ready for that. He has worked on his hitting and I think he's a much better hitter now than he was at this time last year. He was voted a team captain, he's in great shape, and I think he's set up to have a nice season."
 
Persevering through the ups and downs of his first Hawkeye season gives Cropley confidence heading into 2018.
 
"I have had more than a full year to get ready and that's going to help the most," he said. "My confidence is going to keep growing because my teammates and coaches believe in me. They want me to be a guy in the lineup that is up in tough situations to make a play or make a big call behind the plate."