Hawkeye Fan Shop — A Black & Gold Store | 24 Hawkeyes to Watch – 2017-18 | Hawk Talk Monthly — February 2018 | Purchase Season Tickets
Editor's Note: The following first appeared in the University of Iowa's Hawk Talk Daily, an e-newsletter that offers a daily look at the Iowa Hawkeyes, delivered free each morning to thousands of fans of the Hawkeyes worldwide. To receive daily news from the Iowa Hawkeyes, sign up HERE.
By JAMES ALLAN
hawkeyesports.com
IOWA CITY, Iowa — Robert Neustrom essentially committed to the University of Iowa as a 10-year-old from western Iowa.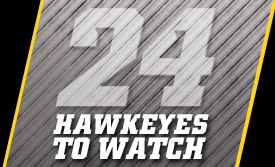 "When I was probably 10-years-old, I asked my dad if Iowa had a baseball team, I didn't know," said Neustrom, a junior outfielder from Sioux City, Iowa. "He said, 'Yeah, they do, you just don't hear much about them, they haven't been having too many good years.'
 
"I remember telling him, I'm going to help them win one day. That's when I verbally committed to Iowa."
 
Neustrom has made good on his word, helping the Hawkeyes to 59 victories in his first two seasons with the program.  As a freshman, Iowa advanced to the Big Ten Tournament title game before the Hawkeyes took it a step further in 2017. 
 
Iowa won 39 games and claimed its first Big Ten Tournament title to advance to NCAA Regional play for a second time in three seasons under head coach Rick Heller.
 
"I will never forget that feeling after the last pitch was thrown and that last out was made," said Neustrom. "Meeting up with the team and dog-piling, that was special."
 
For the Hawkeyes to continue their success, Neustrom must continue his progression. He jumped into Iowa's lineup as a freshman before earning all-league honors as a sophomore. Heading into his junior season, Neustrom is the Big Ten Preseason Player of the Year by Baseball America and Perfect Game.
 
"I look at the (preseason talk) as a good job on all your hard work during the offseason, but I look at it now as it doesn't mean much," said Neustrom. "I have to go out and show it. You can't talk it, you have to do it because this game will humble you if you start talking."
 
Neustrom's rise in Iowa City is noteworthy considering he was an under-the-radar recruit out of Sioux City North High School. He was a three-sport star, earning all-state honors as a wide receiver in football and all-conference honors in basketball, but baseball was his calling.
 
He started on Sioux City's varsity team as an eighth grader and when his career finished, he was Iowa's Gatorade Player of the Year and an honorable mention Perfect Game All-American.  He hit .472 as a senior with 14 doubles, six home runs, and 49 RBIs following a junior campaign where he hit .540.
 
"The thing that stood out for us is he is a good person," said Heller. "He has a good attitude and cares about his teammates. He was a good football player, a good basketball player, and a really good baseball player that hadn't spent a lot of time playing baseball.
 
"We felt the upside was as high as it could possibly be, knowing his work ethic and makeup."
 
Neustrom went to work during his first fall in Iowa City and it paid dividends. He started 38 games in right field as a freshman, finishing the season with a .307 average; he came on in the postseason, hitting .462 and leading the Hawkeyes to the Big Ten Tournament title game.
 
From year one to year two, Neustrom made a substantial jump. He started all 61 games for an NCAA Regional team, ranking in the top-10 in the Big Ten in five statistical categories. Neustrom hit .319 with 16 doubles and nine home runs, he drove in 55 runs and scored 41 times.
 
Neustrom's success extended into the summer, where he went on to become a Cape Cod League All-Star for the Hyannis Harbor Hawks.  He was also one of the top players at the World University Games, hitting .387 with seven extra base hits, six runs, and six RBIs in helping USA earn a silver medal.
 
What's in store in year three for Neustrom?  Heller believes the sky is the limit.
 
"This was the vision we had of Robert for his junior year," said Heller. "It has been a steady progression. He has gotten better and that's what we envisioned.
 
"He's going to be a big part of our success. He's the guy that is going to be in the middle of the lineup and is expected to drive in runs, get on base, be unselfish and take his walks if teams aren't pitching to him. All those things are going to happen for Robert to have a great year and I believe he is set up to do that."
 
With his success in the Cape, Neustrom's name has catapulted up the top prospects lists for the 2018 Major League Baseball First-Year Player Draft. With another strong spring, Neustrom's draft stock will continue to rise.
 
Neustrom is taking the talk in stride, but his focus is on the Hawkeyes.
 
"A buddy gave me this advice," said Neustrom. "The draft is going to be one day of your life, it's something you can look forward to, but it's not something to focus on. We play 60-plus games in a season, and I can't put pressure on myself every at-bat thinking about the draft.
 
"It's totally irrelevant when you get 250 (at-bats) a year, every at-bat counts, but if you're focused on winning and focusing on your team, it takes a lot of pressure off yourself."
 
Neustrom's goals for the Hawkeyes are to the point.  He wants to continue to win and win as a team. He wants to be a leader and establish a strong work ethic.
 
"We have a special team and we can do some special things," said Neustrom. "I plan to do my job pushing everybody, whether that's leading by example or vocally.  I want to do everything I can to help this team win."