Hawkeye Fan Shop — A Black & Gold Store | 24 Hawkeyes to Watch – 2017-18 | Hawk Talk Monthly — February 2018 | 2018 UWW World Cup | Season Tickets | Photo Gallery | Glynn Pins Michigan State | VIDEO | Iowa-Iowa State Dual Recap
By DARREN MILLER
hawkeyesports.com
AMES, Iowa — Paul Glynn has shined in grim situations before Sunday, most recently Jan. 5 against Michigan State inside Carver-Hawkeye Arena.
 
That's when the sophomore 133-pound wrestler for the University of Iowa trailed the Spartans' Matt Santos, 4-0, in the first period of a match he eventually won by fall. There has been one win and four defeats for Glynn (8-9) since, but he will head into the postseason on a winning streak after digging deep to execute another come-from-behind conquest.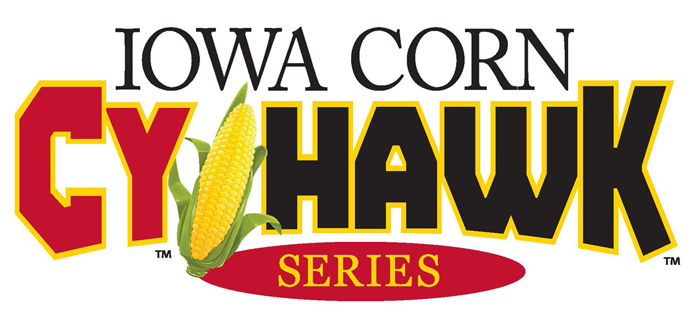 The Bettendorf, Iowa, native trailed Iowa State's Markus Simmons, 6-0, after the first period Sunday and 2:30 of riding time was in the favor of Simmons. The Cyclone sophomore — who has 21 victories this season — extended his lead to 7-0 with an escape 34 seconds into the second period.
 
But it was that 34-second ride that gave Glynn confidence.
 
"Where I felt the match go my way a little bit was when I rode him tough for (34) seconds in the second period," Glynn said. "I let him go, he shot that double-leg on me, I stuffed him, and sprinted back to the center. He took a while to get back and I knew right there he started to feel it."
 
Glynn scored eight unanswered points — two takedowns and four nearfall points — to win, 8-7. No. 7 Iowa had no trouble with its in-state rival, overpowering Iowa State, 35-6, for a 14th consecutive decision in the Iowa Corn Cy-Hawk Series.
 
"There might higher stakes (with the Iowa-Iowa State rivalry), more hatred between the two programs," Glynn said. "Any time you can go out there and get that win, you can show that Hawkeye pride you have. This is a Hawkeye state, everyone knows this state is a Hawkeye state. No one thinks of this as a Cyclone state; it is a Hawkeye state and it is going to stay that way."
 
Iowa improved to 12-3 overall; Iowa State finishes its first season under head coach and former Hawkeye Kevin Dresser at 8-10.
 
After the dual, Dresser was asked about the 133-pound match and admitted that Simmons ran out of gas.
 
"Everybody gets tired," Dresser said. "The great ones get tired and they step it up."
 
Glynn stepped up in front of 8,861 inside Hilton Coliseum and now heads into the Big Ten Championships with his foot on the accelerator.
 
"You always want to go to the postseason with a win," Glynn said. "It is easier to move forward with success."
 
Iowa head coach Tom Brands knows Glynn won't climb out of many 7-0 holes in the Big Ten Championships. But he was impressed with the composure Glynn exhibited on a foreign mat.
 
"The comeback, stay in there, get back to what you do well," Brands said. "He got in deep on some shots and converted, he finished. He didn't really get rattled and dug himself out of a hole."
 
Glynn benefitted from advice from his head coach: relax and don't get too uptight. That instruction came in handy Sunday when he trailed by seven points.
 
"It helps when you're in a situation like that when your back is against the wall and you have to calm your mind and score the next point," Glynn said.
 
The next opportunity for Glynn and the Hawkeyes will be at the Big Ten Championships from March 3-4 in East Lansing, Michigan.