Hawkeye Fan Shop — A Black & Gold Store | 24 Hawkeyes to Watch – 2017-18 | Hawk Talk Monthly — February 2018 | 2018 UWW World Cup | VIDEO — Hawkeyes Ready for B1G Tournament
By DARREN MILLER
hawkeyesports.com
EAST LANSING, Mich. — Brandon Sorensen, the lone senior in the University of Iowa's 10-man postseason lineup, has wrestled 12 matches at three previous Big Ten Conference tournaments. That's as veteran as it gets for the Hawkeyes.
 
Junior Sam Stoll, and sophomores Michael Kemerer, Joey Gunther, and Cash Wilcke have a combined 15 Big Ten tournament bouts under their belts. The other five Hawkeyes will make their postseason debuts Saturday when the Big Ten Championships begin at 9 a.m. (CT) from the Breslin Center in East Lansing, Michigan.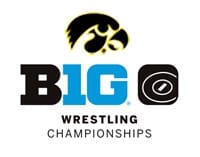 "Everybody has their first experience with postseason competition at this level," Iowa head coach Tom Brands said. "The one thing you can hang your hat on if you're one of those guys is you have been getting ready for big events in this sport for a long, long time whether it was at the state, regional, or national level." 
Sorensen enters his final postseason with a career record of 119-14 (he is 19-1 this season and ranked No. 2 in the nation at 149 pounds). After placing second twice and third once at Big Tens, and second, third, and fourth at nationals, there is only one way Sorensen wants to ride into the sunset. 
"It's my last opportunity and it's time to put everything on the line," Sorensen said. "I'm going to go out and let it fly, give it my all, it's the last go-around. I will wrestle smart with hands and feet moving and be ready for every match. I'm getting ready to put my best performance out there." 
Sorensen knows what he is up against. Five of his 14 career losses have been to Penn State's Zain Retherford, a two-time Big Ten and NCAA champion. Retherford knocked off Sorensen, 6-2, in a dual Feb. 10 at Penn State. 
"I need to move my hands and feet, get out of bottom quick, and get to my scores," Sorensen said. 
Two Hawkeyes enter the postseason with unbeaten records: sophomore 157-pounder Michael Kemerer (20-0) and freshman 165-pounder Alex Marinelli (14-0). Kemerer, who was a Big Ten finalist last season, shares the top line in the Big Ten pre-seeds with Penn State's Jason Nolf, who hasn't competed since injuring a knee Jan. 28. Marinelli is seeded second; he defeated defending national champion Vincenzo Joseph of Penn State in the dual, but three-time Big Ten and two-time NCAA champion Isaiah Martinez of Illinois is the top seed. 
It has been nearly two weeks since Marinelli and the Hawkeyes have competed and he is chomping at the bit. The 165-pound bracket at Big Tens is loaded.  
"I'm feeling great, feeling healthy," Marinelli said. "I'm hungry for the mat, hungry for putting on the Hawkeye singlet; I haven't put it on for (13 days), I'm ready to go." 
Sophomore 141-pounder Vince Turk is one of two Hawkeyes without a conference seed (sophomore Paul Glynn is the other at 133). Turk has won three of his last four matches, but to get to the Big Ten Championships, he needed to emerge from a wrestle-off against freshman teammate Carter Happel. 
"I have been getting better every week and just working on pushing that pace, getting to my attacks, keeping the pressure on," Turk said. "I'm not sitting back or giving up easy points." 
Five days before appearing in his first Big Ten tournament, Turk reflected on motivational words from Israel Martinez, who coached Turk at Montini Catholic High School in Elmhurst, Illinois. Martinez frequently motivated his competitors with a quote from Adlai Stevenson, former governor of Illinois. 
"My coach Izzy used to say, 'On the plains of hesitation lie the (blackened) bones of countless millions who at the dawn of victory lay down to rest, and in resting died,'" Turk said. "I look at that like pulling the trigger on my offense, getting to my attacks, keeping the pressure on these guys, and getting to them."
 
The Big Ten Championships run March 3-4; BTN will provide live coverage of Sunday's finals beginning at 2 p.m. (CT). There will be tournament-long audio coverage from Steven Grace and Mark Ironside on AM-800 KXIC and streamed online at hawkeyesports.com via Hawkeye All-Access.