Hawkeye Fan Shop — A Black & Gold Store | Fight For Iowa | 24 Hawkeyes to Watch 2016-17 | Hawk Talk Monthly — February 2018
EVANSTON, Ill. — The University of Iowa women's tennis team lost 6-1 to No. 14 Northwestern on Sunday at the Combe Tennis Center in Evanston, Illinois.
 
Sophomore Elise van Heuvelen and senior Anastasia Reimchen got the Hawkeyes started in doubles by defeating No. 13 Alex Chatt and Lee Or, 6-3.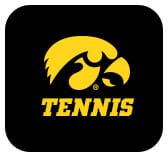 Senior Zoe Douglas and freshman Yufei Long dropped their match to No. 2 ranked Erin Larner and Maddie Lipp at the No. 1 doubles position. Senior Montana Crawford and junior Adorabol Huckleby fell to Rheeya Doshi and Julie Byrne at the No. 3 position.
 
Crawford fell to Byrne at the No. 6 singles position, 6-1, 6-3. Huckleby then dropped her match in the No. 5 position to Inci Ogut, 6-1, 6-3.
 
Long suffered her first loss of the season to No. 85 Larner at the No. 1 position, 6-3, 6-4. Douglas dropped her match to Lipp at the No. 4 position, 6-3, 7-6 (7-4).
 
Van Heuvelen earned the Hawkeyes a point by defeating No. 88 ranked Or at the No. 2 position in a third set tiebreaker, 6-2, 1-6, 7-5.
 
Reimchen dropped a tough match at the No. 4 position, 7-6, 3-6, 1-0 (10-6).
 
QUOTE FROM HEAD COACH SASHA SCHMID
"The team battled today against a tough Northwestern team. It's tough to be short but I'm proud of our group and really happy for Elise and Anastasia's win in doubles and Elise in singles. I like the way we are improving from match to match. I am excited to get back on the court Wednesday at Iowa State."
 
NOTEABLES
Van Heuvelen/Reimchen defeat the No. 13 nationally ranked doubles team
Van Heuvelen defeated No. 88 nationally ranked
This match will not count towards either teams conference record
 
UP NEXT
The Hawkeyes travel to Des Moines to play Iowa State in the annual Cy-Hawk series on Wednesday, March 7.
 
Iowa 1, Northwestern 6
March 4, 2018 | 11 a.m. | Evanston, Illinois | Combe Tennis Center
 
Singles
1. #85 Larner def. Long, 6-3, 6-4
2. Van Heuvelen def. #88 Or, 6-2, 1-6, 7-5
3. #65 Lipp def. Douglas, 6-3, 7-6 (7-4)
4. Chatt def. Reimchen, 7-6 (5-7), 6-3, 1-0 (10-6)
5. Ogut def. Huckleby, 6-1, 6-3
6. Byrne def. Crawford, 6-1, 6-3
 
Doubles
1. #2 Larner/Lipp def. Douglas/Long, 6-4
2. Van Heuvelen/Reimchen def. #13 Chatt/Or, 6-3
3. Doshi/Byrne def. Huckleby/Crawford, 6-4
 
Match Notes
Iowa: 7-4
Northwestern: 7-3
Order of finish: Doubles (2, 1, 3); Singles (6, 5, 1, 3, 2, 4)
The all-time series is led by Northwestern, 45-2