Hawkeye Fan Shop — A Black & Gold Store | 24 Hawkeyes to Watch – 2017-18 | Hawk Talk Monthly — February 2018 | 2018 UWW World Cup | Season Tickets | Photo Gallery | 2018 Big Ten Brackets: Session 2
EAST LANSING, Mich. — University of Iowa senior Brandon Sorensen advanced to the finals of 2018 Big Ten Championships with a 7-2 decision in the semifinals on Saturday night at the Breslin Center.
 
Sorensen scored three takedowns, including two in the third period, to earn a finals berth for the third time in his career. He was runner-up in 2015 and 2016, and will compete for his first career conference title Sunday at 2 p.m. (CT) live on BTN.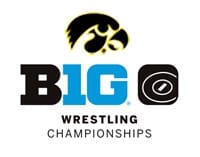 "We have to go after what is ahead of us," Sorensen said. "I've got to let it all out there. Let it fly and hold nothing back."
 
Sorensen was the only one of the Hawkeyes' four semifinalist to reach the finals. Spencer Lee (125), Michael Kemerer (157), and Sam Stoll (285) all dropped semifinal matches and were bounced to the consolation bracket.
 
"You've got to look at it in perspective. We have a lot of wrestling to go yet. So, evaluate at the end," said UI head coach Tom Brands. "Of course it is upsetting when you don't perform, but I know we can do better."
 
On the backside of the bracket, five Hawkeyes combined to go 9-1. Vince Turk (141), Alex Marinelli (165), Joey Gunther (174), and Cash Wilcke (197) all won two matches Saturday night and will compete in the consolation semifinals Sunday morning. Mitch Bowman (184) split a pair of matches and will wrestle for seventh place Sunday.
 
"Those are gutsy wins," Brands said. "Marinelli didn't lose a step. The natural reaction is to wonder if you can come back, but not with the way he trains. Wilcke and Gunther won four tough matches. You feel like you're fighting for scraps but you're not. You're fighting for future positioning, fighting for tomorrow."
 
Marinelli was the No. 2 seed at his weight, but lost his Big Ten tournament debut Saturday morning — his first loss of the season — and was forced to the consolation bracket.
 
"When you face a loss it's tough. It is tough to move on and progress without success," Marinelli said. "Tom said this is when you find out what you're made of. Right now is when you get up and move on or (you bow) out of the tournament. My decision was to get up, move on, and really take it to those guys."
 
Each of Iowa's nine wrestlers still competing in the tournament have earned automatic berths to the NCAA Championships in Cleveland on March 15-17.
 
The Hawkeyes are in fourth place after Session II with 78 points. Ohio State leads the team race with 137.5 points. Penn State (124), Michigan (100) and Minnesota (57) round out the top five.
 
Session III begins at 11 a.m. (CT) at the Breslin Center. The championship matches follow at 2 p.m. BTN will televise the finals.
 
SEMIFINAL RESULTS
125 – #3 Nathan Tomasello (OSU) dec. #2 Spencer Lee (IA), 2-1
149 – #2 Brandon Sorensen (IA) dec. #3 Ryan Deakin (NW), 7-2
157 – #4 Micah Jordan (OSU) pinned #1 Michael Kemerer (IA), 5:48
285 – #1 Adam Coon (MICH) pinned #4 Sam Stoll (IA), 2:12
 
CONSOLATION RESULTS
141 – Vince Turk (IA) dec. Sal Profaci (MICH), 3-1
141 – Vince Turk (IA) dec. #4 Chad Red (NEB), 5-4
165 – #2 Alex Marinelli (IA) dec. #9 Te'Shan Campbell (OSU), 9-3
165 – #2 Alex Marinelli (IA) dec. #6 Nick Wanzek (MINN), 11-4
174 – #7 Joey Gunther (IA) dec. Logan Ritchie (MSU), 2-1
174 – #7 Joey Gunther (IA) dec. #6 Devin Skatzka (ILL), 5-4 TB1
184 – Mitch Bowman (IA) dec. #5 Nick Gravina (RUT), 6-4 SV1
184 – #8 Brandon Krone (MINN) dec. Mitch Bowman (IA), 11-7
197 – #3 Cash Wilcke (IA) dec. David-Brian Whisler (MARY), 6-3
197 – #3 Cash Wilcke (IA) dec. #7 Zack Chakonis (NW), 4-2
 
CHAMPIONSHIP MATCHUPS
149 – #2 Brandon Sorensen (IA) vs. #1 Zain Retherford (PSU)
 
CONSOLATION MATCHUPS
125 – #2 Spencer Lee (IA) vs. #4 Sebastian Rivera (NW)
141 – Vince Turk (IA) vs. #2 Nick Lee (PSU)
157 – #1 Michael Kemerer (IA) vs. #6 Andrew Crone (WIS)
165 – #2 Alex Marinelli (IA) #4 Richie Lewis (RUT)
174 – #7 Joey Gunther (IA) vs. #5 Johnny Sebastian (NW)
197 – #3 Cash Wilcke (IA) vs. #4 Kevin Beazley (MICH)
285 – #4 Sam Stoll (IA) vs. #6 Conan Jennings (NW)
 
SEVENTH PLACE MATCHUP
184 – Mitch Bowman (IA) vs. #7 Ricky Robertson (WIS) 
 
TEAM STANDINGS
Ohio State           137.7
Penn State           124
Michigan             100
IOWA                   78
Minnesota           57
Nebraska             54
Illinois                  53
Wisconsin            50.5
Northwestern     48
Purdue                 45.5
Rutgers                37
Maryland             27.5
Indiana                10
Michigan State   8.5