Hawkeye Fan Shop — A Black & Gold Store | Fight For Iowa | Hawk Talk Monthly — February 2018 | Game Notes (PDF)
| | |
| --- | --- |
| Date: | March 9-11, 2018 |
| Location: | Las Vegas, Nev. | Earl E. Watson Stadium |
| Game Notes: | IOWA | UNLV |
| Statistics | IOWA | UNLV |
| | |
| Radio/Streaming: | Hawkeye Radio Network | Hawkeye All-Access ($) |
| Live Stats: | Game 1 | Game 2 | Game 3 |
| Television/Video Streaming: | Ustream.com (FREE) |
| | |
| Game 1 | March 9 | 8:05 p.m. (CT)  | |
| Pitching Matchup:  | Iowa: LHP Nick Allgeyer (1-0, 0.96 ERA) |
| | UNLV: RHP Alan Strong (2-0, 3.57 ERA) |
| Game 2 | March 10 | 4:05 p.m. (CT) | |
| Pitching Matchup:  | Iowa: RHP Brady Schanuel (2-1, 4.50 ERA) |
| | UNLV: RHP Larry Quaney (2-0, 4.41 ERA) |
| Game 3 | March 11 | 3:05 p.m. (CT) | |
| Pitching Matchup:  | Iowa: RHP Cole McDonald (1-1, 3.60 ERA)  |
| | UNLV: RHP Trevor Horn (2-0, 3.78 ERA) |
THIS WEEK
The University of Iowa baseball team heads to Las Vegas for a three-game weekend series against 23rd-ranked UNLV.  All three games will be played at Earl E. Wilson Baseball Stadium.  Friday's game will begin at 8:05 p.m. (CT) followed by 4:05 p.m. and 3:05 p.m. starts on Saturday and Sunday.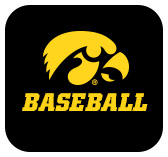 FOLLOW ALONG
• All three games will be streamed online via livestream.com.  The stream is free of charge and the link is available on hawkeyesports.com.
• All Iowa games will also be available via the Hawkeye Radio Network with Zach Mackey on the call.  The games can be heard on Hawkeye All-Access and on select stations across the state, including KMJM-AM 1360 (no Sundays) in Cedar Rapids, WDBQ-FM 107.5 (all games) in Dubuque, KXIC-AM 800  in Iowa City, KJAN-AM/FM 1220 and 101.1 in Atlantic, KDEC-FM 100.5 in Decorah, and KKFD-FM 95.9 in Fairfield.
• Live statistics are available on hawkeyesports.com and fans can follow along via social media at www.twitter.com/UIBaseball.
LEADING OFF
• Iowa started the season 4-0 for the first time since 2006 and the Hawkeyes are 8-2 — their best start since 2015 when the team won nine wins of its first 10 games. 
• The Hawkeyes are receiving votes in the NCBWA top-30.  Iowa has won at least two games in each of the first three weekends. 
• This weekend's three-game series is Iowa's first against a ranked opponent this season.  Iowa went 2-1 against ranked foes last season.
• Senior Tyler Cropley has been named to the Johnny Bench Award Watch List.  The honor is presented to the top catcher in Division I baseball.
• Iowa leads the Big Ten in team ERA, posting a 2.73 ERA in 10 games.  The Hawkeyes are also second in the league with 96 strikeouts and opposing batting average (.231).
• The Hawkeyes are also fifth in the conference in fielding percentage (.970) and sixth in team batting average (.266).
• Junior left-hander Nick Allgeyer ranks in the top seven in five different pitching categories. He is third in ERA (0.96), fourth in innings (18.2), tied for fifth in strikeouts (19), tied for sixth in strikeouts looking (5), and seventh in batting average against (.197).
• Following the three-game series at UNLV and a midweek neutral-site matchup against Missouri State in Kansas City, Iowa will begin a season-long nine-game homestand.
• Junior outfielder Robert Neustrom was named the preseason Big Ten Player of the Year by both Perfect Game and Baseball America. Neustrom and junior Brady Schanuel were named to PG's preseason all-conference team.
• The Hawkeyes were picked to finish fourth in the Big Ten by Perfect Game, fifth by D1Baseball.com, and sixth in the Big Ten Preseason Coaches poll.
• Iowa has won 140 games over the past four seasons under head coach Rick Heller — the best four-year stretch in school history.  The Hawkeyes have advanced to NCAA Regional play in two of the last three seasons.
QUICK HITTERS
• The Hawkeyes had a stellar crowd for its 2018 home opener on Feb. 27 at Duane Banks Field.  Iowa had 1,059 in attendance — its second February straight home opener with more than 1,000 in attendance.
• The Hawkeyes were crowned the team champions at the All-State Sugar Bowl Baseball Classic on Feb. 25 in New Orleans.  Iowa and New Orleans both posted 2-1 records, but the Hawkeyes won the head-to-head meeting.
• Iowa is 13-of-16 in stolen base attempts in 2018.  Sophomore Lorenzo Elion has a team-best three steals in four chances.
• Senior Tyler Cropley and juniors Robert Neustrom and Zach Daniels were named to the Big Ten Preseason Honors List.  
• The Hawkeyes return two All-Big Ten selections — Neustrom and Tyler Cropley — and Collegiate Baseball Freshman All-Americans Kyle Shimp and Ben Norman.
• Iowa was ranked 44th in the College Sports Madness preseason rankings.  The Hawkeyes were also receiving votes in the USBWA preseason rankings.
ABOUT UNLV
• UNLV is 12-2 overall and 3-0 in the Mountain West Conference.  The Rebels are ranked 23rd by Collegiate Baseball — its first ranking since 2014.
• The Rebels won eight straight games to improve to 11-1, which was the program's second-best start in school history.  UNLV started 15-1 in 1971.
• Offensively, UNLV is hitting .315 as a team and is averaging 7.4 runs per game.  The Rebels have 60 extra-base hits (35 doubles, five triples, 20 home runs) and has a .525 team slugging percentage.  Five players are hitting .359 or above with Kyle Isbel leading the way with a .458 average with seven doubles, two triples, and four home runs.  Isbel also leads the Rebels in runs (18) and RBIs (19).
• On the mound, UNLV has a 3.26 team ERA with 99 strikeouts over 127 innings.  Four Rebel pitchers have two wins apiece, including closer Bryan Menendez, who is 2-0 with a 1.74 ERA with four saves.
• Iowa will face RHP Alan Strong (2-0, 3.57 ERA) on Friday, RHP Larry Quaney (2-0, 4.41 ERA) on Saturday, and RHP Trevor Horn (2-0, 3.78 ERA on Sunday.
• The Rebels are led by Lowden, Iowa, native Stan Stolte, who is in his third season as UNLV's head coach. Stolte played collegiately at St. Ambrose College before beginning his coaching career at Clarence-Lowden (Iowa) High School.  Stolte also coached in-state at Muscatine Community College.
• UNLV's volunteer assistant/pitching coach is MLB Hall of Famer Greg Maddux. Maddux's son, Chase, is a redshirt sophomore for the Rebels.
SERIES RESULTS
The Hawkeyes are 3-0 all-time against UNLV, sweeping the three game series last season in Iowa City.  Iowa won the opener 3-0 before sweeping a Saturday doubleheader by the scores of 6-5 and 7-6.
• Iowa trailed 5-3 in the ninth before scoring three runs in its final at-bat to post its first walk-off victory of the season.
• The Hawkeyes trailed the finale, 6-4, in the eighth before scoring three runs to complete the weekend sweep.
LAST SEASON VS. UNLV
• Iowa handed starting pitcher Alan Strong his second loss of the season in game one last season.  Strong gave up three runs on six hits over 7 2/3 innings in a 4-0 Hawkeye win.
• Larry Quaney took the loss in game two, entering in relief.  The right-hander allowed four runs on four hits in 2 2/3 innings as Iowa rallied for a 6-5 walk-off win.
• Iowa starter Cole McDonald went four innings in the series finale, but wasn't involved in the decision. He allowed two runs on six hits and had four strikeouts.
• Shane Ritter and Zach Daniels earned two of Iowa's three wins in relief on the weekend. Ritter didn't allow a run in two innings of work, while Daniels gave up two runs on three hits in 2 1/3, but earned a game two victory.
• Mitchell Boe paced Iowa offensively in the three-game series, hitting .500 (5-for-10) with three doubles, a triple, and five RBIs. He also score four times.  Boe went 4-for-8 with three doubles and five RBIs in the doubleheader sweep.  
CROPLEY NAMED TO JOHNNY BENCH AWARD WATCH LIST
Senior Tyler Cropley has been named to the Johnny Bench Award Watch List. The honor is given to the top catcher in Division I baseball.  The South Dakota native is hitting .324 with a team-best 12 RBIs.  He has four multi-hit games and four multi-RBI games.
• Cropley his hitting a team-best .750 (9-of-12) wtih runners in scoring position this season.
• He is one of six catchers from the Big Ten Conference to be included on the watch list.
WHELAN EYES A MID-MARCH RETURN
Junior Chris Whelan, who is recovering from fall Tommy John surgery, is anticipating returning for the three-game series against Evansville.  Whelan, who was Iowa's leadoff hitter and the Big Ten Tournament Most Outstanding Player, hit .309 with 11 doubles and 25 RBIs last season.
ON THE OFFENSE
• The Hawkeyes have had 10 or more hits in seven of 10 games this season.  Iowa had a season-high 12 hits in the 8-2 victory over New Orleans on Feb. 25.
• Iowa scored a season-high 15 runs in the midweek victory over Cornell College on Feb. 27. The Hawkeyes have two games with 10 or more runs.  
• The Hawkeyes are out-scoring opponents, 15-2, in the first inning and 27-12 over the first three innings.
JUNIOR ROBERT NEUSTROM…
• has hit safely in 9-of-10 games this season.  He had a nine-game hitting streak to start the year.
• is hitting a team-best .333 with four multi-hit games.
• was the Preseason Big Ten Player of the Year by Baseball America and Perfect Game.
CROWL AT SHORT
Sophomore Kyle Crowl has started nine of Iowa's 10 games at shortstop this season, where he is hitting .256 (10-of-39) with a team-best 12 runs and eight RBIs.
• Crowl has three multi-hit games and a team-best two home runs.  
NEW YEAR, SAME HAWKEYES
The Hawkeyes rallied from a two-run, eighth-inning deficit to defeat Toledo, 4-3, in the season-opener on Feb. 16 in Kissimmee, Florida.  Ben Norman's two-run single in the ninth gave Iowa a walk-off victory — its fifth walk-off in two seasons.
• Iowa made a habit of fighting back in 2017 as 21 of their 39 victories resulted in come-from-behind wins.  The Hawkeyes have two come-from-behind victories this season.
ON THE BUMP
• Iowa's bullpen has been stout, posting a 3-0 record with a 2.90 ERA early this season.  The unit has 49 strikeouts over 40 1/3 innings.
• The Hawkeyes' starting pitchers are 5-2 with a 2.59 ERA in 10 games. Iowa starters have 47 strikeouts to 17 walks and opponents are hitting .223.
• After issuing 21 walks in the season's first three games, Iowa's pitching staff has walked 18 batters in the last six contests.
• Iowa has five games with 10 or more strikeouts, including a season-high 13-strikeout contest at UAB on March 3.
• Sophomore Grant Leonard emerged in a team-best five appearances, going 1-0 with a 0.00 ERA. The right-hander got out of a bases loaded, one-out, eighth-inning jam in Iowa's come-from-behind 4-3 victory over Toledo (2/16).  The victory was the first of his career.
TOSSING BULLETS
• Junior Zach Daniels is 1-0 with a 0.00 ERA and two saves in four appearances, spanning 8 2/3 innings. He has surrendered just three hits and has nine strikeouts. Daniels earned his first win of the season, tossing three shutout innings against Virginia Tech.  Opponents are hitting .125 against Daniels.
• Freshmen Jack Dreyer and Trenton Wallace have been solid early in their Iowa careers.  Dreyer hasn't allowed an earned run in three appearances, where he is 0-0 with a 0.00 ERA over 4 1/3 innings.  Wallace is 1-0 with a 2.45 ERA in three appearances (one start).  The southpaw has struck out four in each of his last two games.
REDSHIRT JUNIOR NICK ALLGEYER…
• is 0-0 with a 0.96 ERA — an ERA that is third-best in the Big Ten.  Allgeyer has 19 strikeouts in three starts, which are tied for fifth in the Big Ten.
• ranks among the top seven in five different pitching categories.
• has allowed five hits or fewer in all three of his starts… hasn't allowed more than one earned run in any of his three starts.
• has two quality starts in three outings as Iowa's Friday night starter coming in back-to-back starts against Virginia Tech and at UAB.
• recorded his first career win as a starter (third of his career), allowing one run on four hits at UAB (3/2)… had four strikeouts against one walk over 6 2/3 innings.
• notched his first quality start against Virginia Tech (2/23), allowing one run on five hits over seven innings.  He had a career-high eight strikeouts in the start without issuing a walk.
• made his first career Friday start — his second career start — against Toledo (2/16) — allowing three unearned runs over five innings and fanning seven.
• is 3-0 with a 2.74 ERA in 35 career appearances, including four starts… has 57 strikeouts in 65 2/3 innings.
• missed the 2017 season recovering from Tommy John surgery suffered during the fall of 2016.
JUNIOR BRADY SCHANUEL…
• will make his third Saturday start this week at UNLV…he is 2-1 with a 4.50 ERA in three starts with 15 strikeouts over 12 innings.
• is third in the Big Ten with a .178 opposing batting average and is tied for second with two wins.
• went a career-long five innings in the road win at UAB — his second win of the season…allowed one hit and fanned a career-high seven.   
• earned his first career victory against Old Dominion (2/18), allowing two hits and fanning four in 3 2/3 innings… was on a predetermined 60-pitch pitch count.
• Two-time MLB Draft pick — selected in 20th round by Philadelphia in 2017 and 36th round by Oakland in 2015.
• Two-time All-American at Parkland College in Illinois… went 20-4 with 161 strikeouts in 164 innings.
JUNIOR COLE MCDONALD… 
• is 1-1 with a 3.60 ERA in three starts — one Saturday and two Sunday.  
• scattered five hits and allowed one run over five innings at UAB in a 4-0 loss… had four strikeouts to one walk in the game.
• recorded his first career quality start and first win of the season, scattering three hits and allowing two unearned runs in seven innings in a victory over New Orleans.  McDonald had four strikeouts to one walk.
• is 7-6 with a 5.27 ERA in 26 appearances, including 22 starts.
FOLLOW THE HAWKEYES
Iowa baseball fans can follow the Hawkeyes on Facebook/iowabaseball, Twitter: @UIBaseball, and Instagram/UIBaseball in addition to coverage on hawkeyesports.com.
 
SEASON TICKETS ON SALE
Season tickets for the 2018 Iowa home schedule are on sale now through the UI Athletics Ticket Office online at hawkeyesports.com or at 800-IA-HAWKS. Reserved and general admission adult tickets are $75, while general admission youth tickets are $40. Fans can also purchase a "30-block" season ticket, priced at $99, where tickets can be used at any game or combination of games throughout the season. Iowa will play 27 home games in 2018.