Hawkeye Fan Shop — A Black & Gold Store | 24 Hawkeyes to Watch – 2017-18 | 2018 UWW World Cup | Hawk Talk Monthly — March | NCAA Wrestling Central | NCAA Notes | NCAA Brackets | Photo Gallery
Editor's Note: The following first appeared in the University of Iowa's Hawk Talk Daily, an e-newsletter that offers a daily look at the Iowa Hawkeyes, delivered free each morning to thousands of fans of the Hawkeyes worldwide. To receive daily news from the Iowa Hawkeyes, sign up HERE.
By CHRIS BREWER
hawkeyesports.com
IOWA CITY, Iowa — Tom Brands has said it. His wrestlers have heard it. Now it's time to see it.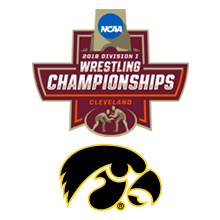 Nothing stands in front of the University of Iowa wrestling team and its next tournament. The Hawkeyes have an unobstructed view of the next event on the schedule, and all eyes are on the 2018 NCAA Championships that begin today at Quicken Loans Arena in Cleveland.
 
"The process is always about moving forward and our guys do it better than anybody," Brands said. "They're open minded and they know that their best wrestling is now and that's the direction we're all headed."
 
The Hawkeyes enter the national tournament with nine qualifiers, including one senior, two juniors, four sophomores, and two freshmen. Four of the nine are making their NCAA debuts. Six of the nine are seeded. Some are seeded appropriately. Others may be head scratchers. But with 330 wrestlers in the field, it's a situation not unique to the Hawkeyes, and Brands says at this point it doesn't really matter.
 
"I know we have firepower and I know we have guys that when you look at it from a Hawkeye fan point of view, you scratch your head on the number behind their name and where they're seeded. That doesn't matter now. It's laid out. It's time to go one match at a time.
 
"It's not like you look at where you're placed in the bracket and how these points are going to turn out. That's not how the tournament works. It's something that we talk about with our guys. It's never going to go as planned. Saddle up every time and go out there and wrestle your best match — smart, hard, make adjustments as it goes down the path and let it fly."
 
For the fourth time in as many years, Iowa is moving forward with Brandon Sorensen at 149 pounds. A three-time All-American, Sorensen has historically been one of the most consistent Hawkeyes to take the mat — his 121 career wins rank 18th in program history — and he says he's entering his final tournament with a familiar mindset.  
                                                             
"The only thing that changes is you don't have anything to lose," Sorensen said. "Not holding anything back and letting it fly. Fighting for the whole seven minutes, or longer if it needs to be."
 
On the other side of the experience spectrum is redshirt freshman Alex Marinelli and true freshman Spencer Lee.
 
Marinelli is the No. 5 seed at 165. He says his mind is right, and has used the time since the Big Ten Championships making improvements on the mat.
 
"I've worked on finishes; getting my legs back when he shoots to me," Marinelli said. "I've worked on the hand fighting and staying low. Shape is not a factor. I put the time in and now it's time to sharpen the skills to get the ultimate goal."
 
Lee is the No. 3 seed at 125. He is 10 weeks removed from shedding his redshirt and enters the tournament with a 17-2 record, including an 11-2 mark against the tournament field.
 
Both wrestlers are seeking to become Iowa's first freshman NCAA champion since Matt McDonough won the 125-pound title in 2010.
 
"It's going to be tough and it's going to be a grind," Lee said. "I'm excited and ready to go. It's a big tournament, great competition, and I'm ready to wrestle some great guys."
 
The 2018 NCAA Wrestling Championships span from Thursday-Saturday and are broadcast on AM-800 KXIC and streamed online at hawkeyesports.com. Television and streaming coverage will be provided by the ESPN family of networks.