Hawkeye Fan Shop — A Black & Gold Store | 24 Hawkeyes to Watch – 2017-18 | 2018 UWW World Cup | Hawk Talk Monthly — March | NCAA Wrestling Central | NCAA Notes | Photo Gallery | Updated Brackets
By DARREN MILLER
hawkeyesports.com 
CLEVELAND — University of Iowa freshman Spencer Lee, a three-time Pennsylvania state champion and three-time age-level world champion, came out on top in his third meeting with four-time All-American and four-time Big Ten champion Nathan Tomasello on Friday in a 125-pound quarterfinal inside Quicken Loans Arena.
 
The rubber match between Lee-Tomasello at the NCAA Championships was dominated by the youngster, who compiled his first two takedowns in the rivalry and finished with a fall in 6:04 after leading 8-2.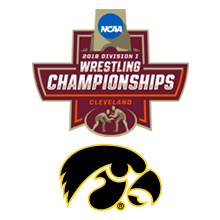 "I hit a low shot and got in between his legs," said Lee, when asked to describe the final flurry that sent him to Saturday's final. "I stood up and threw his leg off to cut the corner, and he held on hard. I was fighting like any competitor would do and pulled his legs up and ran him over.
"I got the danger zone points and he wasn't letting go; I sat on it hard and ended up getting the fall."
 
Lee heads to the finals against Nick Suriano, formerly of Penn State and now of Rutgers, with a 4-0 record at the NCAA Championships. Lee has scored 23 team points via technical fall over Alonzo Allen of Chattanooga, technical fall over Luke Welch of Purdue, fall over Nick Piccininni of Oklahoma State, and fall over Tomasello.
 
In the four NCAA Championship matches, it has been Spencer Lee 55, Opponents 3.
 
"The coaches were telling me to wrestle and this is your match," Lee said. "Instead of backing out, almost taking the easy way out, the coaches were telling me to make it hard not only on your opponent, but mostly yourself, because at the end of the day, you're training for yourself. You're looking in that mirror, so make sure you tell yourself, 'I did everything I did to be the best I can be.'"
 
Regardless of what happens Saturday, Lee has had a jaw-dropping first season as a collegian. He is 21-2 with nine falls and eight technical falls. His most formidable adversary has been Tomasello, who he defeated 3-2 in the dual Jan. 21 in Columbus, Ohio; Tomasello won, 2-1, in the semifinals of the Big Ten Championships in East Lansing, Michigan, on March 3.
 
This is the third straight year that Tomasello has met up with a Hawkeye in a semifinal at the NCAA Championships and Iowa has emerged victorious all three times. Thomas Gilman pinned Tomasello in overtime in 2016 in New York City, Cory Clark defeated Tomasello, 7-4, in 2017 in St. Louis, and Friday it was Lee's turn.
 
"You have to go out and execute and wrestle as hard as you can, it doesn't matter what school you are from at his point," Lee said. "You just wrestle the guy in front of you; (Tomasello) was a great opponent and we were both ready to go."
 
Up next for Iowa's phenom from Murrysville, Pennsylvania, is Suriano, who is 25-0 this season and has not been scored upon all tournament. He blanked defending champion Darian Cruz of Lehigh, 2-0, in the other semifinal.
 
Suriano defeated Lee in a tournament in 2012, Lee had his hand raised the next year. On Saturday evening, Lee and Suriano will start the finals fireworks at approximately 7 p.m. (CT).
 
"Highly anticipated," Suriano said of the third meeting.
 
For Lee, good things have come in threes.