Hawkeye Fan Shop — A Black & Gold Store | 24 Hawkeyes to Watch – 2017-18 | 2018 UWW World Cup | Hawk Talk Monthly — March | NCAA Wrestling Central | Preview of Gilman-Suriano, 2017
By DARREN MILLER
hawkeyesports.com 
CLEVELAND — What do we know of Spencer Lee's opponent in the 125-pound final at the NCAA Championships? We know he is an extremely solid and successful competitor.
 
Lee, a true freshman for the University of Iowa, will face Nick Suriano, a second-year sophomore for Rutgers, on Saturday evening at approximately 7 p.m. (CT) inside Quicken Loans Arena.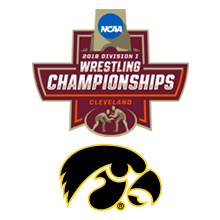 Lee is 21-2 in his career, with a controversial loss to Ronnie Bresser of Oregon State at the Midlands Championships in December and a one-point setback to four-time Big Ten champion Nathan Tomasello of Ohio State in the semifinals of the Big Ten Championships on March 3.
 
Suriano, who defaulted out of the 2018 Big Ten Championships after a 9-2 win over Travis Piotrowski of Illinois, is 25-0 this season. As a true freshman in 2016-17 at Penn State, Suriano finished 16-3, but two of those losses were because of injury default.
 
Suriano suffered what resulted in a season-ending ankle injury against Nick Piccininni of Oklahoma State at the NWCA National Dual finals on Feb. 19, 2017, in Stillwater, Oklahoma. Suriano used an ankle pick for a takedown and a 2-0 lead in the first period. As he escaped early in the second period, he hopped off the mat, defaulted, and did not compete the rest of the season.
 
That means the only "real" collegiate loss for Suriano is a 3-2 decision in favor of Iowa's Thomas Gilman on Jan. 20, 2017, on Mediacom Mat inside Carver-Hawkeye Arena.
 
Following is a story, "Iowa's Sparkplug Continues to Ignite," written by hawkeyesports.com in the days leading up to the Gilman-Suriano matchup. (LINK)
 
"We'll see how tough he is to take down.  He's a strong kid, but he's a kid," Gilman said last year prior to the Iowa-Penn State dual. "I don't know how tough he is on his feet. I'm known for wrestling on my feet — I have been doing it for five years in the college arena. He has been doing it for a month or two."
 
Lee, from Murrysville, Pennsylvania, and Suriano, from Paramus, New Jersey, met twice in junior high/high school. Suriano won in 2012 and Lee returned the favor in 2013.
 
So far at the NCAA Championships, Lee has outscored opponents 55-3 and registered two falls and two technical falls, including a pin over Tomasello, the 2015 NCAA champion. Suriano has yet to be scored upon in the tournament and has won by fall, technical fall, major decision, and a 2-0 decision over defending 125-pound champion Darian Cruz of Lehigh.
 
"I have one more match, highly anticipated," Suriano said after his semifinal victory Friday. "I know about (Lee)."
 
Prior to finals (which will be broadcast live on ESPN2), the NCAA selects a marquee matchup for the 10th and final bout of the evening. This year it will be round three of Ohio State's Kyle Snyder versus Michigan's Adam Coon at 285 pounds.
 
So, the evening's fireworks will get kicked off by two dynamic lightweights at 125 pounds. None of the more than 19,000 wrestling fans inside Quicken Loans Arena will complain.