Hawkeye Fan Shop — A Black & Gold Store | 24 Hawkeyes to Watch – 2017-18 | Fight For Iowa | Hawk Talk Monthly – March 2018
IOWA CITY, Iowa — The University of Iowa baseball team continues its homestead hosting Saint Louis on Tuesday and Loras College on Wednesday at Duane Banks Field.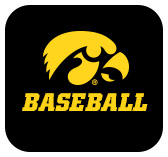 The Hawkeyes are 4-0 at home and 11-6 overall after sweeping the three-game series against Evansville this past weekend in Iowa City. 
 
The Billikens bring a 10-game winning streak and an 11-7 overall record to Iowa City, while the Duhawks are 10-3 overall this season.
 
Saint Louis has two players hitting above .300 on the season in Braxton Stowe, who leads the team with .400 average and Jake Garella who sits at .338. Garella has 14 RBIs off 24 hits with 12 runs and has a slugging percentage of .437.
 
Loras has five players at .300 or above in the box with Danny Weis leading the squad in batting average (.457), RBIs (12), and slugging percentage (.696).
 
Junior Chris Whelan made his return to the starting lineup against Evansville last weekend. The Naperville, Illinois, native owns a .417 batting average after starting in the leadoff position in all three games.
 
Junior Robert Neustrom leads the Hawkeyes with 16 runs off 23 hits with three home runs, while owning a .547 slugging percentage. Senior Tyler Cropley leads with 15 RBIs and a .419 on base percentage.
 
The Hawkeyes will start freshman left-hander Trenton Wallace against Saint Louis. The Rock Island, Illinois, native is 1-0 with a 4.66 ERA over 9 2/3 innings. The Billikens will counter with Charlie Sheehan, who is 1-0 with a 2.53 ERA spread across 10 2/3 innings.
 
Iowa will start sophomore right-hander Grant Judkins on Wednesday against Loras. Judkins is 0-0 with a 0.00 ERA in one appearance. He allowed one unearned run on one hit over two innings on Feb. 24 against Ball State.  Judkins made five starts last season as a true freshman.
  
Tuesday's game against Saint Louis will be available on BTN Plus and BTN2Go, while both games will also be broadcast across the Hawkeye Radio Network/Hawkeye All-Access with Zach Mackey and Steve Duncan on the call.  Wednesday's game will also be video streamed on Hawkeye All-Access.
 
Following the midweek matchups, the Hawkeyes open Big Ten action hosting No. 11 Indiana in a three-game series at Duane Banks Field from March 23-25.