Hawkeye Fan Shop — A Black & Gold Store | 24 Hawkeyes to Watch – 2017-18 | Fight For Iowa | Hawk Talk Monthly – March 2018
Editor's Note: The following first appeared in the University of Iowa's Hawk Talk Daily, an e-newsletter that offers a daily look at the Iowa Hawkeyes, delivered free each morning to thousands of fans of the Hawkeyes worldwide. To receive daily news from the Iowa Hawkeyes, sign up HERE.
By JAMES ALLAN
hawkeyesports.com
IOWA CITY, Iowa — During his first fall as a pitcher on the University of Iowa baseball team, Grant Leonard didn't know if the numbers would add up.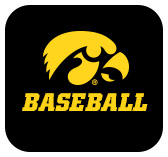 Leonard was prepared to leave baseball in the rearview mirror when he transferred to the University of Iowa from North Central (Illinois) College in the spring of 2016. Hoping for an opportunity, Leonard kept his arm in shape to pitch in the summer and he was persistent in reaching out to the Hawkeye coaching staff for an opportunity.
"He was a good pitcher in high school and we had a couple of people call us and give him a character reference," said Iowa head coach Rick Heller. "He wanted to walk-on, but at the time, it looked numbers-wise that it wasn't going to work, no matter how well he did."
Iowa recruiting coordinator Marty Sutherland requested video of Leonard. The Hawkeyes gave him an opportunity to join the program during the 2016 fall season.
"(Making the team) was in the back of my head (throughout the fall), but I tried not to think about it," said Leonard. "My focus was on doing my part, being a great teammate, and being helpful to the guys around me. I wanted to work harder than anybody else to stand out."
Leonard made the team and he appeared in two games as a freshman, going 0-0 with a 4.50 ERA. Leonard didn't make the traveling roster for the championship run at the Big Ten Tournament and he traveled with the team to the NCAA Regionals, but was forced to watch the game action from the stands as a spectator.
"It was between me and another guy who they were going to keep on the roster for a possible bullpen spot," said Leonard. "They made the decision to go with the other player, but being down there and seeing that energy and the level they were competing at made me want nothing more than to be part of that."
Leonard stayed in Iowa City over the summer to train with strength and conditioning coach Zach Walrod and first-year pitching coach Desi Druschel. He added weight to his 5-foot-11 frame, which in turn, saw his velocity jump (to 88-90). He utilized Iowa's technology to add a swing-and-miss pitch to his repertoire.
"Grant had the makeup mentally where we all thought he could be a good pitcher if his stuff could improve," said Heller. "He went to work to try to develop a breaking pitch that would give him a chance to get some swing and misses and this summer and fall, it started to go.
"He made some nice velocity increases and Desi has done a great job working with Grant to develop a slider. Once we saw that, we knew Grant could have a legitimate role because he would pound the zone and throw strikes."
Leonard made his first appearance of 2018 in the season opener, where he got out of a bases-loaded, eighth-inning jam, setting up a 4-3 walk-off win over Toledo in Kissimmee, Florida. Leonard was credited with the win — the first of his career.
Through the first month and a half, Leonard has developed a key role in the Hawkeye bullpen. He is 1-0 with with a 5.00 ERA in a team-high 12 appearances. He has nine strikeouts and three walks over nine innings.
"He's a tough kid and he has worked hard to get this opportunity," said Heller. "He goes about his business and he controls what he can. When Grant got the opportunity, he was ready to take advantage and jump on it.
"The reason Grant was on the team when he didn't have the stuff was because of that make-up. That's the reason Grant stuck on our team. Had he been the guy that went the other way, he wouldn't have made the team that first year.
"Now he's being rewarded with the success he's having and the opportunities he's getting. He's being put in tough situations because we have confidence in him and believe in him."
The Hawkeyes open a three-game series at No. 25 Illinois on Friday at 6 p.m. (CT) at Illinois Field in Champaign, Illinois.