Hawkeye Fan Shop — A Black & Gold Store | Fight For Iowa | Hawk Talk Monthly — March | Photo Gallery | IUUI
BLOOMINGTON, Ind. — The Iowa women's tennis team fell to Indiana, 4-3, on Saturday at the IU Tennis Center. 
 
The Hawkeyes grabbed the doubles point to get the early lead. No. 47 sophomore Elise van Heuvelen and senior Anastasia Reimchen defeated Madison Appel and Jelly Bozovic, 6-4 at the No. 1 position.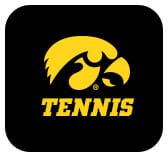 Senior Zoe Douglas and junior Adorabol Huckleby bested Caitlin Bernard and Natalie Whalen, 6-2, to secure the doubles point. 
 
At the No. 3 position, seniors Montana Crawford and Adrienne Jensen's match was left unfinished. 
 
In singles play, van Heuvelen topped Appel in straight sets, 6-2, 6-2, at the No. 1 spot to put the Hawkeyes up, 2-0. 
 
At the No. 3 position, Reimchen defeated Whalen, 7-5, 6-3, to extend Iowa's lead to 3-0. 
 
Iowa dropped their last four matches at the No. 2, No. 6, No. 5, and No. 4 positions. 
 
QUOTING HEAD COACH SASHA SCHMID
"Today's loss was a heartbreaker. We are on the road and up 3-0 and we couldn't close to get the fourth point today.  I credit Indiana for competing hard. Purdue is another great match for us tomorrow. We have a few hours to collect ourselves and then we need to be ready to battle again tomorrow." 
 
UP NEXT
The Hawkeyes are back in actionSunday  at 11 a.m. (CT) against Purdue in West Lafayette, Indiana at the Schwartz Tennis Center. 
 
INDIANA 4, IOWA 3
March 30, 2018 | 11 a.m. (CT) | Bloomington, Indiana | IU Tennis Center
 
SINGLES
1. Elise Van Heuvelen (UI) def. Madison Appel (IND) 6-2, 6-2
2. Caitlin Bernard (IND) def. Zoe Douglas (UI) 7-5, 6-3
3. Anastasia Reimchen (UI) def. Natalie Whalen (IND) 7-5, 6-0
4. Xiwei Cai (IND) def. Adorabol Huckleby (UI) 6-4, 6-7 (5-7), 6-4
5. Michelle McKamey (IND) def. Montana Crawford (UI) 0-6, 7-5, 6-3
6. Olga Zavarotnaya (IND) def. Adrienne Jensen (UI) 6-3, 4-6, 6-1
 
DOUBLES
1. Elise Van Heuvelen/Anastasia Reimchen (UI) def. Madison Appel/Jelly Bozovic (IND) 6-4
2. Zoe Douglas/Adorabbol Huckleby (UI) def. Caitlin Bernard/Natalie Whalen (IND) 6-2
3. Michelle McKamey/Olga Zavarotnaya (IND) vs. Montana Crawford/Adrienne Jensen (UI) 4-4, unfinished
 
MATCH NOTES
Iowa 9-9
Indiana 14-6
Order of finish: Doubles (1,2); Singles (1,3,2,6,5,4)