Hawkeye Fan Shop — A Black & Gold Store | Fight For Iowa | Hawk Talk Monthly — March | Photo Gallery
COLLEGE PARK, Md. — The University of Iowa women's tennis team fell to Maryland, 4-0, at the Cole Courts on Saturday in College Park, Maryland.
 
The Terrapins went up 1-0 to start the match by winning the doubles point with victories on courts one and three.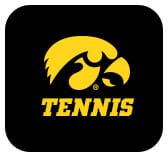 Kate Yemelyanenka and Saya Usi defeated seniors Montana Crawford and Adrienne Jensen at the No. 3 position, 6-0. At the No. 1 position, No. 55 sophomore Elise van Heuvelen and senior Anastasia Reimchen dropped their match to Eva Alexandrova and Millie Stretton, 6-3.
 
Maryland clinched the win with singles victories on courts three, six, and one.
 
The matches on courts two, four, and five went unfinished.
 
QUOTING HEAD COACH SASHA SCHMID
"No doubt it's been a tough stretch for us. It is disappointing to not be able to play our way into the match today but regardless we have to get ready to battle again tomorrow at Rutgers."
 
UP NEXT
The Hawkeyes are back in action tomorrow against Rutgers in New Brunswick, New Jersey at 11:30 a.m. (CT).
 
MARYLAND 4, IOWA 0
April 7, 2018 | 11 a.m. (CT) | College Park, Maryland | Cole Courts
 
SINGLES
Eva Alexandrova def. Elise van Heuvelen, 7-5, 6-0
Zoe Douglas vs. Ekaterina Tour, unfinished
Millie Stretton def. Anastasia Reimchen, 6-1, 6-2
Adorabol Huckleby vs. Arnelle Sullivan, unfinished
Montana Crawford vs. Kate Yemelyanenka, unfinished
Zoe Kulkarni def. Adrienne Jensen, 6-2, 6-3
DOUBLES
Alexandrova/Stretton def. #55 van Heuvelen/Reimchen, 6-3
Douglas/Huckleby vs. Tour/Sullivan, unfinished
Yemelyanenka/Usui def. Crawford/Jensen, 6-0
 
MATCH NOTES
Iowa: 9-11
Maryland: 8-9
Order of finish: Doubles (3, 1); Singles (3, 6, 1)
Maryland is leading the all-time series, 4-0.