Hawkeye Fan Shop — A Black & Gold Store | Fight For Iowa | Hawk Talk Monthly — March | Photo Gallery
NEW BRUNSWICK, NJ — The University of Iowa women's tennis team topped Rutgers, 5-2, on Sunday at the Busch Courts in New Brunswick, New Jersey.
 
Iowa started off strong by grabbing the doubles point with wins on courts one and three.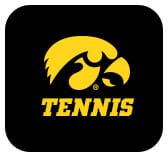 No. 55 sophomore Elise van Heuvelen and senior Anastasia Reimchen defeated Kat Muzik and Mingxiu Du, 6-3, at the No. 1 position. The duo moved to 8-3 together this season.
 
At the No. 3 position, senior Montana Crawford and freshman Danielle Burich grabbed a win over Chloe Lee and Isabelle Da Silva, 6-4.
 
Van Heuvelen kept the ball rolling on court one by defeating Mingxui Du in straight sets, 6-2, 6-0, to put the Hawkeyes up 2-0.
 
Jaci Cochran put Rutgers on the board with a 6-0, 6-4 win over Huckleby on court four.
 
Reimchen extended the Hawkeyes lead to 3-1 with a straight-set win over Kat Muzik on court three, 6-3, 7-6 (5-0), to improve to 11-9 this season.
 
Rutgers countered with a straight-set win on court six over Burich, 6-3, 7-5, to make the team score, 3-2.
 
Douglas clinched the victory for the Hawkeyes after forcing a third-set tiebreaker in her match against Chloe Lee, 4-6, 6-3, 6-3.
 
Crawford made the final score 5-2 with a three-set win over Maya Jacobs, 6-4, 3-6, 6-3.
 
QUOTING HEAD COACH SASHA SCHMID
"We had a good battle today. I'm proud of the team for fighting hard in every match."
 
NOTEABLES
Iowa wins the second meeting between the two teams
Burich and Crawford grab their first doubles win as a team this season
Anastasia Reimchen moves to 11-9 in singles
UP NEXT
The Hawkeyes are back in action against Nebraska at 11 a.m. Saturday in Lincoln, Nebraska.
 
IOWA 5, RUTGERS 2
April 8, 2018 | 11:30 a.m. (CT) | New Brunswick, New Jersey | Busch Courts
 
SINGLES
1. Elise van Heuvelen def. Mingxui Du, 6-2, 6-0
2. Zoe Douglas def. Chloe Lee, 4-6, 6-2, 6-3
3. Anastasia Reimchen def. Kat Muzik, 6-3, 7-6 (5-0)
4. Jaci Cochran def. Adorabol Huckleby, 6-0, 6-4
5. Montana Crawford def. Maya Jacobs, 6-4, 3-6, 6-3
6. Isabelle Da Silva def. Danielle Burich, 6-3, 7-5
 
DOUBLES
Van Heuvelen/Reimchen def. Muzik/Mingxui, 6-3
Cochrane/Jacobs def. Douglas/Huckleby, 6-2
Crawford/Burich def. Lee/DaSilva, 6-4
 
MATCH NOTES
Iowa: 10-11
Rutgers: 5-11
Order of finish: Doubles (2, 1, 3); Singles (1, 4, 6, 3, 2, 5)
The Hawkeyes lead the all-time series, 2-0.