Hawkeye Fan Shop — A Black & Gold Store | 24 Hawkeyes to Watch – 2017-18 | Fight For Iowa | Hawk Talk Monthly — April 2018 | Photo Gallery | Highlights
By JAMES ALLAN
hawkeyesports.com
IOWA CITY, Iowa — The hard part was out of the way for Lorenzo Elion on Wednesday night against Coe College.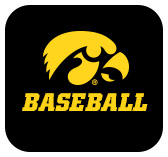 The University of Iowa third baseman tripled in the first, homered in the second, and doubled in the fifth.  Three fourths of the equation toward becoming the second Hawkeye in a decade to hit for the cycle was complete.
 
When Elion stepped to the plate with two outs in the sixth and Iowa leading 13-1, Iowa head coach Rick Heller knew what was at stake.
 
"I knew he needed a single," said Heller. "With the score the way it was, a bunt wouldn't have been right. I saw Lorenzo see their third baseman playing about 20 feet behind the bag and I was thinking, 'Don't bunt.'
 
"Then I heard one of the Coe players say if it were him, he'd bunt.'"
 
He didn't need to.
 
Elion laced the first pitch he saw into left field past diving third baseman Jacob Henry. Elion rounded first base and briefly thought about going for two.
 
"I was trying to stretch it into a double because I know coach is always stressing that," said Elion. "I knew I had another at-bat coming up."
 
Elion "settled" for a base hit, thus completing the first cycle of his baseball career.
 
"I had never come close to hitting for the cycle," said Elion. "Ever."
 
"It was special," said Heller. "It's really rare.  I think cycles are rarer than no-hitters, so we all saw something special."
 
Elion then put an exclamation point on his career night when he stepped to the plate with two-on and nobody out in the eighth.  He sent the first pitch over the left field fence for a no-doubt, three-run shot to tie Iowa's single-game record with his fifth hit.
 
"I didn't even know it tied the school record," said Elion. "I was just trying to get my pitch and that's what I was fortunate enough to do today."
 
Elion began the season as Iowa's starting third baseman before a three-error performance in the series finale at UNLV saw him relegated to the bench. 
 
"He played the first 14-15 games and then ended up not playing for a while," said Heller. "He didn't pout. He kept working and getting better, waiting for his time to come back around. He started hitting and making big plays at third.
 
"He has been picking us up the past three weeks, swinging the bat well and driving in big runs every game. He's dialed in, every ball he hit (against Coe) was right on the nose and to witness (the cycle), no matter what the circumstance, is special.  You don't see that very often."
 
Elion had a pinch-hit RBI single in Iowa's 13-9 come-from-behind, walk-off win over Bradley. He had a game-tying two-run single in the sixth in a 4-2 series-clinching win at No. 22 Illinois, and had a three RBI game in a 9-5, game two victory over Ohio State.
 
Elion has 15 RBIs over Iowa's last nine games, where he's hitting .400 (12-of-30) with four multi-hit games. For the season, Elion is hitting .317 with 21 RBIS, which are tied for second most on the team.
 
"It feels good knowing that all the hard work we have been putting in is finally paying off," said Elion. "We need to take this same energy to Nebraska."
 
The Hawkeyes open a three-game series at Nebraska with a Friday doubleheader beginning at 2:05 p.m. (CT).  Iowa has won six straight Big Ten series dating back to last season and has three straight series over the Cornhuskers.