Hawkeye Fan Shop — A Black & Gold Store | 24 Hawkeyes to Watch – 2017-18 | Fight For Iowa | Hawk Talk Monthly — April 2018
Editor's Note: The following first appeared in the University of Iowa's Hawk Talk Daily, an e-newsletter that offers a daily look at the Iowa Hawkeyes, delivered free each morning to thousands of fans of the Hawkeyes worldwide. To receive daily news from the Iowa Hawkeyes, sign up HERE.
By JAMES ALLAN
hawkeyesports.com
IOWA CITY, Iowa — The series' have been stacked on top of each other for the University of Iowa baseball team since Big Ten Conference play began in March.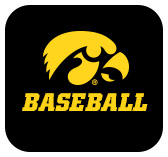 In successive weekends, the Hawkeyes have played No. 11 Indiana, at No. 25 Illinois, Ohio State, at Nebraska, and at No. 25 Minnesota. Four of the five teams currently sit in the top five in the Big Ten standings.
 
It is fitting that Iowa welcomes Big Ten leader — No. 7 Michigan — to Iowa City this weekend for a three-game series at Duane Banks Field.
 
And Michigan is streaking.
 
The Wolverines haven't lost since March 14 — an 8-3 defeat at the hands of NAIA's Lawrence Tech. Michigan is riding a 20-game winning streak, the third-longest in program history and the second-longest in the nation.
 
"We've heard all about them having a hot streak, especially in the Big Ten," redshirt junior Chris Whelan said of a Michigan team that is 24-11 overall, 11-0 in Big Ten play. "We're excited to have them come here. We love playing at home and our record shows it.
 
"We love with them having to deal with the challenges of playing at a field like (Banks)."
 
Iowa has won 79 percent of its home games dating back to the start of the 2015 season. The Hawkeyes, who are 13-3 at home this season, are in the midst of a nine-game home stand that includes games against Michigan, Missouri, and Oklahoma State.
 
Iowa head coach Rick Heller feels the Hawkeyes are in a good place heading into the weekend and the final month of the regular season. Despite losing its first Big Ten series since April 2017 last weekend in Minneapolis, Heller saw a professional approach from his team.
 
"After the weekend (at Minnesota), I felt we were in a good place with how we were going about our business, playing with a high-level focus, but playing with a relaxed attitude," said Heller. "That's what you like to see and that gives you a chance to go on a streak like Michigan is on."
 
With the intensity mounting during the season's stretch run, Whelan says the Hawkeyes can lean on experience gained during last season's Big Ten Tournament and NCAA Regional run.
 
"You can't take for granted what the guys experienced last year," said Whelan. "Being in a regional like that one in Houston, that was a tense time. Having guys on the field that have experienced that, everything seems easier and a little lighter.
 
"We know what we went through last year in the regional and even the Big Ten Tournament. You take a step back now and realize that. This time of the year is fun; it's nothing to get too stressed about, it's a time to have fun."
 
The month of fun begins Friday at 6:05 p.m. (CT). Games two and three will start at 2:05 p.m. on Saturday and 11:05 a.m. on Sunday.
 
"We got a taste of playing a couple of quality teams at the beginning of the season like Illinois and Indiana," said Whelan. "We're ready for Michigan. We're not afraid of anybody at this point."
 
Tickets are available on game day or online at hawkeyesports.com/tickets. Prices are $7 for adults and $3 for youth (18 and under).