Hawkeye Fan Shop — A Black & Gold Store | 24 Hawkeyes to Watch – 2017-18 | Fight For Iowa | Hawk Talk Monthly — April 2018 | Photo Gallery
By JAMES ALLAN
hawkeyesports.com
IOWA CITY, Iowa — Tyler Cropley got the celebratory walk-off treatment twice Sunday at Duane Banks Field in the series finale against No. 7 Michigan.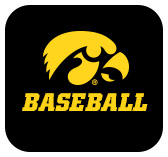 With the score tied at five in the bottom of the ninth inning, Cropley hit a mile-high pop fly a mere 10 feet from home plate. The ball hit the turf just inside fair territory between Michigan catcher Harrison Salter and reliever Jeff Criswell before it took a hard skip to the right, caroming into foul territory.
 
Jeff Stidham, the home plate umpire, initially ruled the ball fair and sophomore Ben Norman was the beneficiary, scoring from second base to send the Hawkeye bench into a frenzy. 
 
"I didn't know what was going on," said Cropley. "I thought it was fair, and I thought the game was over."
 
Then the call was (correctly) ruled foul. 
 
"The umpire signaled it was fair," said Iowa head coach Rick Heller. "That's why everyone reacted the way they did. He just made a mistake. It didn't touch anybody, I saw that myself. He signaled it fair, then he tried to fix it.
 
"There was no need to holler about that. It was clear he didn't touch it, I was confident and so was (Stidham). He just made the wrong call, which set everybody off."
 
After being mobbed in right field by his teammates, Cropley returned to the batter's box with a 2-2 count just after his heart was beating a 100 miles per hour.
 
"Coach called me over, put his hand around me and said, 'Get your heart rate down, you're going to do it again,'" said Cropley. "I guess I did it again."
 
On the first pitch back, Cropley fouled a 93 mile per hour fastball into the netting behind home plate. The next pitch he didn't miss.  He barreled up a Criswell breaking ball for a no-doubt, two-run home run that sailed over the fence in left field.
 
"I felt good when it came off the bat," said Cropley. "I knew the wind was going to push it a little ways. I kind of knew it was going to go."
 
His Hawkeye teammates were waiting at home plate for celebration No. 2.
 
"What happened to him, where he had that celebration and we had it called back and to have to go back to the batter's box with two strikeouts against a guy like that," said Heller. "To get your heart rate back down and then do that… that's phenomenal and shows you a lot about the toughness and makeup of Tyler and his physical ability."
 
The walk-off home run was Cropley's second of the season and his sixth overall. He hit a walk-off grand slam in Iowa's 13-9 victory over Bradley on March 28.  Sunday's home run completed a come-from-behind victory that saw the Hawkeyes trailing 5-0 through 1 1/2 innings.
 
It was Iowa's 11th come-from-behind win this season and the fifth coming in walk-off fashion.
 
"It's something coach talks about, we're going to battle adversity all year, it's just another day," said Cropley. "It seemed like getting down five early with the wind blowing out, something was going to happen.
 
"We kept getting good swings and having quality at-bats and things came around."
 
The win gave the Hawkeyes their fourth Big Ten series victory of the season with three weeks remaining in the regular season. It came on a weekend where nearly 6,000 fans ascended upon Duane Banks Field.
 
"It was good to see all the fans out," said Cropley. "Hopefully they come back next weekend because we have Oklahoma State, who is doing well, coming in."
 
Prior to hosting the Cowboys from May 4-6, Iowa has two midweek games, hosting Missouri on Tuesday at 3:05 p.m. (CT) and Western Illinois on Wednesday at 6:05 p.m.