Hawkeye Fan Shop — A Black & Gold Store | Hawk Talk Monthly — May 2018 | 24 Hawkeyes to Watch 2017-18 | Fight For Iowa
Editor's Note: The following first appeared in the University of Iowa's Hawk Talk Daily, an e-newsletter that offers a daily look at the Iowa Hawkeyes, delivered free each morning to thousands of fans of the Hawkeyes worldwide. To receive daily news from the Iowa Hawkeyes, sign up HERE.
By JAMES ALLAN
hawkeyesports.com
IOWA CITY, Iowa — When an opportunity arose for someone to seize the day, University of Iowa freshman Jack Dreyer stepped on the pitcher's mound.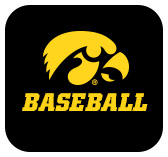 His Sunday fun day included five innings of two-hit baseball as the Hawkeyes defeated No. 12 Oklahoma State, 11-3, to take two of three weekend games from the Big 12 Conference leader.
 
The Hawkeyes listed the game three spot in the starting rotation as TBA entering the series.  The rotation question mark came after normal Sunday starter Cole McDonald left his April 29 start against No. 7 Michigan with arm tightness and freshman Trenton Wallace did the same two days later against Missouri.
 
After Iowa slugged its way to a 16-14 victory over the Cowboys in game two on May 5, Dreyer received word that he would get the ball in the rubber game of the series. It would be Dreyer's first career weekend start and just his second start of the season.
 
"I had a lot of confidence," said Dreyer, who entered the game with a 2-2 record and a 5.74 ERA in 11 appearances. "(It was about) not making too big of a deal out of it. I have guys like Nick Allgeyer and Cole McDonald who instilled confidence in me.
 
"They said to make sure I am not making it more than it is and to have fun."
 
The southpaw from Johnston, Iowa, delivered.
 
Dreyer limited the Cowboys to one run, scattered a pair of hits, and pitched around three walks. He tied a career-high with six strikeouts. 
 
"It was impressive," said junior Chris Whelan. "Us older guys can't thank him enough for what he did.  He hasn't started like that since Taiwan… big start, big stage. It has been since the summer for him, but he did an incredible job and battled. He let it all hang out."
 
The start Whelan referenced came in the World University Games when Dreyer battled Japan in pool play. He limited Japan to one unearned run on one hit over four innings Aug. 22 in Taipei. 
 
During his first season as a Hawkeye, Dreyer has pitched primarily in relief. His only start was an 8-3 loss to Missouri State on March 14 where he gave up four runs on four hits in 2 1/3 innings.
 
"Hopefully this is the thing that lets Jack go out and pitch," said Iowa head coach Rick Heller. "Jack just needs to be Jack and he's really good.  We need him to be like that the rest of the season and I think he can be even better. I know what he has.
 
"(Sunday) was awesome for him, he handled himself well, his mound presence was good, and his body language was solid. All the things you look for when a pitcher figures it out and shows maturity, he did that (Sunday)."
 
After finishing the series win to conclude a stretch of three straight series against ranked opponents, Iowa has seven regular season games remaining — a three-game series at Northwestern and at home against Penn State with a midweek game at Western Illinois sandwiched in between.
 
"These last two series are as big as anything," said Whelan. "You can't take those guys lightly."
 
Northwestern and Penn State are 12th and 13th in the Big Ten Conference standings; Western Illinois is 13-25 overall.
 
"We have to focus on the big picture and we all know we're not good enough to just show up and beat anybody," said Heller. "You have to play in this league every day, and if you don't, you're going to lose.
 
"We have to keep our focus. If anyone thinks that just because we finished the gauntlet part of our schedule, it's going to be easier, you're sadly mistaken because those guys are going to be coming for us and we better play our best."
 
Friday's series opener at Northwestern will start at 3:30 p.m. (CT), followed by 2 p.m. starts Saturday and Sunday.