Hawkeye Fan Shop — A Black & Gold Store | Hawk Talk Monthly — May 2018 | Fight For Iowa
IOWA CITY, Iowa — The University of Iowa baseball team has placed 20 student-athletes from coast-to-coast for various summer leagues.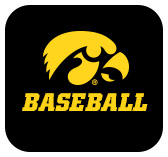 Three Hawkeyes are venturing to the east coast for the prestigious Cape Cod League.  Sophomore Ben Norman and freshman Jack Dreyer will be teammates for the Harwich Mariners, while freshman Ben Probst will compete for the Hyannis Harbor Hawks.  It is the second straight summer Iowa has been represented in the Cape Cod League.
Seven players will play in the Northwoods League for two teams.  Sophomores Grant Judkins and Derek Lieurance along with freshmen Cam Baumann and Zion Pettigrew will play for the LaCrosse Loggers, while juniors Mitchell Boe and Shane Ritter and freshman Brett McCleary will play for the Fond Du Lac Dock Spiders.
Five Hawkeyes will compete in the Prospects League on three different teams.  Sophomores Justin Jenkins, Lorenzo Elion, and junior Chris Whelan will play for the Terre Haute Rex.  Freshman Matt Berst will catch for the Kokomo Jackrabbits and sophomore Kyle Crowl will play for the Quincy Gems.
Redshirt freshman Kace Massner will play in the California Collegiate League for the Neptune Beach Pearl, while junior Tanner Wetrich will play in the Coastal Plains League for the Macon Bacon.
Junior Luke Farley and freshman Connor McCaffery will play locally in the Iowa Valley League for the Watkins Mudhens and Red Top Toppers, respectively.  Sophomore Grant Leonard will pitch for the Lombard Orioles in the Chicago Suburban Baseball League.
Cape Cod League
Jack Dreyer – Harwich Mariners – Stats 
Ben Norman – Harwich Mariners – Stats
Ben Probst – Hyannis Harbor Hawks – Stats
Northwoods League
Cam Baumann – LaCrosse Loggers – Stats
Mitchell Boe – Fond Du Lac Dock Spiders – Stats
Grant Judkins – LaCrosse Loggers – Stats
Derek Lieurance – LaCrosse Loggers – Stats
Brett McCleary – Fond Du Lac Dock Spiders – Stats
Zion Pettigrew – LaCrosse Loggers – Stats
Shane Ritter – Fond Du Lac Dock Spiders – Stats
Prospect League
Matt Berst – Kokomo Jackrabbits – Stats
Kyle Crowl – Quincy Gems – Stats
Lorenzo Elion – Terre Haute Rex – Stats
Justin Jenkins – Terre Haute Rex – Stats
Chris Whelan – Terre Haute Rex – Stats
California Collegiate League
Kace Massner – Neptune Beach Pearl
Coastal Plains League
Tanner Wetrich – Macon Bacon – Stats
Chicago Suburban Baseball League
Grant Leonard – Lombard Orioles
Iowa Valley League
Luke Farley – Watkins Mudhens
Connor McCaffery – Red Top Toppers