Hawkeye Fan Shop — A Black & Gold Store | Hawk Talk Monthly — October 2018 | 24 Hawkeyes to Watch | Fight For Iowa | Request 2018-19 Season Tickets
By RICK BROWN
hawkeyesports.com
 
IOWA CITY, Iowa — Jordan Bohannon visited the Iowa Great Lakes with teammate Ryan Kriener over the summer. The trip offered a glimpse of what makes the University of Iowa junior point guard tick.
 
Bohannon tried wakeboarding on West Okoboji.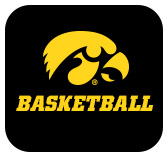 "It took me about 35 times to get up," Bohannon said. "I'm aggressive and I'm not the giving up type. It took me about an hour and a half to get out of the water. It's one of the most difficult things I've ever done in my life, other than getting to the Division I level."
 
Or, someone suggested, getting through Iowa's 2017-18 basketball season.
 
"Or going through a season like we did last year," Bohannon said.
 
The Hawkeyes were just 14-19 overall and 4-14 in Big Ten play last season, the program's worst record since 2010-11. Offense wasn't the issue for a team that average 79.7 points overall and 76.1 in Big Ten play. Defense was another matter. Iowa allowed more points than any season since 1993-94.
 
The top nine scorers return this season, and there are additions like freshman sharpshooter Joe Wieskamp from Muscatine, but Iowa has to work on defense to turn things around.
 
"We've got to dig down and play defense this year," Bohannon said. "That's what it's going to come down to."
 
The determination Bohannon showed at West Okoboji has also been on display the last two seasons on the basketball court. He came to Iowa from Linn-Mar (Iowa) High School and has dribbled his way through a cast of doubters who said he couldn't play in the Big Ten.
 
Sixty-seven games, 61 starts, 817 points, and 353 assists later, that chip on the shoulder remains.
 
"That's my mindset every single day when I wake up," Bohannon said. "There are people that are going to doubt you, no matter what your profession is. That's something I've always held true to my heart. It's knowing that the opposition, or  some of our own fan base, doubt my abilities.
 
"I know what I'm capable of doing, and I know the work I've put in to get to this point. It's all going to be worth it in the end."
 
Scoring has never been an issue with Bohannon. He has scored in double figures 38 times at Iowa. His six games of 10-plus assists shares a school record. His career assist-to-turnover ratio — 5.3 assists to 2.1 turnovers — is rock solid. He is already ninth in career assists.
 
Look for those numbers to keep piling up, especially with redshirt freshman point guard Connor McCaffery around to lend a hand. McCaffery managed just four games last season, thanks to an unfortunate trifecta — a sprained ankle, mononucleosis, and a tonsillectomy. Now, his presence at the point should enable Bohannon to play some two guard, and add to his 185 career 3-pointers.
 
"I love to shoot the ball," Bohannon said. "I'm looking to be a little more aggressive this year and take shots when they're there. I'm still going to try and facilitate a little more, because I've always had a pretty good assist-to-turnover ratio."
 
McCaffery knows Iowa's offense well.
 
"I've watched this system since I could walk," said McCaffery, son of Iowa head coach Fran McCaffery.
 
Playing alongside Bohannon is something that excites him.
 
"He's one of the best shooters in the country," Connor said "Having somebody like him is good for me because I know if I throw the ball to him I'll probably get an assist."
 
Connor also admires Bohannon's toughness. Jordan played through plantar fasciitis in his right foot last season and he logged a lot of minutes — 31.8 in all games, 34 against Big Ten foes.
 
"The thing that is maybe not appreciated is his stamina," Connor said. "He doesn't get tired. If he does, he kicks it into second gear. He's mentally tough."
 
Fran McCaffery mentioned a lack of upper-class leadership as an issue last season. Junior forward Tyler Cook has been outspoken about wanting to assume leadership duties. Look for Bohannon to fill those responsibilities as well.
 
"I've given Jordan the green light to be the guy," Fran McCaffery said. "He can call plays. He can gather his teammates, whether it be in the locker room or at any given point in time in practice. He's earned the respect of everybody."
 
Bohannon had found that leadership is not a one size fits all responsibility.
 
"You can say some things to some teammates that you can't say to others," Bohannon said. "That's a big part of being a leader."
 
Judging by past performance, he'll pick it up quickly. Maybe even faster than wakeboarding.