Hawk Talk Monthly — October 2018 | Hawkeye Fan Shop — A Black & Gold Store | 24 Hawkeyes to Watch | Request 2018-19 Season Tickets | Photo Gallery | McCaffery Big Ten Media Day Transcript (PDF) | Fight For Iowa
By JAMES ALLAN
hawkeyesports.com
 
ROSEMONT, Ill. — There is hunger and motivation surrounding the University of Iowa men's basketball team leading into the 2018-19 season.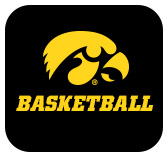 Coming off a season where the team went 14-19 overall and 4-14 in Big Ten Conference play, Iowa has been picked to finish 10th in the unofficial preseason media poll.  Michigan State is the league favorite.
 
"I always take preseason rankings with a grain of salt," senior Nicholas Baer said on Thursday at the Hyatt Regency O'Hare during the 2018 Big Ten Men's Basketball Media Day. "Preseason rankings are one things; we're more concerned about final rankings.
 
"We're confident we have a very talented team that is committed to playing together."
 
Iowa returns its top nine scorers from a season ago, including honorable mention All-Big Ten selections Tyler Cook and Jordan Bohannon. The Hawkeyes averaged 79.7 points, but surrendered 78.7 points. 
 
The defensive numbers are something the team is committed to changing.
 
"When you return that many guys, you have to be committed to having a different season," said Baer. "In order for that to happen, we have to play well at the defensive end. We have a lot of talented offensive players and if we can couple that by getting enough defensive stops, we'll be winning games and playing in March."
 
That's the plan. The Hawkeyes want to show that the 2017-18 season was a blip or an aberration.
 
"It adds another motivation and it's an extra chip on our shoulder that we didn't have last year," said Bohannon. "It's not to say that we have things given to us, but we worked hard after the season.
 
"We're putting pressure on ourselves, which is a good thing because it's adding more motivation to us realizing we have a lot to accomplish and we have the talent to do it."
 
Cook and Isaiah Moss joined Bohannon and Baer as Iowa representatives in Chicago. To everyone's surprise, Cook wasn't among the 10 players named to the preseason all-conference team after averaging 15.3 points and 6.8 rebounds as a sophomore.
 
Purdue's Carsen Edwards was the Preseason Player of the Year and Edwards and Wisconsin's Ethan Happ were both unanimous preseason All-Big Ten selections.
 
Other selections included Indiana's Romeo Langford and Juwan Morgan, Maryland's Anthony Cowan, Michigan's Charles Matthews, Michigan State's Nick Ward and Cassius Winston, Minnesota's Jordan Murphy, and Nebraska's Jordan Palmer.
 
"I always look at those lists and say, 'Well, yeah, he probably should be on there, there is no question in my mind he should be on there,'" said Iowa head coach Fran McCaffery. "But it's not like you look at that list and say a particular player is not really good.
 
"That's what this league is; everybody on that list is good. More importantly, where do you end up?  Preseason lists and preseason rankings don't mean a thing. We have to play the season."
 
That's the Hawkeyes' mantra: Let's play the 2018-19 season to prove that 2017-18 season was a fluke.
 
"Everyone on our team from top to bottom has a different mindset," said Bohannon. "We took that to heart from the beginning of the offseason."
Iowa hosts Guilford College in an exhibition contest Nov. 4 at 2:05 p.m. (CT) on Mediacom Court inside Carver-Hawkeye Arena. The Hawkeyes open the regular season Nov. 8, hosting UMKC in the preliminary round of the 2K Classic benefiting Wounded Warrior Project.